Everything Taylor Swift Gave Us In 2020: From Miss Americana To Evermore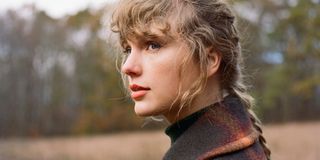 (Image credit: (Taylor Swift))
Ok, so I know we're all supposed to look at 2020 with a death glare and while that is valid for all kinds of reasons, if part of your heart and ears belong to Ms. Taylor Swift, it wasn't too shabby. Looking back over the last year may have actually been the best year ever to be a Swiftie to date. When the year began we were coming off the summer 2019 release of Lover, a return to form for Swift after her rebellious pop experiment Reputation a couple years prior. Her much-anticipated LoverFest was high on the 2020 bucket list for many. No live shows this year, but she more than made up for it over the summer with 17 folklore songs and 15 evermore songs in December.
So let's take a moment and get nostalgic about everything Taylor Swift gifted us during 2020. We tend to look forward in hopes of more and more, such as with those woodvale rumors, but 2020 deserves a glorious recap:
Miss Americana
In January 2020, Taylor Swift really floored with a candid documentary about her life and career thus far with Miss Americana, which dropped over on Netflix. The movie focuses on Swift throughout her Lover era, which we learned she was determined to make better than Reputation after the release broke her "Album of the Year" Grammy nomination streak. Miss Americana is an inspirational ride down memory lane for fans, but also a deeper dive into who Swift was following Lover. Even as a longtime fan of Swift's music, I'd felt a bit of disconnect with Reputation. Watching this documentary really reminds one about why Swift is such a one-of-a-kind talent. Seeing her think of song and music video ideas in real time was incredible and there's so many tidbits we learned about her that made us appreciate her even more.
Taylor Swift As The Man
To carry on with the messages she touches on in the Lover album and through the Miss Americana movie, Taylor Swift underwent an incredible transformation as "the man" in a music video she directed and stars in bringing home the points of the song. The Man's music video allowed the singer to let out some nasty double standards about male vs female professionals, especially in terms of the music industry that she has certainly dealt with.
City Of Lover Concert Film
And in May, Taylor Swift surprised fans with the City of Lover concert footage from a September Paris, France show. The show which premiered on ABC and Disney+ was a celebration of her Lover album and Taylor Swift's lovely stage presence as she brought to life singles like "ME!" and "You Need To Calm Down," along with new favorites including "Cornelia Street" and "Daylight." It was a nice escape during the pandemic's isolation, but little did we know it would mark the end of Lover and the start of something especially unique in her career.
Folklore
In the heat of July after teasing images on her Instagram, Taylor Swift completely shocked fans with the release of folklore, her eighth studio album. Folklore was made during quarantine and showcased a new side to Taylor Swift away from her highly-publicized pop sphere she's found a place in since 1989. The album became an especially interactive experience for fans because it included a teen love triangle of Betty, August and James (two of which are names of Ryan Reynolds and Blake Lively's kids.) Much like the imagery on the cover of folklore, the album showed the density and thick of Swift's talent by focusing on fictional stories.
Taylor Swift Announced She's Started Re-Recording Her Albums
Since Taylor Swift's first six albums were sold to Scooter Braun, the artist has hinted at plans to re-record her work and in November she confirmed that she's already in the studio recording them! She updated fans with a letter sharing that the project is "both exciting and creatively fulfilling" for the artist to work on. We still have a ton of questions about how Swift is going to release her old music and how it will sound. Though, we did get a little peek into the re-recording of "Love Story" during a Match.com commercial made in part by Ryan Reynolds. It does have a new ring to it if you listened closely and we're really looking forward to hearing the rest of her collection (hopefully) soon.
The Folklore Long Pond Studio Sessions
After fans were left loose for four months with folklore in our hands without much word from Taylor Swift about their inspirations and stories, she dropped another unexpected gift on our doorstep this year with folklore: the long pond studio sessions, a cozy Disney+ film that told the entire story of the album from start to finish. We learned a whole lot about what was going through Taylor's head during the making of folklore. It really made us appreciate it even more and take an even harder look at the lyrics. I especially love hearing about Taylor's creative process and seeing her, Jack Antonoff and Aaron Dessner play their songs together for the first time was so very sweet.
Evermore
The cherry upon the cherry upon the cherry for this year was Evermore, a truly beautiful album in the vein of folklore's storytelling that gave us another shade of the artist through this distinct sound she's found in 2020. Evermore is truly folklore's sister and let's be honest, we're still digesting all the emotion and storytelling that she put into her 9th studio album. Evermore was apparently born out of Swift really hitting her stride and wanting to go deeper into what she'd started while the creative juices were flowing.
What Could Happen In 2021?
Oh, Evermore… will there ever be… more? It's a question many fans began asking themselves on the heels of the album release. There's been so many surprises we're starting to want to brace ourselves. There were quite a bit of rumors circling a third surprise album known as woodvale, which Taylor debunked, claiming it was a codename for Folklore that fans caught. Some fans are still holding out hope for a trilogy to Swift's quarantine creativity and hey, it could still happen? But, Swift is doing her re-records and whenever we get back to the concert-going world we'll be curious if we get LoverFest, a cozy cabin tour for folklore and evermore or all of the above. I'm also really crossing my fingers for a no body, no crime short film with the HAIM sisters.
No matter what happens, wow were we grateful for Taylor Swift in 2020. What was your favorite gift she gave us? Vote in the poll below or sound off in the comments.
This poll is no longer available.
YA genre tribute. Horror May Queen. Word webslinger. All her writing should be read in Sarah Connor's Terminator 2 voice over.
Your Daily Blend of Entertainment News
Thank you for signing up to CinemaBlend. You will receive a verification email shortly.
There was a problem. Please refresh the page and try again.