12 Action Movies Streaming On Amazon Prime Video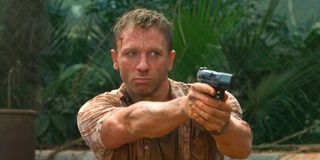 CinemaBlend participates in affiliate programs with various companies. We may earn a commission when you click on or make purchases via links.
Every movie fan has their favorite genre, but few can deny that one with the most addictive qualities is action. Whether you have a preference for suave secret agents like James Bond, over-the-top stunts like Tom Cruise performs in the Mission: Impossible franchise, or something with a sci-fi twist like Terminator: Dark Fate, there is something, quite simply, intoxicating about how Hollywood likes to blow stuff up. If you have a subscription to Amazon Prime Video, your next adrenaline high is just one click away.
The popular streaming platform has more action movies at its disposal than I can even begin to count. I can, however, easily narrow down the number of flicks featuring intense gunfights, dazzling hand-to-hand combat sequences, high-octane car chases, and plenty of explosions that I personally consider to be genuinely worth your time. I have compiled my own top picks on the subject that are currently available on Amazon Prime (which rounded out to a main total of 12) for you below, starting with a more recent hit featuring one of the greatest action movie stars of all time.
Live Free Or Die Hard (2007)
John McClane (Bruce Willis) teams up with a young computer hacker (Justin Long) targeted by cyberterrorists who soon become acquainted with the veteran cop's old school brand of justice over Fourth of July weekend.
Why It Is One Of The Best Action Movies On Amazon Prime: The fourth installment of this beloved action franchise, Live Free or Die Hard, is rarely considered the favorite. Yet, even for how easily a 50-plus John McClane escapes death throughout, I think most would agree it is still a more unapologetically entertaining treat and comparatively grounded experience than the fifth movie.
Stream Live Free or Die Hard on Amazon Prime here.
The Good, The Bad And The Ugly (1966)
A mild-mannered bounty hunter (Clint Eastwood), a cold-blooded contract killer (Lee Van Cleef), and a goofy wanted criminal (Eli Wallach) each attempt to outwit each in each other in search of hidden loot during the Civil War.
Why It Is One Of The Best Action Movies On Amazon Prime: The last and, arguably, best of director Sergio Leone's iconic "Dollars" Trilogy may more accurately fall under the western category, but everything from Ennio Morricone's Oscar-winning score, the three leads' ace-high performances, and the intense final act makes The Good, the Bad and the Ugly just as thrilling as modern actioner.
Stream The Good, the Bad, and the Ugly on Amazon Prime here.
Crouching Tiger, Hidden Dragon (2000)
A master warrior (Chow Yun-Fat) and his equally skilled friend (Michelle Yeoh) join forces to retrieve his famed sword from a young thief in the latter years of the China's Qing Dynasty.
Why It Is One Of The Best Action Movies On Amazon Prime: Speaking of westerns, the genre is known for being largely inspired by traditional kung-fu movies, but director Ang Lee's Oscar-winning, Taiwanese blockbuster Crouching Tiger, Hidden Dragon is a masterpiece of unprecedented beauty, incorporating a fighting style that literally defies gravity.
Stream Crouching Tiger, Hidden Dragon on Amazon Prime here.
The Last Of The Mohicans (1992)
The remaining survivors of a dying Native American tribe must endure the conflict of the French and Indian War when tasked with rescuing the kidnapped daughters of a British colonel.
Why It Is One Of The Best Action Movies On Amazon Prime: The great Daniel Day-Lewis has never been more badass than in yet another period piece on our list, The Last of the Mohicans - director Michael Mann's Oscar-winning adaptation of the novel by James Fenimore Cooper.
Stream The Last of the Mohicans on Amazon Prime here.
Casino Royale (2006)
After being promoted to the prestigious 00 status, an MI6 agent is enlisted for his exceptional poker skills to best a shady terrorist funder in a high-stakes international tournament.
Why It Is One Of The Best Action Movies On Amazon Prime: After Daniel Craig took over the role of James Bond in Casino Royale, an exceptionally gritty adaptation of Ian Fleming's first 007 novel, the enduring spy franchise would never be the same again.
Stream Casino Royale on Amazon Prime here.
The Bourne Ultimatum (2007)
Amnesiac Jason Bourne (Matt Damon) uncovers more secrets from his past as a government assassin as his ongoing conflict with the CIA hits its peak.
Why It Is One Of The Best Action Movies On Amazon Prime: Many like to credit James Bond's gruffer reinvention in recent years to the popularity of this franchise inspired by the novels of author Robert Ludlum, which director Paul Greengrass' relentless and immersive third installment, The Bourne Ultimatum, is widely considered its finest chapter.
Stream The Bourne Ultimatum on Amazon Prime here.
Mission: Impossible - Ghost Protocol (2011)
Veteran IMF agent Ethan Hunt (Tom Cruise) and his trusted crew (Simon Pegg, Paula Patton, and Jeremy Renner) are left to their own devices to figure out how to clear their names when they are framed for bombing the Kremlin.
Why It Is One Of The Best Action Movies On Amazon Prime: I would personally credit Mission: Impossible - Ghost Protocol, the fourth installment and director Brad Bird's live action-debut, for reinventing this ongoing espionage franchise as the fool-proof blend of engaging complexity and hair-raising stunts it is lovingly known as today.
Stream Mission: Impossible - Ghost Protocol on Amazon Prime here. *
*Also try Mission: Impossible - Fallout.
Clear And Present Danger (1994)
Soon after he is suddenly appointed as the CIA's acting Deputy Director of Intelligence, skilled analyst Jack Ryan becomes wrapped up in a covert conflict between a Colombian drug cartel and the US government.
Why It Is One Of The Best Action Movies On Amazon Prime: Jack Ryan has recently found new life on his own Amazon Prime original series as played by John Krasinski, but many still prefer Harrison Ford as Tom Clancy's best-known action hero and his second time in the role in Clear and Present Danger is clear proof as to why.
Stream Clear and Present Danger on Amazon Prime here.
The Hurt Locker (2009)
A staff sergeant's (Jeremy Renner) "devil may care" attitude puts him at odds with his aides (Anthony Mackie, Brian Geraghty) after he is reassigned to lead a military bomb disposal unit stationed in Iraq.
Why It Is One Of The Best Action Movies On Amazon Prime: In 2010, Kathryn Bigelow became the first woman to win a Best Director Oscar for that year's Best Picture winner, The Hurt Locker - a military film unlike any for its intense, enveloping cinematography and stirring analysis of the addictive qualities of war.
Stream The Hurt Locker on Amazon Prime here.
The Avengers (2012)
A wealthy mechanical genius, a soldier out of his own time, a scientist with a wicked anger problem, a brilliant former assassin, an unequivocally skilled archer, and a godly warrior come together to defeat the latter's adoptive brother when he unleashes a powerful extraterrestrial army onto Manhattan.
Why It Is One Of The Best Action Movies On Amazon Prime: Jeremy Renner later became a different kind of soldier when he was cast as Hawkeye in the Marvel Cinematic Universe, which first brought its most famous comic book icons together in The Avengers - an unprecedented feat that greatly exceeded expectations for its masterful balance of multiple larger-than-life characters surrounded by larger-than-life excitement.
Stream The Avengers on Amazon Prime here.
Also try Captain America: The First Avenger and Thor.
Face/Off (1997)
In order to prevent a bomb threat, an FBI agent (John Travolta) undergoes an experimental procedure to pose as his comatose longtime rival (Nicolas Cage), but is horrified to find the sadistic terrorist has woken up and assumed his appearance, too.
Why It Is One Of The Best Action Movies On Amazon Prime: Admittedly, the laughably far-fetched literal meaning behind the title of Face/Off has since thrown this John Woo-directed thriller into the guilty pleasure category, but what a pleasure it truly is to see a totally unplugged Travolta and Cage in a bloody, over-the-top battle of wits.
Stream Face/Off on Amazon Prime here.
MacGruber (2010)
A bumbling former special agent (Will Forte) is forced out of retirement to prevent his arch-enemy (Val Kilmer) from using a stolen nuclear weapon on Washington D.C.
Why It Is One Of The Best Action Movies On Amazon Prime: In this case, the far-fetched elements are intentionally laughable in MacGruber, which expands Saturday Night Live's recurring, one-joke parody of '80s action show MacGyver into a clever parody of '80s action movie cliches.
Stream MacGruber on Amazon Prime here.
What do you think? Are you part of the fandom that believes box office failure MacGruber is better than how it was first was initially received, or are you the kind of fan who balks at anything that ridicules your over-the-top, high-octane cinematic favorites? Let us know in the comments and be sure to check back for additional information and updates on the current state of the action genre, as well as even more of our own recommendations for what is currently available to stream, here on CinemaBlend.
Your Daily Blend of Entertainment News
Jason has been writing since he was able to pick up a washable marker, with which he wrote his debut illustrated children's story, later transitioning to a short-lived comic book series and (very) amateur filmmaking before finally settling on pursuing a career in writing about movies in lieu of making them. Look for his name in just about any article related to Batman.