Tron 3: What's Going On With The Next Tron Movie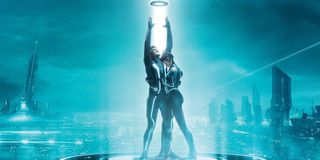 Ten years (and change) have passed since the last time we wandered into Flynn's Arcade and were transported to a technological dreamworld scored by Daft Punk in Tron: Legacy, but we are still left here wondering when we'll be taken back. In the years following the release of the second Tron movie, there has been word, talk, and plans for Tron 3, yet no new movie has been brought to theaters. Is the project alive, dead, or stuck somewhere in the depths of a computer program racing like hell on light cycles to get to an eager audience?
Well, Tron 3 isn't some forgotten movie announced before getting the rug pulled from beneath its feet. In the 10 years since it was first revealed, there have quite a few stars and stops, refreshes, and more. And strangely enough, in a time when the movie industry is in flux, it seems like there's more movement in this old arcade machine than ever before.
A Version Of Tron 3 Has Been In The Works Since Before The 2010 Release Of Tron: Legacy
Back in late 2010, shortly before the release of Tron: Legacy, it was reported that Disney was throwing around the idea of returning to the franchise with a third installment. There weren't a lot of details (and even if there were, what would become Tron 3 went through various changes in following years), but Disney was on board. A lot changed following the release of the underperforming sequel in December 2010, but just a month after the sci-fi action thriller dropped in theaters, the House of Mouse was still on board with the idea of continuing the franchise for years to come.
That momentum would continue into the summer of 2011, as in June of that year, it was revealed that David DiGilio, whose biggest credit to that point was the ABC fantasy drama series Once Upon a Time, had been hired to write a script. But would it stick?
In March 2015, Tron 3 Was Reportedly Set To Be Titled Tron: Ascension
There wasn't much news on the Tron 3 front for nearly four years until March 2015 when a Twitter account revealed that the movie would reportedly be called Tron: Ascension, but that wasn't all. Also according to the Production Weekly Twitter account, Tron: Legacy director Joseph Kosinski would be returning to the director's chair when the production was set to begin in October 2015, running through February 2016. Besides the rumored name, production start date, and Kosinski's involvement, the details remained largely unknown at that time. But more details were soon on the way, just not what anyone wanted to hear.
In May 2015, Disney Announced It Would Not Be Moving Forward With Tron 3
The Disney hammer, well, axe, came down in May 2015 when it was revealed by The Hollywood Reporter that the studio was putting its Tron 3 plans on ice and placing the metaphorical tarp back onto the old arcade machine. There were no reasons given as to why Disney was pulling the plug on the videogame-based sci-fi franchise, but the report did mention that the studio was trying to get Jared Leto involved before finally deciding a deal couldn't be reached.
And even though Tron 3 looked like it would never come to fruition as the summer 2015 movie season got underway, it wouldn't be the end of the road for Tron or Jared Leto, whose involvement would only grow when the project was resurrected a couple of years later.
The Tron Franchise Was Given New Life In 2017 When Disney Became Interested In Getting Jared Leto Involved
A little less than two years after the plug had seemingly been pulled on the Tron franchise, the old arcade machine came back to life with the news that Disney was having second thoughts about ending the franchise and instead wanted to go back to the drawing board with Jared Leto. According to The Hollywood Reporter, this new Tron movie wouldn't be the same script that was being worked on years earlier although it would be resurrecting one of the characters featured in the abandoned project, a character played by Leto by the name of Ares.
At the time of the announcement, it wasn't entirely clear just how much of the Tron: Ascension script would be used and what characters, besides Jared Leto's Ares, would be involved in the project. But just like all things in Hollywood, Tron 3 would remain a fluid project with plenty of changes ahead.
A Version Of Tron 3 Was Still In The Works In July 2020 With The Tron: Legacy Cast Possibly Returning
A few years went by before there was much news on the Tron 3 front, but things really started cooking in the summer of 2020 with a number of developments in the dormant franchise. In July of that year, The Disinsider reported that that the Jared Leto-led Tron movie (which has had the working title of Tron: Ares off and on over the years) was still in the works and that it would be a sequel to 2010's Tron: Legacy opening the door for the return of some of the members of that cast. And while there were a great deal of concrete details revealed in the report, the prospect of the movie being developed at all after years of delays was a sight for sore eyes.
Garth Davis Was Brought On To Direct Tron 3 In August 2020
That news was just the beginning of an eventual summer for Tron fans as it was revealed in August 2020 when Deadline revealed that Garth Davis (Mary Magdalene, Top of the Lake, Lion) was hired by Disney to direct the forthcoming sequel. But that wasn't the only major step being made by the franchise because along with the announcement of a new director, it was also revealed that Jesse Wigutow was responsible for the script from which Davis would be drawing from as he prepared the third Tron installment.
A lot of questions still surrounded the project at this point in the pre-production, and there would be even more following a Tweet and a delete by Jared Leto that same month.
Jared Leto Further Teased Tron 3 With A Since-Deleted Tweet About Its Title in August 2020
There is still a great deal of mystery surrounding Tron 3 as far as its official title is concerned, and matters were only made worse in August 2020 when Jared Leto tweeted and then deleted a message revealing the title as Tron: Ares. Disney never confirmed nor denied the Twitter gaffe and we were all left wondering just what to call Tron 3 in an official capacity. Hopefully we'll know more in the near future.
That about catches us up with everything that's going on with Tron 3 and whatever its official title ends up being. If you want to know what movies you can expect to see in theaters (and on streaming services) near you in the coming months, check out CinemaBlend's 2021 Movie Release Guide.
Your Daily Blend of Entertainment News
Philip grew up in Louisiana (not New Orleans) before moving to St. Louis after graduating from Louisiana State University-Shreveport. When he's not writing about movies or television, Philip can be found being chased by his three kids, telling his dogs to stop yelling at the mailman, or yelling about professional wrestling to his wife. If the stars properly align, he will talk about For Love Of The Game being the best baseball movie of all time.