The Silence of the Lambs: 11 Behind-The-Scenes Facts About The Psychological Horror Movie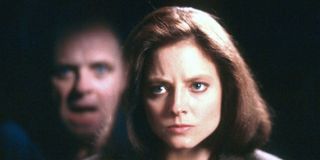 (Image credit: Orion Pictures)
Hello, Clarice. The Silence of the Lambs, the Jodie Foster and Anthony Hopkins-starring psychological thriller/horror, turns 30 this year. Hannibal Lecter, Clarice Starling and many of the films classic lines (of which "Hello, Clarice" isn't actually one) have been ingrained into our culture, not to mention aped in the form of sequels, prequels, spinoffs and parodies. There is a rich history to this classic film and how it all came together, which you can learn more about with these behind-the-scenes facts on The Silence of the Lambs.
Thomas Harris Met The Inspiration For Hannibal Lecter In A Mexican Prison
Thomas Harris introduced the world to Hannibal Lecter in his book Red Dragon and then expanded on the character in The Silence of the Lambs. The sophisticated psychiatrist who eats people resided in Baltimore, but Harris' inspiration for Lecter has roots in a Mexican prison.
In an author's introduction for a The Silence of the Lambs reprint, Harris recalls a magazine assignment when he was 23 to interview an American locked up for murder in Mexico. There, Harris met Dr. Salazar (a created name), who provided medical treatment at the prison. The doctor would ask him probing questions about his interactions and impression of prisoners. It was not until Harris was leaving the prison that he was told that Dr. Salazar was a prisoner himself, an "insane" murderer as described by the warden.
Harris credited Dr. Salazar for allowing him to "recognize his colleague and fellow practitioner, Hannibal Lecter." And per Demme, that remains Harris' vision of Lecter, as he has never seen the film version of The Silence of the Lambs.
Psycho And The Silence Of The Lambs Killers Are Based In Part On Ed Gein
Though Hannibal Lecter gets a lot of the attention, the main antagonist of The Silence of the Lambs is Buffalo Bill, who was conjured up by taking bits and pieces from infamous killers, including Ed Gein, who previously served as the inspiration for Psycho.
An essay by author and film critic Amy Taubin included in The Silence of the Lambs Criterion DVD broached Gein's influence. Ed Gein was a serial killer who had an unhealthy relation with his mother (part of the Psycho connection). He also collected body parts from his victims, making household items, masks and clothes. It is the latter that helped inspire the character of Buffalo Bill, as his plan involved making a woman suit from the skin of his victims.
The Man Who Inspired Jack Crawford And David Fincher's Mindhunter
Jack Crawford (played by Scott Glenn) heads the Behavioral Science Unit of the FBI and the man who recruits Clarice Starling onto the Buffalo Bill case in The Silence of the Lambs. Like Lecter and Buffalo Bill, Crawford also has a connection to a real person, John Douglas.
Douglas was a leading member of the FBI's Behavioral Science Unit in its early days. More than just a jumping off point, he is given a special thanks for his work consulting on The Silence of the Lambs. Jodie Foster also took classes with Douglas during her research at FBI's headquarters in Quantico, Va., prior to filming, which she described in a three-part making-of documentary, Jonathan Demme & Jodie Foster.
Douglas' career would inspire another popular crime story, David Fincher's Netflix series Mindhunter. Douglas wrote the book the series is based on and served as a consultant.
Silence Of The Lambs Interested Jonathan Demme More As A Woman's Pic Than Thriller
Had Clarice Starling been Clark Starling, director Jonathan Demme may never have made The Silence of the Lambs. In Film Comment's January 1991 issue (via Diary of a Screenwriter), Demme said, as both a moviegoer and director, he was a sucker for a woman's picture. Demme explained:
Demme and cinematographer Tak Fujimoto encapsulated that perspective in the look of The Silence of the Lambs. In Jonathan Demme & Jodie Foster, Demme explains casting tall actors around Jodie Foster to accentuate the idea of her being out of place. They also shot from Starling's point of view to put the audience more in her shoes and "constantly feel this sense of challenge that she is encountering," Demme said.
Jodie Foster's Fight To Be Demme's Second Choice
Jodie Foster was not happy when Jonathan Demme was hired as the director for The Silence of the Lambs. But it had nothing to do with Demme as a director.
Foster had read The Silence of the Lambs book and immediately wanted to play Clarice Starling. However, when Demme was brought on Foster knew his first choice was going to be Michelle Pfeiffer, who Demme worked with on Married to the Mob. Foster really wanted the part though, so much so that she called and visited Demme personally in New York to push to be the director's second choice.
She explained her pursuit of Starling in Jonathan Demme & Jodie Foster. Coming off an Oscar for Best Actress in The Accused, many people said she was humiliating herself, but Foster looked at it a different way.
Of course, she would be proven right. Pfeiffer passed and Foster earned her second Oscar for Best Actress and created her most iconic role.
Many Actors Wanted To Wear Hannibal's Mask
It's always fun to think of who else could have played famous characters, and nearly every major male actor of the time wanted to play Hannibal Lecter in The Silence of the Lambs.
This included Gene Hackman, who was originally attached to direct the film and potentially star as Lecter. However, Hackman could not see eye to eye with Ted Tally on the script, so he eventually left the project.
When Jonathan Demme came on board, he said - once again in Jonathan Demme and Jodie Foster - he had two thoughts for casting Hannibal. One was Anthony Hopkins; the other was what he deemed the commercial option: Sean Connery. They reached out to Connery first, but he declined the role. So in the end, Demme got to go with his preferred choice, Hopkins.
Demme Filled The Cast With Lucky Charms, Mentors And Crew
While Foster and Hopkins are given their proper due for their tremendous performances, the entire cast of The Silence of the Lambs is fantastic. To fill out all the roles, Demme made some fun and meaningful choices.
Demme cast his "lucky charm" Charles Napier as one of guards who is killed by Lecter. Per IMDb, Napier had been in every Demme film between 1977's Citizens Band and Silence of the Lambs (he would star in nine Demme films in total). He also brought in B-movie maven Roger Corman as the director of the FBI; Corman helped Demme, like many others, get his start in the industry.
Among the cameos, George Romero, the director for Night of the Living Dead, had a brief appearance in the movie in large part because it was shot in Pittsburgh, where Romero was based. Foster also recalled in Jonathan Demme & Jodie Foster that all members of the crew wound up being used as extras or other small parts.
Anthony Hopkins Devised Hannibal Lecter's Iconic Entrance
Clarice Starling walks down the subterranean corridor that holds the prison's most dangerous inmates to have her first meeting with Dr. Hannibal Lecter. When she arrives, she finds the unblinking, cannibal psychiatrist eerily waiting for her in the center of his cell, eager to greet his guest. It's an iconic entrance that immediately gives Hopkins' Lecter an unsettling air about him; and according to Hopkins was his choice.
During an interview with Jim Ferguson promoting The Silence of the Lambs, Hopkins said Demme asked how he felt Hannibal should be discovered. Hopkins thought having this infamous murderer waiting for Starling in the center of an empty room saying "good morning" spooked him. Ferguson, to Hopkins' delight, agreed. Hopkins eventually saw first-hand how scary his performance was.
Foster And Hopkins Acted More With The Camera Than Each Other
There are so many great scenes between Starling and Lecter throughout the film. Demme's use of POV shots continued during these scenes. However, that meant Foster and Hopkins often weren't acting off each other, but opposite the camera.
Foster, in a Vanity Fair video, explained that those scenes between her and Hopkins would be shot over two days - grabbing her coverage one day and Hopkins' the other. When the camera was on whichever actor, the other would more or less be a disembodied voice, as Foster described it. "Those scenes feel so intimate, and yet we couldn't see each other."
In fact, Foster, in the making-of documentary, said that she and Hopkins had little interaction during filming because of the way their scenes were shot.
Buffalo Bill Drew The Ire Of The LGBTQ Community
Buffalo Bill's motive is said to be fueled by his desire to change himself. Lecter says that a former patient of his, a gay man, was a partner of Buffalo Bill, and that at one point Buffalo Bill may have applied for a sex change operation. This led many to infer that Buffalo Bill was gay or trans, which in turn wrought criticism from the LGBTQ community upon the film's release.
The Los Angeles Times reported many in the gay community believed Buffalo Bill painted gay or trans people as mentally deranged. Protests from gay rights activists were held outside of the Oscars the night The Silence of the Lambs won.
Writer and activist Larry Kramer, in a LA Times op-ed on Demme's follow-up, Philadelphia, said The Silence of the Lambs is considered by "many gays one of the most virulently and insidiously homophobic films ever made."
The Silence of the Lambs never outright says Buffalo Bill is gay or trans. Lecter's theory - and the filmmakers' intent, per Demme's Film Comment interview - suggests more that he hates his own image and adopting gay or trans traits was a way to alter it. That was not, however, enough for the film to avoid controversy.
Anthony Hopkins Oscar Screen Time Record Has An Asterisk
Anthony Hopkins won the Oscar for Best Actor for The Silence of the Lambs, doing so with only 24 minutes and 52 seconds on screen. That set a record for Oscars, but not the one many people assume.
Hopkins' performance is often cited as the shortest to win a lead acting Oscar. That is half right. Hopkins holds the record for shortest performance to win Best Actor, however the record for a lead performance (actor or actress) actually goes to Patricia Neal for 1963's Hud, for which she is on screen for 21 minutes and 51 seconds.
One other quick Oscar tidbit: The Silence of the Lambs is the third, and most recent, film to win Best Picture, Best Director, Best Actor, Best Actress and Best Screenplay (original or adapted). The others are It happened One Night and One Flew Over the Cuckoo's Nest.
The Silence of the Lambs celebrates its 30th anniversary on Feb. 14. Celebrate Valentine's Day with a rewatch and a nice chianti.
D.C.-based cinephile. Will dabble in just about any movie genre, but passionate about discovering classic films/film history and tracking the Oscar race.
Your Daily Blend of Entertainment News
Thank you for signing up to CinemaBlend. You will receive a verification email shortly.
There was a problem. Please refresh th