What The True Detective Season 1 Cast Is Doing Now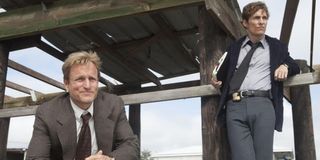 It is hard to believe that it has been nearly five years since Nic Pizzolatto's demented yet fascicnating HBO crime anthology series True Detective came in and provided one of the greatest eight episodes of television before or since. Thanks to Pizzolatto's decades-spanning story about two Louisiana detectives pushing themselves to brink of madness to get to the bottom of a grizzly murder, it's two leads — Matthew McConaughey and Woody Harrelson — and the rest of the stellar cast, True Detective Season 1 remains a landmark television event.
In the years since the show's debut on HBO, the cast of True Detective Season 1 has gone on to have remarkable careers in film and on television, thanks in part to their outstanding performances we're still discussing a half-decade later. Here's a brief rundown of what each actor has done since the conclusion of Nic Pizzolatto's first major foray into television.
Matthew McConaughey (Rustin "Rust" Cole)
Matthew McConaughey's performance as Rustin "Rust" Cole on True Detective Season 1 came in the middle of what is now called the McConaissance, a time in the actor's career when he made the jump from run-of-the-mill romantic comedies and low-brow action franchises to serious and acclaimed movie and television roles like Dallas Buyers Club and Interstellar, and the HBO crime drama only helped his case. Since the final, and confusing moments of True Detective, there have been rumors that McConaughey would return to the franchise, but it's hard to think that he has the time with all the great performances and his philanthropic acts as of late. However, he does have something in the works with True Detective's creator.
Woody Harrelson (Martin "Marty" Hart)
Woody Harrelson deserves as much credit as anyone for his pained and conflicted portrayal of Martin "Marty" Hart in True Detective Season 1 because he was right there in the thick of it until the case was over and done with. Harrelson was by no means a struggling actor when he was cast in one of two lead roles in the HBO series, but in the years following his appearance, he has received an Academy Award nomination for his performance in Three Billboards Outside Ebbing, Missouri, shown up in Solo: A Star Wars Story, and will soon play the iconic Marvel villain Carnage in the upcoming Venom: Let There Be Carnage. Harrelson, a longtime environmentalist, narrated the 2020 documentary Kiss The Ground (opens in new tab) which breaks down how the earth's soil can help in the fight against climate change.
Michelle Monaghan (Maggie Hart)
Michelle Monaghan's performance as Maggie Hart, Marty's loyal and fed up wife, in True Detective Season 1 remains one of the highlights of the actress' career, which is saying a lot. In the years following her time on on the HBO series, Monaghan had a leading role on the Hulu original series The Path as well as the short-lived Netflix series Messiah. After a 12-year absence, she also returned to the Mission: Impossible franchise in 2018 with Mission: Impossible — Fallout. Monaghan most recent film appearance is in Zoe Lister-Jones' The Craft: Legacy which serves as a soft reboot to the 1996 supernatural horror flick The Craft.
Alexandra Daddario (Lisa Tragnetti)
Throughout True Detective Season 1, Alexandra Daddario's Lisa Tragnetti appeared off-and-on as Marty Hart's mistress who eventually called things off when the married detective took things too far. Already a star in her own right, Daddario continued with her success on the crime series with major roles in movies and shows like the Dwayne Johnson disaster epic San Andreas, the 2017 film adaptation of Baywatch, and the CBS All Access original series Why Women Kill. Daddario will next appear in the upcoming Michael Bay-produced science fiction thriller Songbird, which is not only based on the COVID-19 pandemic, but was also filmed during the heart of the health crisis.
Michael Potts (Maynard Gilbough)
Michael Potts, who appeared as Maynard Gilbough, one of the modern-day detectives trying to uncover the mystery in True Detective, is one of the many actors with the distinction of being featured on two of the most iconic HBO series, Oz and The Wire. Since his time on True Detective, Potts has remained busy with various television projects like Random Acts of Flyness, Elementary, and Taken, as well as film roles like the one of Slow Drag in the upcoming Ma Rainey biopic Ma Rainey's Black Bottom starring Viola Davis and the late Chadwick Boseman.
Tory Kittles (Thomas Papania)
Tory Kittles appeared as Thomas Papania, Maynard Gilbough's partner in the modern-day portions of True Detective, and has remained just as busy ever since. Following his eight episodes on the HBO crime drama, Kilttles worked with HBO once again when he showed up as Clarence Smith, the older brother of Queen Latifah's Bessie Smith in the 2015 TV film Bessie. Kittles would go on to appear in another biographical drama four years later when he portrayed abolitionist Frederick Douglass in the 2019 Underground Railroad drama Harriet. Kittles has also continued to makes strides on television and currently has a main role on the CBS crime drama The Equalizer.
Kevin Dunn (Ken Quesada)
Kevin Dunn will probably always been known White House Chief of Staff Ben Cafferty on the HBO comedy series Veep or Communications Director Alan Reed in the 1993 political comedy Dave, but Dunn also gave a convincing performance as Major Ken Quesada on True Detective Season 1. Following the end the anthology series' first season, Dunn continued to be one of the best things about Veep and made appearances in movies like Above Suspicion, Keeping Up with the Joneses, and Captive State.
Erin Moriarty (Audrey Hart)
Erin Moriarty was a relative newcomer to when she appeared as the teenage version of Marty Hart's daughter, Audrey on True Detective. In the years following her portrayal of a youth in crisis, Moriarty has found a great deal of success in both film and television, with her two most notable roles being that of Hope Shlottman on Jessica Jones Season 1 and more recently as Annie January / Starlight in the Amazon original superhero series The Boys where she remains on the main cast.
Brighton Sharbino (Macie Hart)
Brighton Sharbino appeared as the older version of Marty Hart's younger daughter, Macie on True Detective Season 1. During her time on the show, Sharbino also had a recurring role on The Walking Dead for a short time. Sharbino is next set to appear on The Shadow Diaries, a serialized scripted podcast that dives into the troubling world of a fictionalized pop star.
Michael Harney (Steve Geraci)
Michael Harney appeared throughout True Detective Season 1 as Sheriff Steve Geraci, a character that first appeared to be an ally of Rust and Marty's but ended up holding back more information than he should. During his run on True Detective, Harney also had a memorable role as Sam Healy on Orange is the New Black, he followed up with movies like A Star Is Born, Widows, and most recently The Banker, which like the series For All Mankind, is available on Apple TV+.
Jay O. Sanders (Billy Lee Tuttle)
Jay O. Sanders' portrayal of the corrupt (in ever sense of the word) reverend Billy Lee Tuttle on True Detective Season 1 remains one of the most detestable and disgusting characters in the entire series. In recent years, Sanders has appeared on a number of successful television shows like Blindspot, The Sinner, and most recently Manhunt: Unabomber.
Glenn Fleshler (Errol Childress)
Glenn Fleshler only appears in three episodes of True Detective Season 1, but his portrayal of Errol Childress, the monster behind the abduction and murder of countless children in southern Louisiana, remains one of the most unforgettable roles after all these years. With a face and demeanor like that, it's hard to forget Fleshler. Over the years, he has appeared in movies like Joker and A Most Violent Year, as well as TV shows like Waco, The Twilight Zone, Watchmen, and most recently For Life. Still, Errol Childress will always be his most notable and unforgivable character.
Charles Halford (Reggie Ledoux)
Reggie Ledoux, the very southern Louisiana man with questionable prison tattoos in True Detective Season 1, is just one part of the widespread child abduction conspiracy throughout the series, but still pays for his actions. Shortly after his character was killed off True Detective, Charles Halford was cast in a more positive role in the 2014 television adaptation of Constantine, where he played Francis "Chas" Chandler, John Constantine's best friend. He has also done some voice work with Tangled: The Series, Injustice 2, and Reign of the Superman.
Shea Whigham (Joel Theriot)
Shea Whigham was no stranger to HBO audiences when he appeared as the disgraced reverend Joel Theriot in True Detective Season 1, thanks in part to his portrayal of Elias "Eli" Thompson on Boardwalk Empire, but his characterization of the charismatic preacher was a memorable one to say the least. Since we last saw Theriot, Whigham has appeared on shows like Fargo, Narcos, and Waco, as well as movies like Joker and First Man. He will also soon appear in Mission: Impossible 7 and its sequel.
Ann Dowd (Betty Childress)
Ann Dowd, who took home a Primetime Emmy Award and Critics' Choice Award in 2017 for her performance on The Handmaid's Tale, appeared briefly in the True Detective Season 1 finale as Betty Childress. Since her sickening performance on the HBO series, Dowd has done quite a bit, even outside of The Handmaid's Tale, including a time on The Leftovers, Olive Kitteridge, and Girls. Dowd most recently appeared in the Netflix adaptation of Rebecca, where she portrayed Mrs. Van Hopper.
Well, that was most, if not all, of the main cast from True Detective Season 1. I guess now it's about time to see what the cast of the show's forgettable second season has been up to…
Philip grew up in Louisiana (not New Orleans) before moving to St. Louis after graduating from Louisiana State University-Shreveport. When he's not writing about movies or television, Philip can be found being chased by his three kids, telling his dogs to stop yelling at the mailman, or yelling about professional wrestling to his wife. If the stars properly align, he will talk about For Love Of The Game being the best baseball movie of all time.
Your Daily Blend of Entertainment News
Thank you for signing up to CinemaBlend. You will receive a verification email shortly.
There was a problem. Please refresh the page and try again.