Upcoming Chloë Grace Moretz Movies And TV: Everything She Has Coming Up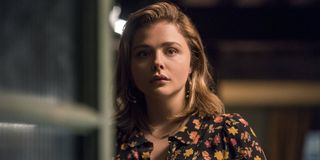 Ever since breaking out as a child actor in the 2005 remake of The Amityville Horror, Chloë Grace Moretz has become one of young Hollywood's brightest stars with star-marking performances in the Kick-Ass Rated-R comic book franchise, 500 Days of Summer, and more recently in the 2018 reimagining of the Italian horror classic Suspiria. Combine those roles with the various voice-acting gigs Moretz has undertaken over the years and you have yourself the perfect recipe for prolonged success in show business. And on the eve of the release of the Tom and Jerry live-action/computer-animated comedy, now's the perfect time to see where Moretz will be taking audiences the next couple of years.
From more voice-acting work in the sequel to the 2019 reboot of The Addams Family to a emotional crime drama alongside Robert De Niro to sci-fi mystery thriller series coming from Amazon Studios, plus more, Chloë Grace Moretz will not only continue with her career trajectory these next couple of years, she will potentially take it to higher levels where the possibilities are endless. Let's take a look at each of those upcoming film and television roles…
Tom And Jerry - February 26, 2021 (Completed)
It has been nearly 30 years since the release of Tom and Jerry: The Movie in 1992, but the iconic cat and mouse pair remain as popular as ever and could potentially reach new heights with the forthcoming release of Tom and Jerry. This time around, Tom and Jerry's endless battle results in the pair getting kicked out of their home and finally splitting up after all this time. Some time later, when Jerry begins to cause trouble at the prestigious Royal Gate Hotel, a young staff member by the name of Kayla (Chloë Grace Moretz) hires the mouse's former rival/friend to take care of business. The three soon have to come together, however, to uncover a diabolical scheme in the works.
This live-action/computer-animated feature-length film has been in the works since 2009, but sat in development hell for nearly a decade before Warner Bros. decided to move forward with the current version in October 2018, per Variety. Production on the live-action portion of the movie got underway in July 2019, a process that involved the animators coming to set to work with the actors who were allowed to improvise, according to Yahoo! Movies. Chloë Grace Moretz told the outlet that she looked to the work of Bob Hoskins in Who Framed Roger Rabbit to find the best way to act alongside the animated characters.
Originally slated to be released on April 16, 2021, Tom and Jerry was later pushed up to December 23, 2020 before again being pushed back to March 5, 2021, a date that was later revised again to February 26, 2021. Tom and Jerry is one of the Warner Bros. films set to be released in theaters and on HBO Max simultaneously.
The Addams Family 2 - October 1, 2021 (Post-Production)
Chloë Grace Moretz will soon return to another animation franchise when she reprises her role of Wednesday Addams in The Addams Family 2, the forthcoming sequel to the October 2019 box office smash featuring the voices of Oscar Isaac, Charlize Theron, Finn Wolfhard, Nick Kroll, Snoop Dogg, and Better Midler as the kooky and spooky macabre family. The sequel was first announced in October 2020 with EW reporting that Bill Hader would be joining the cast as a new character named Cyrus and Javon "Wanna" Walton would be taking over the role of Pugsley Addams from the departing Wolfhard.
No plot details have been revealed at this time, but a brief logline from MGM revealed that the Addams family will find themselves tangled up in wacky adventures as they have run-ins with unsuspecting characters. This makes it sound like the Addams will be doing what they do best: freak out everyday people with their unique brand of family fun and games.
Originally set to be released on October 22, 2021, The Addams Family 2 finds itself on the short list of films that have actually received earlier release dates in the ongoing COVID-19 pandemic and will hit theaters three weeks early, joining Dune on October 1, 2021.
Mother/Android - TBD (Post-Production)
Fans of the 2020 Netflix sci-fi action flick Project Power, specifically it's writing, are in for some good news as Mattson Tomlin, who penned the film's script as well as Matt Reeves' The Batman, will soon make his directorial debut with the thriller Mother/Android with Chloë Grace Moretz in the lead role. According to The Hollywood Reporter, Moretz will play Georgia, a mother-to-be, who goes with her boyfriend, Sam (Judas and the Black Messiah's Algee Smith) on a perilous journey to escape their country as it battles a rouge artificial intelligence. Before Georgia can reach safety and give birth to her child, she must cross "No Man's Land," a stronghold of the android uprising.
When the project was first announced, Mattson Tomlin revealed that Mother/Android is loosely based on his parents who fled their native Romania for a better life elsewhere, calling it a "deeply personal story." Production got underway in September 2020, per an Instagram post from the writer/director and wrapped in November 2020. There is no word on when or how Mother/Android will be released, but expect details in the coming months.
Love Is A Gun - TBD (Pre-Production)
The story of Bonnie and Clyde, the lovers-turned-robbers who became both famous and infamous for crime spree in the 1930s, has become the stuff of legend in the nearly 90 years since the infamous pair was gunned down in Northern Louisiana in May 1934. Well, that story, or at least a version of the classic tale, will come to the screen once more in Kiké Maillo's Love is a Gun. Taking on the roles of Bonnie Parker and Clyde Barrow will be Chloë Grace Moretz and Jack O'Connell, respectively.
Per a Deadline report from when the project was first announced in October 2018, Love is a Gun is based on the Jeff Guinn's book Go Down Together: The True, Untold Story of Bonnie and Clyde which has been adapted by Up in the Air scribe Sheldon Turner with updates by Narcos' Johnny Newman. Principal photography was originally set to get underway in early 2019, but there have not been any updates on the progress of the production in more than two years. It looks like Warren Beatty and Faye Dunaway's portrayal of dangerous couple will remain the gold standard a little longer.
After Exile - TBD (Pre-Production)
Chloë Grace Moretz is also set to appear in writer/director Joshua Michael Sterns' long-awaited family crime drama After Exile. The film focuses on a former criminal named Ted Delaney (Robert De Niro), who will stop at nothing to help his son, Mike (Shia LaBeouf) find his place in society after serving time in prison for killing an innocent victim in a violent robbery gone wrong. The project, which was first announced by Variety in August 2019, will see the elder Delaney work with his son so that Mike's younger brother doesn't follow in his footsteps and turn his life around before it's too late. How Moretz and her character fit into the narrative has yet to be revealed.
The Philly Voice reported in September 2019 that After Exile was to begin production in and around the Philadelphia area that November, but there haven't been updates on as to when principal photography got underway, if it was completed, or when the movie will see the light of day.
The Peripheral (TV Series) - TBD (Pre-Production)
Chloë Grace Moretz will also appear in the Amazon original series The Peripheral from Jonathan Nolan and Lisa Joy's Kilter Films and Warner Bros. TV. In October 2020, Deadline reported that the show is based on William Gibson's bestselling novel of the same name, and will follow Flynne Fisher (Moretz), a woman trying to keep what's left of her broken family in a small and largely forgotten rural town in a near-future America. Things change for Flynne, however, when she catches a glimpse at multiple and very different futures. At that moment, she is welcomed into a dazzling, hallucinatory look at the fate of all mankind.
The Amazon sci-fi thriller will also feature Gary Carr, who previously appeared on the streamer's anthology series Modern Love. According to Variety, Carr will take on the role of Wilf, a publicist living in the 22nd Century who was also one of the points of perspective in the original novel.
The one-hour drama was picked up by Amazon in 2019 but there is no word on exactly when it will enter production or when we can expect to see it on our TV screens.
Those are all the different places where you'll be able to see Chloë Grace Moretz in the next year or so, but make sure to check back for updates because the movie industry changes things up more now than ever before. And since you're here, go ahead and check out CinemaBlend's 2021 Movie Release Guide.
Philip grew up in Louisiana (not New Orleans) before moving to St. Louis after graduating from Louisiana State University-Shreveport. When he's not writing about movies or television, Philip can be found being chased by his three kids, telling his dogs to stop yelling at the mailman, or yelling about professional wrestling to his wife. If the stars properly align, he will talk about For Love Of The Game being the best baseball movie of all time.