Looks Like Star Wars' Daisy Ridley Would Be Down To Play A Fan-Favorite Marvel Hero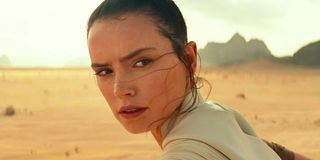 When it comes to her Hollywood breakthrough, Daisy Ridley is in rare company. The actress rose to fame with a starring role in the Star Wars franchise -- going from an unknown to one of the most recognizable faces in the world in very little time. While the pressure from that meteoric rise presented unique challenges for the actress, that doesn't mean she's opposed to appearing in another franchise in the future. In fact, it looks like she'd be willing to appear as a beloved superhero in a Marvel film.
As Rey, Daisy Ridley helped inspire a new generation of Star Wars fans. So maybe it shouldn't come as a surprise that she'd be drawn to another iconic, strong-willed character. She was recently asked about rumors regarding her being cast as Spider-Woman in an upcoming Marvel film, and the actress's response was very interesting. Take a look at writer Sariah Wilson's account of the conversation below:
In her follow-up tweets, Sariah Wilson makes it clear that while the casting rumors were news to Daisy Ridley, she's totally down for taking on a new franchise role. Of course, it's hard to say if the rumors are founded in reality -- all we know about a prospective Spider-Woman film at the moment is that Olivia Wilde is directing a female-led Spider-hero film that may or may not star the character. Ridley also has what appears to be a strong relationship with Disney -- in addition to her work on Star Wars, she recently booked a new film through the studio. So if the new Marvel Universe takes off with Spider-Woman, it would make sense if she's already on their radar.
If the rumors do become reality, Daisy Ridley wouldn't be the first actor to get involved in multiple franchises -- stars like Jennifer Lawrence, Ian McKellen and Samuel L. Jackson have pulled double duty in series like Avengers, The Hunger Games, X-Men, Lord of the Rings and, yes, Star Wars. Even if the Spider-Woman casting doesn't pan out, some fans would agree there are other roles in the Marvel universe that Daisy Ridley would be a good fit for, including Psylocke and Black Cat.
Since Star Wars wrapped, Daisy Ridley has been open about the challenges she's faced in grappling with this new phase of her career. From dealing with grief over the franchise ending to quitting social media and struggling to book roles, she's made it clear that while the franchise was a huge opportunity for her, it hasn't come without some downsides. Still, if she's willing to start work on another high-profile series, it seems like maybe the good has outweighed the bad.
Do you think Daisy Ridley would make a good Spider-Woman? Let us know in the comments and vote in the poll below!
This poll is no longer available.
Your Daily Blend of Entertainment News
Thank you for signing up to CinemaBlend. You will receive a verification email shortly.
There was a problem. Please refresh the page and try again.