5 Marvel Characters Katherine Langford Would Be Perfect To Play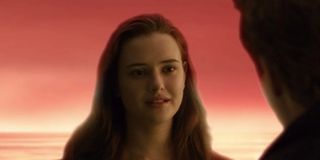 As much as I do empathize with Emma Fuhrmann (Ant-Man's teenage daughter before Kathryn Newton replaced her for future Marvel movies), at least she can say that she was actually in Avengers: Endgame. The same cannot be said for Katherine Langford, whom you may also recognize as the late Hannah Baker on 13 Reasons Why or the young Meg Thrombey in Knives Out, whose moment was taken out of the final cut.
The 24-year-old actress was cast in the 2019 blockbuster for a now deleted scene that can be viewed on Disney+ (opens in new tab) in which Robert Downey Jr.'s Tony Stark, following his fateful snap to decimate Thanos' army, is sent to a metaphysical "way station" where he shares one final moment with his daughter, but as a teenager. It is a heartbreaking, bittersweet sequence, not just for Katherine Langford's strong portrayal of a future Morgan Stark offering forgiveness and thanks for her father's sacrifice, but the realization that her performance never made it to the big screen. However, this may not necessarily be the last we have seen of Langford in the Marvel Cinematic Universe.
We may never see her return as an older Morgan Stark, but that only increases the potential of superheroes she could play in a future installment. In fact, I have five characters ripped from the pages of Marvel Comics in mind whom Katherine Langford would be the ideal choice to portray, starting with one she has already spent years training for.
Namora
Before falling in love with the arts and hitting it big as an actress, Katherine Langford's claim to fame in her home country of Australia was being one of the top nationally-ranked swimmers of her age group while she was still in high school. With knowing that, one might safely assume that playing a character who calls the ocean their home would be second nature to the actress. In that case, I have the perfect Marvel character for this situation.
The MCU still has yet to introduce Namor the Sub-mariner, who often referred to as the less popular Marvel Comics iteration of Aquaman, despite predating him by a few years. When they do give him his own flick, they should make it a team-up movie featuring his cousin, Namora, who is also gifted with all your basic semiaquatic abilities. Furthermore, I think no one would argue against giving the heroine her own movie instead, especially with Katherine Langford as the lead.
Lifeguard
You may recall earlier when I mentioned that Katherine Langford is Australian, which might have been even more of a surprise to you than her swimming career. The actress hides her natural accent so seamlessly in almost everything she does that I actually think Marvel Studios (if they ever ask her back to play a new role) should owe her the chance to finally own her Down Under origins on the big screen.
One character recommendation I have in that regard is a mutant named Heather Cameron, who earned the nickname Lifeguard among her fellow X-Men for her certification in that field and ability to adapt to her surroundings through shape-shifting in life-threatening situations. That is actually what led to the signature gold tint of her skin and hair. The beauty of casting Katherine Langford in this role would be that it applies to both her roots as an Aussie and an aquatic athlete.
Tempus
I actually have more than one Australian Marvel heroine in mind for Katherine Langford to play. Believe it or not, the second name I have on this list is also a member of the X-Men, but one who is much newer to the universe and part of young recruits of The Five from the House of X.
This mutant's name is Eva Bell, better known by her codename Tempus for her ability in time displacement - meaning she can speed up, slow down, or completely stop time in a specific place without affecting the continuity of elsewhere (which is something the later X-Men movie seemed to have trouble figuring out). She was even referred to as the best wielder of temporal stasis on record by none other than the Sorcerer Supreme himself, Doctor Strange, who also has a close connection to our next character.
Emily Bright
After two seasons as the high school student whose tragic death sets the events of 13 Reasons Why in motion, Katherine Langford scored her second big TV role in 2020 with another Netflix original called Cursed. Inspired by writer Tom Wheeler and illustrator Frank Miller's fantasy novel, the series chronicles a young sorceress's quest to find the legendary Excalibur. At this moment, the fate of the show's second season is still up in the air, but Langford's time playing magic-wielders could be saved by Marvel.
The character I have in mind for that is named Emily Bright, who does not have a fancy superhero alias yet because she was only introduced into the comics in 2020. However, she has already earned a reputation for her powerful abilities in magic manipulation, which was discovered in her infancy and improved since enrolling in Doctor Strange's recently established Strange Academy. She has also received praise from Wanda Maximoff, who will be crossing paths with Doctor Strange in his upcoming sequel and could pave the way for this young sorcerer's introduction.
American Dream
Speaking of crossing paths, playing Tony Stark's daughter is not the only time that Katherine Langford (technically) shared the screen with a Marvel star in 2020. She played Chris Evans' cousin in Rian Johnson's exhilarating reinvention of the whodunit Knives Out, which gives me an idea.
Why not cast Katherine Langford as a distant relative of Steve Rogers (from the Earth-982 continuity)? Born Shannon Carter, this young heroine grew up idolizing Captain America before adopting his patriotic aesthetic and joining a new iteration of the Avengers as American Dream. Displaying great skills in combat and leadership, I believe that in the event that Sam Wilson would want to hang up the shield, she would be a perfect successor.
I would have added a section about Morgan Stark in case Katherine Langford were ever asked back to portray the role for a canonical appearance. However, I would not have had much else say about her since the character in the comics (Tony Stark's adult, male cousin) is a stark contradiction from her depiction in Avengers: Endgame. If you were Kevin Feige, who would choose the actress to play if you brought her back into the MCU for a second try?
This poll is no longer available.
Jason has been writing since he was able to pick up a washable marker, with which he wrote his debut illustrated children's story, later transitioning to a short-lived comic book series and (very) amateur filmmaking before finally settling on pursuing a career in writing about movies in lieu of making them. Look for his name in just about any article related to Batman.
Your Daily Blend of Entertainment News