No Pants, No Problem: 3 Great Comments From Alexandra Daddario About Life In Quarantine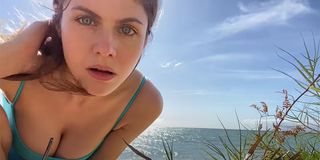 Alexandra Daddario has been an active presence on numerous social media platforms, including Instagram and YouTube, over the past 12 months. She's also a big proponent of mask-wearing and has certainly been open about her experiences when she's had to quarantine for work-related projects. If you haven't been keeping tabs on the Songbird and Baywatch star, the actress has had funny and spot-on comments about life over the past year, so I went ahead and compiled a few of the times she's been outspoken and relatable in recent months.
That Time Alexandra Daddario Advocated For Pants-Free Living
After spending a good period of time in lockdown hanging out with herself, Alexandra Daddario got back to work after a few months, and gave some now-infamous commentary on what it was like to be wearing real clothes for the first time in months. In fact, she famously advocated for going pants-free moving forward, and honestly, I don't hate the idea.
Alexandra Daddario has oft seemed like one of those celebrities whose preferred mode of clothing is swimwear, swimwear and a few sweatsuits thrown in for good measure, so the idea is pretty on brand for the actress as a whole. In the time since, other celebrities, including Halle Berry, have also seemingly opted into this trend.
That Time Alexandra Daddario Got Candid About The Loss Many Of Us Have Suffered
I know this pants-free idea is just a funny take on the lives we've been living over the past year, but Alexandra Daddario also does know the gravity of what a lot of people have been through. Daddario has gotten into showing off some of her yoga skills online as part of her continued social media presence. In one of those videos, the actress shared some sage words of wisdom she's taken in and more as she seeks to find herself on this journey.
Sometimes yogis can get a little out there when doling out concepts, but as far as this advice goes, it's one that should stick with most of us for a while. It's been a hard year. Some have been unemployed or left jobs to take care of kids. Most people haven't spent as much time face-to-face with family and friends as we may have liked. There's been loss.
That Time Alexandra Daddario Opened Up About What Working Life Is Like As An Actor In Quarantine
While people in Hollywood have been able to get back to work sooner than some industries, this has come with pros and cons. While paying people to get back to work is heavy on the plus side, those involved in films and television have had new safety requirements to deal with and have had to -- in many cases -- quarantine for 14 days in (usually) tiny hotel rooms before work can even start. Some of them, from Candace Cameron Bure to Karen Gillan to, of course, Alexandra Daddario, have documented their boredom. If one memorable video, Alexandra Daddario just tried on a boatload of dresses.
Daddario spoke further about the woes of quarantining for 14 days, noting she's trying to make rules for herself so she doesn't become too bothersome out of boredom or loneliness. Luckily, those quarantine 14 day stints have been few and far between.
While some actors and actresses have opted out of work during the pandemic, including Scarlett Johansson, Alexandra Daddario filmed Songbird -- a movie about a pandemic from Michael Bay -- during the pandemic. More recently she filmed Die in a Gunfight with Travis Fimmel, Justin Chatwin and Diego Boneta. She's currently busy filming The White Lotus series, but she'll also need to quarantine once more sometime soon as she preps for the upcoming flick Happy Life with Evangeline Lilly (who also had a notable comment during quarantine) and Ike Barinholtz.
Reality TV fan with a pinch of Disney fairy dust thrown in. Theme park junkie. If you've created a rom-com I've probably watched it.
Your Daily Blend of Entertainment News
Thank you for signing up to CinemaBlend. You will receive a verification email shortly.
There was a problem. Please refresh the page and try again.