While Being Handcuffed, Walt Disney World Guest Claims He Paid Too Much Money To Be Arrested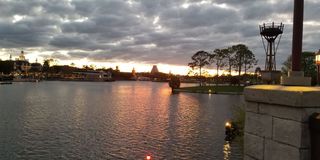 There are three things I undeniably understand and understood about Walt Disney World even before the pandemic. First, vacations there aren't cheap. Secondly, even pre-pandemic there were lots of little rules to follow. Third, you need to prepare for the trip and understand how everything from the rules to reservations work. Unfortunately, not everyone gets that memo and a Louisiana man recently learned the consequences firsthand when he was arrested after not following the safety rules in place and then neither leaving nor complying once told about the rules. As he was getting handcuffed, he even told officers he'd spent too much money on the vacation to actually be arrested.
So, how did we get here? Kelly Sills, a 47-year-old man who recently visited Walt Disney World Resorts and Disney Springs was recently arrested at The Boathouse, a restaurant in the shopping and dining complex, after failing to submit to a temperature check. Currently rules at resorts, restaurants and dining facilities indicate masks must be worn when not eating and drinking, but a secondary major thing that is happening is that guests must be temperature checked when entering various areas and business.
Mr. Sills, who was staying at Saratoga Springs resort, failed to submit to a temperature check, then refused to go back and get checked when authorities on the scene caught up with him at the aforementioned The Boathouse restaurant. Things got even more out of hand when Sills was "asked to leave the premises" by the group of officers and guards. He didn't go and was ultimately arrested and hauled off on a misdemeanor trespassing charge. The incident was entirely caught on body cam.
According to footage that can be seen over at the Orlando Sentinel, a Disney Springs guard mentioned he's going to "have to go in for the day," which chafed Kelly Sills, who then asked "what for?" Well, the officers told him what for directly, noting that Disney Springs is "private property" and if he didn't abide by the rules established on the private property he was "officially being trespassed." Kelly Sills' response? Well, he'd spent a lot of moolah on the vacation: "I spent $15,000."
Spoiler alert: A huge chunk of people shell out major money for a full-family Disney vacation, bud. Most of those manage to comply with the rules while there. Only as he was being arrested did Kelly Sills seemingly change his mind about what was happening. In a turn of events, the Disneygoer and Louisian resident asked if he could get his temperature checked as he was being hauled off by the police, but it was seemingly too late at that point. He was told he could get his temperature checked in jail. Now, Kelly Sills is due in court on Monday morning.
Meanwhile, this isn't the first time people have expressed unhappiness over rules the parks have instituted over the past few months. One man was forcibly removed from Hollywood Studios after refusing to abide by the mask mandate. Even people who kind of follow the rules are not always following the spirit of the rules, prompting reminders and changes over time.
Pre-pandemic I once witnessed an adult man totally lose it with a server in front of his family at the Hollywood Brown Derby, so I'm sure meltdowns have always been a fact of life at the Happiest Place on Earth. However, add heat, additional rules, pandemic fatigue and new stressors and masks to the situation and I'm sure things have gotten worse. Just be sure you know what you are getting yourself into before you go if you decide to give the parks a whirl this coming year.
Your Daily Blend of Entertainment News
Reality TV fan with a pinch of Disney fairy dust thrown in. Theme park junkie. If you've created a rom-com I've probably watched it.
Your Daily Blend of Entertainment News
Thank you for signing up to CinemaBlend. You will receive a verification email shortly.
There was a problem. Please refresh the page and try again.