Upcoming Issa Rae Movies And TV: What's Ahead For The Insecure Star And Co-Creator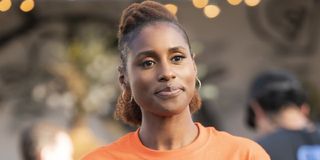 CinemaBlend participates in affiliate programs with various companies. We may earn a commission when you click on or make purchases via links.
With the hit HBO comedy series Insecure coming to an end after five seasons, you would think the show's star and co-creator, Issa Rae, would stop and relax for a bit before starting something new. Well, that's not going to be happening anytime soon, with a slew of movies and TV shows starting to stack up on the plate of the internet-sensation-turned-established-star, especially with that massive deal she inked with HBO. The truth is, this is just the beginning for the Lovebirds star, as she will spend the better part of 2021 and beyond on the silver screen, our TV screens, and with the way today's media climate looks, on our phone screens.
Below, we will break down each and every one of the upcoming Issa Rae movies and TV shows we can expect to see from the talented writer/actor/producer who has etched out quite a career for herself, and become one of the leading voices in Hollywood these past few years. There's a lot to cover, so let's get started…
Vengeance (Actor) - TBD (Filming)
Issa Rae is mostly known for her comedic and dramatic work in everything from Insecure to The Hate U Give, but the New York Times best-seller will soon take a spin at the horror genre in the upcoming Vengeance, a thriller written and directed by B.J. Novak that is being produced by Jason Blum and his Blumhouse Productions. Per Collider, the horror flick will center on a New York City radio host (played by Novak) who travels to the American South to investigate his girlfriend's murder. Not much else has been revealed about Vengeance's plot at this point, but the film's cast is shaping up nicely. With everyone from Issa Rae to Ashton Kutcher, and Boyd Holbrook to J. Smith-Cameron appearing in undisclosed roles, the cast is talented to say the least.
It is hard to say exactly when (or how) Vengeance will be released, considering it was still in production in spring 2021 after taking nearly a one-year break after the pandemic forced Blumhouse to press pause not long after cameras started rolling in early 2020, per The Hollywood Reporter. Production finally resumed in January 2021 in Santa Fe, New Mexico, per Deadline, but it remains to be revealed when things will wrap up.
Sinkhole (Actor, Producer) - TBD (Pre-Production)
Since July 2020, Issa Rae and Get Out director Jordan Peele have been working on a thought-provoking genre film called Sinkhole, which follows a young family who move into their dream home despite a massive and magical hole in the middle of the backyard. Per Deadline, Rae, who is set to star, and Peele were part of Universal Pictures' winning bid to adapt Lenya Krow's short story, which tackles female perfection and identity by asking if the sinkhole could fix a broken person.
There isn't much to go on, as no writers or directors have been named at this point, but considering Sinkhole will fall under Jordan Peele's Monkeypaw Productions, it wouldn't be out of the realm of possibility for the Academy Award winner to helm the project himself. Expect to hear more on the highly anticipated movie in the coming months.
American Princess (Actor) - TBD (Pre-Production)
Issa Rae is slated to lead the Paul Feig-produced Fox romantic comedy American Princess. First announced in October 2018, the comedy, which is to be directed by Stella Meghie, will follow Rae's character as she moves from the United States to London, where she finds herself drawn into the wealth and high society of the bustling metropolis before falling in love in an unexpected way, per Variety. Rae's Insecure co-writer Amy Aniobi was said to be working on a rewrite of the script originally put together by Brendan O'Brien, who is also set to produce.
There has been no word on when the rest of the cast will be fleshed out or even when American Princess is set to enter production at this time, but be on the lookout for more in the future.
Empress Of Serenity (Actor) - TBD (Pre-Production)
In March 2017, it was announced that Issa Rae and Bill Hader would be co-starring in drama-comedy directed by Jesse Andrews, who wrote Me and Earl and the Dying Girl, the 2015 film based on his debut novel. According to an initial report from Variety when the movie was announced, Empress of Serenity will follow a lawyer (Hader) who is guilted into a month-long ocean cruise by his estranged father. Rae will play a reclusive passenger in the next cabin who helps Hader's character while also getting in his way at the same time.
Production was initially supposed to get underway in August 2017, but there have not been any updates on Empress of Serenity in well over four years. This one might be dead in the water.
Insecure Season 5 (Actor/Executive Producer) - TBD (Filming)
Since its debut in 2016, the HBO comedy Insecure has turned its creator and star Issa Rae into one of the most sought-after names in Hollywood. Just as the actor/writer/producer's career is preparing to reach new heights, the bridge that brought her to stardom will be closing down following its fifth and final season. Announced back in May 2020, just as Insecure Season 4 was in full-swing, HBO announced Rae's popular show would be returning for a fifth season before announcing, in January 2021, that this would be the end of the road for the fictional version of the multi-talented star, according to Deadline.
Production began on Insecure Season 5 in January 2021, as Issa Rae revealed in an Instagram video of herself waving in front of a trailer with a caption reading "First Day of Season Bye-ve." An exact release date has yet to be announced for the HBO comedy's swan song, but it was included in the HBO Max hype video released in December 2020 which showed off everything coming to the streaming service through 2022. Be on the lookout for announcements about the cast, plot, and release date as 2021 chugs along.
Sweet Life: Los Angeles (Executive Producer) (TV Series) - Summer 2021 (Filming)
In March 2021, Issa Rae signed a $40 million deal with Warner Media which will see the Insecure creator and her Hoorae media label work with the giant on a number of series and other projects over the course of five years, according to Variety. One of the first shows to come from that new deal is the unscripted TV series Sweet Life: Los Angeles, which will debut on HBO Max at some point in summer 2021, per the streaming platform.
When announcing Sweet Life: Los Angeles in May 2021, HBO Max said the show will give audiences an honest and unique look into what it means to be young, Black, and in constant pursuit of one's dreams in the heart of South Los Angeles. The unscripted series will follow a group of ambitious 20-somethings as they build up their respective careers as well as work on their friendship and familial bonds.
It has yet to be revealed exactly when in summer 2021 Sweet Life: Los Angeles will debut on HBO Max, how many episodes will be included, or if Issa Rae will appear at all.
Project Greenlight (Executive Producer) (TV Docuseries) - TBD (Pre-Production)
The HBO docuseries Project Greenlight, which debuted on the premium cable network in December 2001 as a way to give young and talented first-time filmmakers a shot at making a feature-length film with guidance from Academy Award winners Matt Damon and Ben Affleck, will soon make its return, but with some slight changes. Instead of Damon and Affleck serving as hosts, mentors, and producers, the fifth season of Project Greenlight (which last aired in late 2015, igniting all sorts of controversy in the process), will be led by Issa Rae, who will be working with a group of unknown female filmmakers who are all working towards making their directorial debut and winning the show's top prize.
Announced in May 2021, Project Greenlight will debut on HBO Max at some point in the near future and will consist of eight episodes featuring the group attempting to get their respective projects off the ground. The winner of the competition will have their film appear on HBO Max at some point after the show's finale. Just like Matt Damon and Ben Affleck before her, Issa Rae will appear in all eight episodes, and serve as a mentor to the filmmakers throughout.
Expect to hear more about Project Greenlight's return and the various female filmmakers who will spend eight episodes competing for the top prize and a well-earned HBO Max debut in the coming months.
As you can see, even with Insecure coming to an end, Issa Rae is going to be quite busy throughout 2021, 2022, and beyond. To prevent missing any of the multitalented star's upcoming movies and TV shows, make sure to keep an eye on CinemaBlend's updated list of 2021 movie premiere dates and the summer 2021 TV schedule for all the latest on the big and small screen.
Philip grew up in Louisiana (not New Orleans) before moving to St. Louis after graduating from Louisiana State University-Shreveport. When he's not writing about movies or television, Philip can be found being chased by his three kids, telling his dogs to stop yelling at the mailman, or yelling about professional wrestling to his wife. If the stars properly align, he will talk about For Love Of The Game being the best baseball movie of all time.
Your Daily Blend of Entertainment News
Thank you for signing up to CinemaBlend. You will receive a verification email shortly.
There was a problem. Please refresh the page and try again.