Hulk Hogan Responds To Viral Image Of Chris Hemsworth's Thor Arms Ahead Of Filming Biopic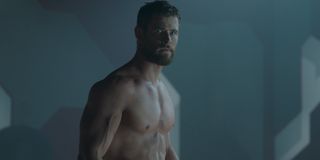 Chris Hemsworth has gotten extremely ripped over the years while playing Thor in the Marvel Cinematic Universe, pushing his physique to the limit with every new film. While Hemsworth played a "Fat Thor" in Avengers: Endgame, Taika Waititi's Thor: Love and Thunder will see him burn it all off. The actor recently celebrated wrapping Love and Thunder, posting a picture of himself looking enormous alongside Taika Waititi, who was in his Korg costume. Needless to say, Hemsworth looks as ripped as ever, and Hulk Hogan has even responded to the viral image of the actor's Thor arms ahead of him filming the Hogan biopic.
The picture of Chris Hemsworth has gone viral for a good reason: His arms are massive. The Australian actor has always been a big guy, but it seems he has taken it up a notch for the upcoming Hulk Hogan biopic, in which he will play the iconic wrestler. And Hogan responded to the image of Hemsworth on social media the only way Hulk Hogan can, with a few "brothers." Here's the Instagram post:
Hulk Hogan is marveling at Chris Hemsworth like everyone else. Hogan says Hemsworth has that "Hogan Pump" and that he looks like he could "slam Andre (The Giant)." Hogan is obviously excited about the biopic being made about him, and the picture of Hemsworth's physique ahead of filming only seems to add fuel to the Hulkster's fire. He clearly appreciates the dedication it took to get that ripped to play a Hulk Hogan in his prime.
Hulk Hogan was initially surprised by Chris Hemsworth during the beginning stages of the movie. The currently-untitled Hulk Hogan biopic is being directed by Todd Philips, who previously helmed Joker, and will follow the life of the wrestling icon. The project is interesting, and who better to play Hulk Hogan than Chris Hemsworth? It'll be interesting to see how the film turns out, and there are likely a number of things fans are hoping to see in the biopic.
The Hulk Hogan biopic may be on Chris Hemsworth's mind now that Thor: Love and Thunder has wrapped, to which Taika Waititi had the perfect response. The highly anticipated MCU entry will be released in early 2022, and MCU fans can't wait to see what's next for Thor's journey after Avengers: Endgame. With Gladiator alum Russell Crowe and Dark Knight vet Christian Bale joining the already fantastic cast, Love and Thunder is poised to be the best Thor film yet and one of the best films in the entire MCU. If Chris Hemsworth's arms are any indication, then we are in for something special.
Chris Hemsworth is sure to crush it as Hulk Hogan, and it's nice to see that he has the wrestler's stamp of approval. Hopefully, Hemsworth's performance will be well worth the wait. But before you see him take to the ring, you can check out the actor's MCU return when Thor: Love and Thunder hits theaters on May 6, 2022.
Your Daily Blend of Entertainment News
Movie and TV obsessive. A good Heist movie is the way to my heart. Enjoyer of everything from Marvel Movies to Rom-coms.
Your Daily Blend of Entertainment News
Thank you for signing up to CinemaBlend. You will receive a verification email shortly.
There was a problem. Please refresh the page and try again.