Peter Rabbit 2: The Runaway Cast: Where You've Seen And Heard The Actors Before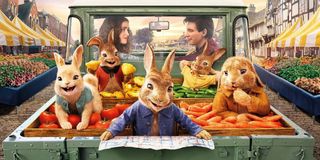 Finally hopping its way into theaters after several COVID-related delays, Peter Rabbit 2: The Runaway will bring Beatrix Potter's most beloved character back to the big screen. Likewise, James Corden will also return to voice the titular bunny. Once again starring Domhnall Gleeson and Rose Byrne and featuring the returning voice talents of Margot Robbie, Elizabeth Debicki, and Sia, this live-action/animated sequel includes some new faces and voices this time around — many of whom you'll recognize, including David Oyelowo. If you're wondering where you've seen/heard the Peter Rabbit 2: The Runaway cast before, we're here to help!
Domhnall Gleeson (Thomas McGregor/Mr. Jeremy Fisher)
Reprising his role as Thomas McGregor, Domhnall Gleeson returns to play the male lead in Peter Rabbit 2: The Runaway. He also voices Mr. Jeremy Fisher. First gaining notice for playing Bill Weasley in Harry Potter and the Deathly Hallows: Part 1 and 2, Gleeson became a Tony-nominated actor for his 2006 Broadway performance in The Lieutenant of Inishmore. Later, the actor starred in Ex Machina, About Time, Frank, Goodbye Christopher Robin, Crash Pad, and The Little Stranger. Also, Gleeson played General Armitage Hux in the Star Wars movies. His other film credits include Brooklyn, The Revenant, A Futile and Stupid Gesture, Never Let Me Go, True Grit, Anna Karenina, Dredd, Calvary, Unbroken, and mother!
Additionally, on television, Domhnall Gleeson starred in HBO's Run last year. Most recently, the actor appeared in BBC 4's Frank of Ireland, which he co-created with his brother, Brian Gleeson, who plays the titular Frank. His other TV credits include Catastrophe, Your Bad Self, and When Harvey Met Bob. Currently, Gleeson is filming a role in HBO's The White House Plumbers.
Rose Byrne (Bea McGregor/Jemima Puddle-Duck)
In the part of Bea McGregor, Rose Byrne returns to play the female lead in Peter Rabbit 2: The Runaway. She also lends her voice to the role of Jemima Puddle-Duck. Following her lead performance in The Goddess of 1967, Byrne transitioned into Hollywood with Star Wars: Episode II — Attack of the Clones. She found success through her Emmy-nominated part in FX's Damages and her standout supporting turn in Bridesmaids.
From there, Rose Byrne starred in the Insidious movies, the Neighbors movies, I Give It A Year, Adult Beginners, The Meddler, Juliet Naked, and Instant Family. Her other film credits include X-Men: First Class and Apocalypse, Knowing, 28 Weeks Later, Marie Antoinette, Tory, Wicker Park, Get Him to the Greek, The Place Beyond the Pines, This Is Where I Leave You, Annie (2014), and Spy. As a voice actress, Byrne is heard in I Am Mother and Jexi. Last year, the actress starred in Like a Boss and Irresistible. On TV, Byrne appeared in FX's Miss America. Later this year, she'll star in Apple TV+'s Physical.
James Corden (Peter Rabbit)
As our titular hare, James Corden returns to the voice booth to bring the animated Peter Rabbit to life once more. Better known as the host of The Late Late Show with James Corden, the actor found fame through starring/co-writing BBC's Gavin & Stacey, for which he won a BAFTA. He also won a Tony for his Broadway performance in One Man, Two Guvnors. Prior to this stage work, Corden received acclaim for his performance as Timms in The History Boys. He reprised this role for the 2006 film version. His other notable film credits include Into the Woods, Begin Again, Ocean's 8, Cats, Kill Your Friends, Gulliver's Travels, Starter for 10, and The Three Musketeers. Most recently, Corden had a Golden Globe-nominated supporting turn in The Prom.
As a voice actor, additionally, James Corden is heard in The Emoji Movie, Smallfoot, Trolls, Planet 51, and the English dub of Animals United. He also lent his voice to the UK version of Norm of the North. Last year, Corden was heard in Superintelligence and Trolls World Tour.
David Oyelowo (Nigel Basil-Jones)
Playing the dastardly Nigel Basil-Jones, David Oyelowo is the human antagonist in Peter Rabbit 2: The Runaway. Rising to prominence through his commanding lead performance as Martin Luther King Jr. in Selma, Oyelowo was Emmy-nominated that same year for his central role in HBO's Nightingale. His other lead performances include A United Kingdom, Queen of Katwe, Gringo, Don't Let Go, Five Nights in Maine, Middle of Nowhere, and Who Do You Love? His other notable film credits include Lee Daniels' The Butler, Jack Reacher, Lincoln, A Most Violent Year, Interstellar, A Wrinkle in Time, Rise of the Planet of the Apes, The Last King of Scotland, The Help, The Cloverfield Paradox, and Red Tails. Last year, he appeared in Come Away and The Midnight Sky. This year, Oyelowo provided supporting turns in Chaos Walking and The Water Man, which served as his directorial debut.
Additionally, on television, David Oyelowo appeared in Les Miserables, Five Days, and the upcoming The Girl Before. As a voice actor, Oyelowo can be heard in The Lion Guard and Star Wars Rebels.
Margot Robbie (Flopsy Rabbit)
As the voice of Flopsy Rabbit, as well as the narrator of this tale, Margot Robbie returns to the voice booth for Peter Rabbit 2: The Runaway. A rising superstar following her scene-stealing supporting turn in Martin Scorsese's The Wolf of Wall Street, Robbie received her first Oscar nomination for her lead performance in I, Tonya. Later, she starred in Suicide Squad, Focus, Mary Queen of Scots, Focus, Terminal, The Legend of Tarzan, Z For Zachariah, and Once Upon A Time In Hollywood. She received her second Oscar nomination for her supporting turn in Bombshell. Her other notable film credits include Whiskey Tango Foxtrot, About Time, Goodbye Christopher Robin, and The Big Short.
Furthermore, on TV, Margot Robbie played Donna Freedman in over 300 episodes of the Australian series Neighbours. She also starred in ABC's Pan Am. Last year, Robbie reprised her role as Harley Quinn in Birds of Prey, which she produced. She also starred in and produced last year's Dreamland. Outside of acting, Robbie produced Promising Young Woman. Next, she'll star in The Suicide Squad and David O. Russell's new film.
Elizabeth Debicki (Mopsy Rabbit)
Returning to the role of Mopsy Rabbit, Elizabeth Debicki provides another supporting vocal performance in Peter Rabbit 2: The Runaway. Following her breakout role in The Great Gatsby, Debicki turned heads through her standout performances in The Man from U.N.C.L.E., Guardians of the Galaxy Vol. 2, Widows, and Macbeth (2015). The actress received more notice through her roles in Showcase's The Kettering Incident and BBC One/AMC's The Night Manager. Prior to these acting turns, Debicki gave an award-nominated performance in Sydney Theatre's stage production of The Maids.
From there, Elizabeth Debicki had a starring role as Virginia Woolf in Vita & Virginia. Last year, Debicki starred in The Burnt Orange Heresy and impressed in Christopher Nolan's Tenet. Her other film credits include A Few Best Men, Everest, Breath, The Cloverfield Paradox, and The Tale. She also lent her voice to Valerian and the City of a Thousand Planets. Next, Debicki plays Princess Diana in The Crown Seasons 5 and 6.
Aimee Horne (Cottontail Rabbit)
Filling in for Daisy Ridley, who lent her voice in 2018's Peter Rabbit, Aimee Horne receives one of her most high-profile film acting roles yet in Peter Rabbit 2: The Runaway. Most notably, the actress received notice and acclaim for her stage work, notably for her touring role as Polly in Fawlty Towers Live. Prior to this vocal performance, Horne played Ms. Woodcock in Burning Man. She also provided a supporting turn in Love is Now. Additionally, the actress starred in short films like 2010's The Filmmaker and the upcoming The Playlist. Furthermore, Horne can be heard in 2014's Raker. Outside of film, Horne had guest star appearances in Winter and Psychotown. As a voice actress, she has done a large volume of voiceover work.
Hayley Atwell (Mittens)
Joining the voice ensemble for Peter Rabbit 2: The Runaway is Hayley Atwell as Mittens. Receiving her breakout role in The Duchess, for which she was BAFTA-nominated, Atwell was Golden Globe-nominated for her lead performance in Starz's The Pillars of the Earth. Shortly thereafter, she found more prominence when she played Peggy Carter in Captain America: The First Avenger. She reprised this role in ABC's Agent Carter, as well as Captain America: The Winter Soldier, Avengers: Age of Ultron, Ant-Man, and Avengers: Endgame. Her other film credits include Testament of Youth, Cinderella (2015), Christopher Robin, Blinded by the Light, Jimi: All Is By My Side, Brideshead Revisited, and Cassandra's Dream. Next, Atwell will star in Mission: Impossible 7.
Outside of film, Hayley Atwell led ABC's Conviction and BBC One's Howards End and The Long Song. She also voices a main character in Netflix's 3Below: Tales of Arcadia. Additionally, Atwell is seen in Black Mirror and Any Human Heart. Away from acting, the actress hosts the spy podcast, True Spies.
Sia (Mrs. Tiggy-Winkle)
Similar to the first movie, Sia lends her voice to the role of Mrs. Tiggy-Winkle in Peter Rabbit 2: The Runaway. Best known as the chart-topping artist behind "Chandelier" and "Cheap Thrills," the musician-turned-actress is heard in a couple of animated movies, including My Little Pony: The Movie and Charming, along with the original Peter Rabbit. She also narrated the 2018 documentary, Dominion. Also, Sia provided cameos in Annie (2014) and Piccadilly Jim. On TV, additionally, Sia can be seen in Nobodies and Home and Away and heard in South Park, Transparent, and Scooby-Doo and Guess Who?
Outside of acting, Sia made her feature screenwriting and directorial debut with this year's controversial Music. She also wrote original music for the soundtrack of 2018's Vox Lux. Her music can also be heard in Zootopia, The Twilight Saga: Eclipse, Dumplin', Pitch Perfect 2, Fifty Shades of Grey, The Great Gatsby, Finding Dory, Dolittle, Fifty Shades Freed, Lion, Star Trek Beyond, and Wonder Woman, to name only a few movies.
Lennie James (Barnabas)
In the role of Barnabas, Lennie James joins the voice cast of Peter Rabbit 2: The Runaway in a supporting turn. Most notably, James is known for playing Morgan Jones in AMC's The Walking Dead and Fear the Walking Dead. He also played the mysterious Robert Hawkins in CBS's Jericho. Additionally, James is the creator, writer, and lead actor behind Sky Atlantic's Save Me.
Furthermore, Lennie James wrote and starred in Storm Damage, resulting in a BAFTA nomination for the TV actor. His other notable TV credits include Low Winter Sun, Line of Duty, Hung, and Out of the Blue. Most recently, James lent his voice to Amazon Prime's Invincible. Additionally, in film, James can be seen in Blade Runner 2049, The Next Three Days, Get On Up, Sahara, 24 Hour Party People, Snatch, and Lost in Space.
Damon Herriman (Tom Kitten)
Also joining the vocal ensemble of Peter Rabbit 2: The Runaway is Damon Herriman, who lends his voice to the role of Tom Kitten. Best known for his portrayal of Dewey Crowe in FX's Justified, Herriman gained notice for his striking portrayals of Charles Manson in Quentin Tarantino's Once Upon a Time In Hollywood and Netflix's Mindhunter. He also starred in the title role of Punch in 2020's Judy and Punch. His other notable film credits include J. Edgar, The Nightingale, The Lone Ranger, The Water Diviner, Son of a Gun, Son of the Mask, Candy, Redbelt, House of Wax, and 100 Bloody Acres. Earlier this year, Herriman was heard in the role of Kabal in Mortal Kombat.
Additionally, on television, Damon Herriman plays a main role in FX's Mr. Inbetween. He's also in the main cast of Epix's Perpetual Grace, LTD and Showcase's Lambs of God. Earlier this year, Herriman appeared in BBC's The Serpent. The actor's other television credits include Battle Creek, Squinters, Incorporated, and The Commons.
Peter Rabbit 2: The Runaway is in theaters now.
Your Daily Blend of Entertainment News
Will is an entertainment writer based in Pittsburgh, PA. His writing can also be found in The Playlist, Cut Print Film, We Got This Covered, The Young Folks, Slate and other outlets. He also co-hosts the weekly film/TV podcast Cinemaholics with Jon Negroni and he likes to think he's a professional Garfield enthusiast.