What The Friday Cast Is Doing Now, Including Ice Cube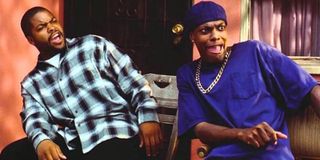 Recently celebrating its 25th anniversary, Friday is the little stoner comedy that could. Though it received mixed reviews and didn't gross more than $30 million, the New Line Cinema movie jumpstarted Chris Tucker's film career, established F. Gary Gray as a big-time Hollywood director, and proved that actor-writer Ice Cube was a bright comedic actor in addition to a chart-topping rap musician. It's also filled with notable supporting talents, including Regina King, Nia Long, and the late Bernie Mac, John Witherspoon, and Tommy "Tiny" Lister Jr. Let's take a look at what the Friday cast is doing right now.
Ice Cube (Craig Jones)
As Craig Jones, our unemployed main character, Ice Cube plays the protagonist in Friday, which he also co-wrote and executive produced. The actor-writer-producer would reprise his role as Craig Jones in the sequels, Next Friday and Friday After Next, which he also wrote and produced. Best known for his involvement in N.W.A., resulting in the legendary album, Straight Outta Compton, the musician-turned-actor began his movie career with a supporting turn in Boyz n the Hood. He also appeared in Anaconda, Three Kings, Higher Learning, Ghosts of Mars, Torque, Rampart, and the Jump Street movies. Additionally, Cube starred in xXx: State of the Union and Barbershop, later producing and starring in the sequels. The actor also starred in and produced Are We There Yet?, Are We Done Yet?, the Ride Along movies, The Longshots, and First Sunday.
Additionally, Ice Cube wrote, produced, and starred in All About the Benjamins and wrote, directed, produced, and starred in The Players Club. His other starring credits include Fist Fight and last year's The High Note. Next, Cube will star in War of the Worlds. He's also trying to make Last Friday, the final film in the Friday franchise. Most recently, it was announced that Ice Cube could be teaming up with Jack Black, who's in talks for a movie called Oh Hell No.
Chris Tucker (Smokey)
In the role of Smokey, Craig's irresponsible best friend (and misbehaving drug-addled influence), Chris Tucker gave a star-making performance as the deuteragonist in Friday. Outside of this film, Tucker's film star career propelled when he played Detective James Carter in the Rush Hour movies. The stand-up comedian's other notable film credits include Jackie Brown, The Fifth Element, Silver Linings Playbook, Dead Presidents, and House Party 3. Also, Tucker can be seen in Money Talks, The Meteor Man, and Panther.
Most recently, Chris Tucker appeared in Billy Lynn's Long Halftime Walk. There have been talks of making Rush Hour 4, but it's unclear when — or if — that comedy sequel will happen. It's possible that the comic will reprise his role as Smokey in Last Friday, though Tucker said in a 2021 interview that he probably wouldn't return to the role.
Nia Long (Debbie)
Playing the part of Debbie, Craig's love interest, Nia Long has a romantic role in Friday. Following her breakout performance in Boyz n the Hood, the actress established her star power in The Best Man, the Big Momma's House movies, Soul Food, Love Jones, and The Best Man Holiday. Additionally, Long played Lisa Wilkes in The Fresh Prince of Bel-Air. Also, she appeared in NBC's Third Watch. Her other film credits include Boiler Room, Alfie, Keanu, Lemon, The Single Moms Club, and 47 Meters Down: Uncaged. Later on, Long reunited with Ice Cube for Are We There Yet? and Are We Done Yet?
On television, additionally, Nia Long appeared in House of Lies, Empire, Dear White People, The Divide, Judging Amy, and Lifetime's Beaches. She can also be heard in many episodes of The Cleveland Show. Most recently, Long was seen in The Banker, Life in a Year, and Netflix's Fatal Affair —her producing debut. She also appeared in several episodes of #BlackAF. Next, Long is expected to star in Dreams of the Moon.
Regina King (Dana Jones)
As Dana Jones, Craig's sister, Regina King found one of her first famous roles in Friday. Most notably, King is an Oscar-winning actress for her supporting turn as Sharon Rivers in If Beale Street Could Talk. Additionally, King won two Emmys for her performances in ABC's American Crime, another Emmy for Netflix's Seven Seconds, and a fourth Emmy for her lead performance in HBO's Watchmen. Additionally, King starred in Southland and the award-winning actress had main roles in The Leftovers, 24, and Leap of Faith. Furthermore, King voiced Riley and Huey Freeman in The Boondocks.
Additionally, in film, Regina King appeared in Jerry Maguire, Miss Congeniality 2: Armed and Fabulous, Ray, A Cinderella Story, How Stella Got Her Groove Back, Enemy of the State, Year of the Dog, Higher Learning, Mighty Joe Young, Daddy Day Care, and Poetic Justice. Last year, King made her feature directorial debut with One Night in Miami... She's expected to follow this film up with Bitter Root. As an actress, additionally, King will be seen in Netflix's The Harder They Fall.
Paula Jai Parker (Joi)
In the role of Joi, Craig's girlfriend who always thinks he's cheating on her whenever he's around another woman, Paula Jai Parker played a pushy partner in Friday. Outside of this film, Parker is known as the voice of Trudy Proud in The Proud Family. She also played Monique in The Wayans Bros. Additionally, the TV actress was a series regular on The Weird Al Show, Snoops, and A House Divided. Also, Parker had recurring roles in True Blood, Ray Donovan, Black Jesus, and Family Time. Most recently, Parker appeared in Them.
Outside of television, Paula Jai Parker can be seen in Hustle & Flow, Idlewild, Phone Booth, Sprung, and Tales from the Hood. Additionally, Parker appeared in Ray, She Hate Me, My Baby's Daddy, Get on the Bus, and Don't Be a Menace to South Central While Drinking Your Juice in the Hood. Next, the actress reprises her role as Trudy Proud in The Proud Family: Louder and Prouder. She'll also be seen in Sasha Lanes and Kings of L.A. Currently, Parker is filming Temperature Rising.
Faizon Love (Big Worm)
Playing the part of Big Worm, a drug supplier who hides his illegal activities through his job as an ice cream man, Faizon Love plays the secondary antagonist in Friday. Outside of this film, Love is best known for his supporting turn as Wanda in Elf. His other film credits include Don't Be a Menace to South Central While Drinking Your Juice in the Hood, The Replacements, Torque, BAPS, Made, Couples Retreat, Who's Your Caddy, The Meteor Man, and 3 Strikes. He also appeared in The Players Club, Blue Crush, Just My Luck, Idlewild, The Fighting Temptations, and Money Talks. As a voice actor, additionally, Love voiced Robin Harris in Bebe's Kids. He's also heard in Zookeeper.
Furthermore, on television, Faizon Love starred in The Parent 'Hood and The New Edition Story. He also appeared in Step Up: High Water, black-ish, My Name is Earl and It's Always Sunny in Philadelphia. Most recently, Love starred in Bulletproof 2. He was also seen in She Ball and The War with Grandpa. Next, Love appears in Trading Soles.
DJ Pooh (Red)
As Red, Craig's co-worker who ends up the worse for wear after a violent altercation with Deebo, DJ Pooh plays a vengeful character in Friday, which he co-wrote with Ice Cube. Following the film's success, Pooh went on to write and direct 3 Strikes, The Wash (which he also produced), and Grow House. Additionally, he was a writer for In the Flow with Affion Crockett, and he provided dialogue for Grand Theft Auto: San Andreas. Also, Pooh was a creative consultant on Boyz n the Hood, Grand Theft Auto V, and The Boondocks, where he also voiced a few side characters. As an actor, he can be seen in his own films, 3 Strikes and The Wash. Furthermore, Pooh provided voice work for Freaknik: The Musical and Trunkful.
Additionally, as a music producer, DJ Pooh produced albums for 2Pac, Snoop Dogg, LL Cool J, Del the Funkee Homosapien, King Tee, Ca$hius, Yo-Yo, Breeze, and, of course, Ice Cube. Whether as a filmmaker or musical artist, his next project isn't announced.
Tony Cox (Mr. Parker)
In the role of Mr. Parker, a disgruntled neighbor with a sultry wife, Tony Cox had a standout supporting role in Friday. Most notably, Cox is known for his performance as Marcus Skidmore in 2003's Bad Santa. The actor's other film credits include Willow, Beetlejuice, Spaceballs, Leprechaun 2, Disaster Movie, Epic Movie, Oz the Great and Powerful, Me, Myself, & Irene, and The Fantasticks. Additionally, Cox appears in I'm Gonna Get You Sucka, Bird, Return of the Jedi, Under the Rainbow, Ghoulies IV, Who's Your Caddy?, The Legend of Awesomest Maximus, and National Lampoon's TV: The Movie.
In recent years, Tony Cox has worked as a voice actor, notably in Strange Magic and Toy Story Toons: Partysaurus Rex. His other recent film credits include The Heyday of the Insensitive Bastards and Guns, Girls, and Gambling. On television, additionally, Cox appeared in Rescue Me, Martin, Mad TV, The Jamie Foxx Show, Psych, Frasier, and In Living Color. Most recently, Cox reprised his role as Marcus Skidmore in Bad Santa 2.
Anthony Johnson (Ezal)
Playing the part of Ezal, a local homeless man, Anthony Johnson is an impoverished character in Friday. Making his film debut with House Party in the role of E.Z.E., Johnson's other notable film credits include House Party 3, Lethal Weapon 3, Menace II Society, BAPS, O, On the Edge, Woo, Panther, How to Be a Player, and Undercover Princesses. Additionally, he appears in I Got the Hook Up, The Great White Hype, On the Edge, Hittin' It!, Hey, Mr. Postman!, Sweet Hideaway, Consequencez, Rising to the Top, Baller Blockin', and 5K1. Later in his career, Johnson reconnected with Ice Cube in The Players Club. On television, additionally, the actor appeared in Moesha, Martin, The Bold and the Beautiful, and The Jamie Foxx Show.
Most recently, Anthony Johnson was seen in The Dummy, I Got the Hook Up 2, and the short film, Shorty Betta 2 Work - Grandma Huttie's Boyfriend. He's expected to reprise his role as Ezal in Last Friday.
Kathleen Bradley (Mrs. Parker)
Playing the part of Mrs. Parker, the unfaithful and shamelessly sexy wife of Mr. Parker, Kathleen Bradley is a sultry seductress in Friday. Most notably, Bradley was a long-standing model on The Price is Right. Her other film credits include Harlem Nights, Troop Beverly Hills, An Everlasting Piece, and The Stolen Moments of September. Additionally, on television, Bradley can be seen in Grey's Anatomy, Martial Law, and A House Divided.
Most recently, Kathleen Bradley appeared in A Day of Trouble. She also reprised her role as Mrs. Parker in the short film, Dice Game Part 2. Next, the actress will be seen in Mad World and I Am Black and I Am Proud.
Tommy "Tiny" Lister Jr. (Deebo)
As Deebo, Craig's menacing arch-rival, Tommy "Tiny" Lister Jr. played a memorable antagonist in Friday. Later, he reprised this role in Next Friday. Outside of these films, Lister Jr. is also remembered for his performance as President Lindberg in The Fifth Element. With 40 years of acting experience, Lister amassed more than 200 credits to his name throughout his distinguished career. Some of his notable film credits include The Dark Knight, Posse, Austin Powers in Goldmember, Little Nicky, Beverly Hills Cop II, Universal Soldier, Jackie Brown, and The Human Centipede 3 (Final Sequence). Additionally, Lister lent his voice to the role of Finnick in Zootopia. On television, the actor appeared in Matlock, NYPD Blue, and The Fresh Prince of Bel-Air.
Late in 2020, Tommy "Tiny" Lister Jr. passed away due to illness. While the COVID-19 was first believed to be the cause of death, it was later revealed that the actor died due to atherosclerotic cardiovascular disease. He was 62.
You can rent Friday on Amazon Prime.
Will is an entertainment writer based in Pittsburgh, PA. His writing can also be found in The Playlist, Cut Print Film, We Got This Covered, The Young Folks, Slate and other outlets. He also co-hosts the weekly film/TV podcast Cinemaholics with Jon Negroni and he likes to think he's a professional Garfield enthusiast.
Your Daily Blend of Entertainment News
Thank you for signing up to CinemaBlend. You will receive a verification email shortly.
There was a problem. Please refresh the page and try again.