Upcoming Willem Dafoe Movies: The French Dispatch, The Northman And More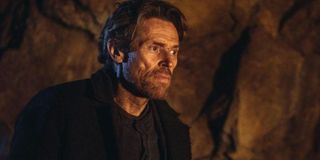 Whether you know the man best for his work in Platoon, The Boondock Saints, Finding Nemo, The Last Temptation of Christ, Mississippi Burning, The Florida Project, or the Spider-Man movies, to name only a handful of his noteworthy projects, it's safe to say that Willem Dafoe is a hard-working actor with commendable range and depth, and one who's capable of portraying a wealth of different characters — whether they're the scum of the earth or the Lord himself. Certainly, it's easy to see why Dafoe has been such a consistently in-demand star for the past three-plus decades. And that's a trend that's not set to die anytime soon, hopefully. The Oscar-nominated star has several projects lined up, including the latest feature films from Wes Anderson, Yorgos Lanthimos, Paul Schrader, Guillermo Del Toro, Walter Hill, and Robert Eggers. Additionally, the prominent performer is attached to intriguing and director-driven projects from a few newcomers.
If you love Willem Dafoe, here are the upcoming movies that you can look forward to.
The Card Counter - September 10th, 2021 (Post-Production)
Suffice it to say, Willem Dafoe is quite chummy with writer-director Paul Schrader. The revered filmmaker and accomplished actor collaborated several times over the years, most recently with 2016's Dog Eat Dog. Now, they'll join forces yet again for The Card Counter, a crime drama that also stars Tye Sheridan, Oscar Isaac, and Tiffany Haddish.
Centered around a degenerate gambler who attempts to provide guidance to ayounger man in the pursuit of revenge against a mutual enemy, The Card Counter faced its fair share of difficulties during production, notably as filming was paused during the start of the COVID-19 pandemic. But it's officially in the can now, and this surrealistic movie is expected to be one of the trippier, darker films to come from the cerebral filmmaker — which is saying something. Particularly as Schrader's follow-up to his tremendous First Reformed, here's hoping this latest reunion with Dafoe is another outstanding hit. We don't have long to wait, as it's on the 2021 movie release schedule. The Card Counter will arrive on September 10th, 2021.
The French Dispatch - October 22nd, 2021 (Completed)
Wes Anderson is known for reuniting with his frequent collaborators on a regular basis, and his working relationship with Willem Dafoe is far from an exception. With The Life Aquatic with Steve Zissou, Fantastic Mr. Fox, and The Grand Budapest Hotel, Anderson and Dafoe have formed a reliable companionship, particularly with the actor providing a trio of strong supporting turns. Now, the singular auteur and the award-nominated performer will reunite again for The French Dispatch, Anderson's newest feature film.
In another excellent ensemble filled with top-tier talent, including Jason Schwartzman, Liev Schreiber, Edward Norton, Saoirse Ronan, Tilda Swinton, Frances McDormand, Adrien Brody, Lea Seydoux, Anjelica Huston, Benicio Del Toro, Timothee Chalamet, Jeffrey Wright, Owen Wilson, Bill Murray, and Elisabeth Moss, Willem Dafoe will play another supporting part as Albert the Abacus in this broad-reaching, multi-narrative period dramedy. Nevertheless, Anderson typically knows how to bring out exquisitely dry performances from his accomplished actors, which should hopefully be the case here as well. We'll find out soon enough when the new film premieres on October 22nd.
Nightmare Alley - December 3rd, 2021 (Post-Production)
Over the course of his ever-impressive career, Willem Dafoe has joined forces with some of our best living filmmakers, including (but not limited to) David Lynch, Martin Scorsese, Wes Anderson, Abel Ferrara, Sam Raimi, Oliver Stone, Spike Lee, John Waters, and Paul Schrader. But, for reasons unknown, the Oscar-nominated actor hasn't collaborated with one of our greatest genre filmmakers, Guillermo del Toro... until now.
Indeed, Willem Dafoe is part of the accomplished cast behind Nightmare Alley, the latest film from the Oscar-winning moviemaker. Along with Dafoe, who's set to play Clem Hoately, the top-notch ensemble includes Bradley Cooper, Rooney Mara, Cate Blanchett, Richard Jenkins, Tim Blake Nelson, Mary Steenburgen, Toni Collette, Ron Perlman, and Clifton Collins Jr. That's quite a cast, but that's to be expected after the triumphant success of 2017's Best Picture winner, The Shape of Water. Certainly, with his capability to play up menace and scorn, Dafoe seems like a natural fit for a snarly bad guy, though he's also an actor capable of tremendous wit and emotional depth. No matter what Dafoe brings to the table here, this is a pairing that was long meant to be.
The Northman - April 8th, 2022 (Post-Production)
Even in a career that's chock-full of highlights, Willem Dafoe's mesmerizing co-lead performance in Robert Eggers' The Lighthouse was among his greatest achievements. His nautical nuisance was a deprived delight, so it was tremendously exciting to know that the actor behind the salacious scallywag would soon reunite with Eggers for The Northman, the writer-director's third film set at the turn of the 10th century in Iceland.
Starring Alexander Skarsgard, along with Nicole Kidman, Ethan Hawke, Anya Taylor-Joy, Bjork, and Ralph Ineson, this Viking saga (which remains semi-secretive) sounds like the filmmaker's most audacious and challenging project to date, though he has only proven himself to be more confident and commanding with each successive film. With an all-star cast and an enticing premise, we should (hopefully) be looking at another triumph from the accomplished and distinctive up-and-coming filmmaker, along with yet another memorable supporting performance from the one-and-only Willem Dafoe.
Inside - TBA (Post-Production)
Throughout this uncertain year (and change), filmmakers were forced to find inventive ways to shoot in confined locations, notably with minimal actors and truncated crews on set. Especially in retrospect, it'll be interesting to see what art is produced from this tumultuous period, including Inside, the narrative feature film debut of director Vasilis Katsoupis (My Friend Larry Gus).
Not to be mistaken with Bo Burnham's recent Netflix special, Inside follows a high-end thief, played by Willem Dafoe, who's trapped in a high-tech penthouse in Times Square after an important heist goes wrong. Where this actor showcase ultimately goes from there remains to be seen. Certainly, Dafoe is a top-notch performer who is more than capable of acting off himself; rewatch the Spider-Man films if you happen to disagree. Nevertheless, it'll be intriguing to see how the seasoned star holds the dramatic stakes by himself, in one centralized location. Production wrapped on this under-the-radar movie last June. It was expected to come out this spring, though its current release date is undetermined. Most likely, Inside will premiere during the fall festival circuits.
Poor Things - TBA 2022 (Pre-Production)
With his elastic face and rubbery features, Willem Dafoe is an immensely talented actor with tremendous range — especially when you consider how refrained and restrained he can be in equal measure. Certainly, Dafoe is capable of a wide array of emotions and off-beat affectations, which bodes well for the actor's collaboration with director Yorgos Lanthimos (Dogtooth) in Poor Things, based on the 1992 satiric novel by Alasdair Gray.
A flip on the traditional Frankenstein template by having a young woman brought back to life by her deranged husband, only to have the brain of an infant, it's easy to see how the dark and wryly funny filmmaker could have a ball with such a bizarre premise. From a screenplay written by The Favourite's Tony McNamara, this Victorian tale of love and off-kilter discovery will star Emma Stone as our reborn beauty, with Dafoe expected to play the mad scientist husband. Currently in pre-production, Poor Things will shoot in Hungary later in 2021. Expect more details to come in the weeks and months ahead.
Dead For A Dollar - TBA (Pre-Production)
Along with his forthcoming reunions with regular collaborators like Wes Anderson and Paul Schrader, Willem Dafoe is signed on to reconnect with director Walter Hill for his upcoming western, Dead for a Dollar. Also set to star Christoph Waltz, this period piece from the filmmaker behind The Warriors follows a famed bounty hunter (Waltz) in 1897 who is hired to find and return a politically progressive wife to her successful Santa Fe businessman husband. Told to search for her in Mexico, our lead travels to the border, only to cross paths with his sworn enemy, professional gambler and occasional outlaw, Joe Cribbens (Dafoe).
Previously, Willem Dafoe and Walter Hill joined forces to make 1987's Streets of Fire, but they haven't worked together since. Hopefully, this newly-announced movie (per Deadline) comes together to allow this veteran director and accomplished actor to collaborate once more — particularly in an old-fashioned genre without too many new additions to the silver screen. Details remain slim, but this is a project worth following.
Tropico - TBA (Pre-Production)
As a veteran operative hired to spy on an American businessman (Pedro Pascal) in a coastal town in Brazil, Willem Dafoe is signed on to lead Tropico, the latest film from director Giada Colagrande (Padre). Also starring Morena Baccarin, this upcoming thriller will admittedly follow a familiar template, notably as Dafoe's character falls for this businessman's wife (Baccarin) in the middle of his mission, who also has a twin (Baccarin as well). But the script is considered atmospheric and exotic (per Deadline), which promises some steamy work for its talented stars. That said, this project, which was announced nearly two years ago, hasn't seen much development, particularly with the pandemic. Therefore, this announced movie might not be moving forward. But if it does, Tropico provides Dafoe with an intriguing star vehicle — in a sunny locale to boot.
Twelve Minutes (Video Game) - August 19th, 2021 (Completed)
An ambitious, interactive time-loop thriller, Twelve Minutes promises to be much more than a time-passer when it comes to modern video games. With an all-star voice cast, including Daisy Ridley, James McAvoy, and Willem Dafoe, along with some expansive, grandiose ideas for what it can achieve in a developing medium, it has the potential to be a game-changer (if you can pardon the pun) — that is, if it's as good as the creators hope. Ultimately, we'll have to wait until August 19, 2021 to see how this new product fares, though it sounds like the game-makers are quite confident in their vision. You can get a glimpse at this intriguing video game, as well as the voice performances, in this clip.
This poll is no longer available.
Will is an entertainment writer based in Pittsburgh, PA. His writing can also be found in The Playlist, Cut Print Film, We Got This Covered, The Young Folks, Slate and other outlets. He also co-hosts the weekly film/TV podcast Cinemaholics with Jon Negroni and he likes to think he's a professional Garfield enthusiast.
Your Daily Blend of Entertainment News
Thank you for signing up to CinemaBlend. You will receive a verification email shortly.
There was a problem. Please refresh the page and try again.