Bill Pullman: 12 Great Movies And TV Shows He Has Done Since Independence Day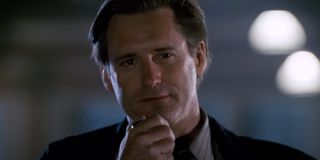 CinemaBlend participates in affiliate programs with various companies. We may earn a commission when you click on or make purchases via links.
Has there ever been a more memorable and commendable depiction of a United States president than Bill Pullman as Thomas J. Whitmore? His performance in Independence Day as a former Gulf War pilot with a penchant for giving damn good speeches made the 1996 sci-fi blockbuster the most iconic film of the actor's career thus far, outside of other notable roles such as Lone Star in Spaceballs or in While You Were Sleeping as Sandra Bullock's love interest. Lest we forget, there have been many other Bill Pullman movies and TV shows in more recent years, such as the following 12 titles we have collected below - starting with another epic about defending the Earth from aliens.
Titan A.E. (2000)
Years after the human race has failed to defend the Earth from aliens (resulting in the planet's devastating destruction in the 31st Century), one brave survivor (Matt Damon) learns that he holds the key to ensuring humanity's survival if he can find a powerful ship missing somewhere in outer space.
Why it's a Bill Pullman movie worth checking out: Bill Pullman lends his voice to a character who is, essentially, the opposite of his Independence Day role in Titan A.E. - one of the best space movies (especially of animated kind) co-directed by the legendary Don Bluth.
The Grudge (2004)
An American woman (Scream Queen Sarah Michelle Gellar) working as a nurse in Tokyo, Japan, falls prey to a mysterious curse with deadly consequences passed down to each person who enters a house with a horrifying history.
Why it's a Bill Pullman movie worth checking out: Bill Pullman would later appear in Scary Movie 4 to poke fun at his role as an American teacher with a direct tie to the titular curse of The Grudge, director Takashi Shimizu's hit English-language remake of his own 2002 film and one of the most acclaimed Japanese horror movies of all time.
Stream The Grudge on Amazon Prime.
Bottle Shock (2008)
A renowned, British sommelier (the late Alan Rickman) organizes a blind taste test that pits a California wine seller (Bill Pullman) against products from France that were assumed to be superior in 1976.
Why it's a Bill Pullman movie worth checking out: Bill Pullman stars as winemaker Jim Barrett (opposite a young Chris Pine as his son, Bo) in Bottle Shock - director Randall Miller's fun, comedic take on the legendary real-life wine competition which came to be known as the Judgment of Paris and changed the world's understanding of quality wine forever.
Stream Bottle Shock on Amazon Prime.
Stream Bottle Shock on IMDb TV.
Stream Bottle Shock on Pluto TV.
The Killer Inside Me (2010)
An affair between a deputy sheriff (Academy Award winner Casey Affleck) and a sex worker he was supposed to arrest (Jessica Alba) evolves into a vengeful get rich quick scheme that quickly turns deadly in 1950s Texas.
Why it's a Bill Pullman movie worth checking out: Bill Pullman steals the show as a southern lawyer who comes to the aid of Casey Affleck's antagonistic protagonist in The Killer Inside Me, a chilling noir from the point of view of a sociopath from director Michael Winterbottom and based on Jim Thompson's novel.
Rent The Killer Inside Me on Amazon.
Torchwood: Miracle Day (2011)
A disbanded team of paranormal investigators regroup with new members to figure why every living being on Earth has suddenly become unable to die.
Why it's a Bill Pullman TV show worth checking out: Bill Pullman absolutely stole the show and earned rave reviews for his performance as a convicted sex offender and child murderer later seen as a messianic figure after surviving lethal injection in Torchwood: Miracle Day - a unique and engrossing eight-part sci-fi miniseries that is meant to be the fourth season of the UK-based Doctor Who spin-off.
Stream Torchwood: Miracle Day on HBO Max.
Buy Torchwood: Miracle Day on Amazon.
1600 Penn (2012-2013)
The President of the United States struggles to put up with the complications that come with running the country and raising a family, especially when it comes to his eldest son - an underachieving man-child (Josh Gad).
Why it's a Bill Pullman TV show worth checking out: Bill Pullman returned to his spot in the Oval Office for a more humorous take on the presidency than he portrayed in Independence Day on 1600 Penn - a short-lived but well-received NBC original from star and co-creator Josh Gad that essentially reimagines The West Wing as a single-camera family sitcom.
The Equalizer (2014)
A former special services operative is compelled to put his quiet life hiding in plain sight on hold when he meets a young sex worker (Chloë Grace Moretz) targeted by a vicious Russian mob.
Why it's a Bill Pullman movie worth checking out: Bill Pullman makes an appearance as Brian, the husband of Denzel Washington's friend and former CIA colleague Susan Plummer (Melissa Leo), in both The Equalizer and 2018's The Equalizer 2 - director Antoine Fuqua's big screen adaptations of the hit '80s TV show that was rebooted as a Paramount+ original series starring Queen Latifah more recently.
Rent The Equalizer 2 on Amazon.
American Ultra (2015)
A stoned convenience store clerk (Jesse Eisenberg) and his supportive girlfriend (Kristen Stewart) go on the run when he accidentally kills two thieves, which begins to unravel a mystery about his forgotten past.
Why it's a Bill Pullman movie worth checking out: Bill Pullman plays a CIA superior with questionable motives in American Ultra - a comedy that feels a little bit like the Jason Bourne movies and a little bit like Arnold Schwarzenegger's Total Recall had those action thrillers been written by Cheech and Chong.
Stream American Ultra on Netflix.
Rent American Ultra on Amazon.
LBJ (2016)
After assuming the role of the United States President by tragic means, Lyndon B. Johnson (Academy Award nominee Woody Harrelson) fights to see the passing of the Civil Rights Act.
Why it's a Bill Pullman movie worth checking out: Bill Pullman assumes a political position a bit lower than that of Thomas J. Whitmore as Senator Ralph Yarborough in LBJ - director Rob Reiner's revealing and inspiring biopic about John F. Kennedy's Vice President-turned-successor to the presidency.
Battle Of The Sexes (2017)
Feminist trailblazer Billie Jean King (Academy Award winner Emma Stone) accepts an invitation from notorious chauvinist Bobby Riggs (Academy Award nominee Steve Carell) to compete against each other in a tennis match that would become a cultural milestone in 1973.
Why it's a Bill Pullman movie worth checking out: Bill Pullman stars as real-life former tennis champion Jack Kramer, who comes under fire for his sexist approach to dictating how male and female athletes are paid Battle of the Sexes - one of the best sports movies in recent memory for its grand performances and timely social commentary.
Rent Battle of the Sexes on Amazon.
Dark Waters (2019)
A corporate defense lawyer for chemical companies (Academy Award nominee Mark Ruffalo) is compelled to change his tune when he uncovers a health crisis of which one of his clients, DuPont, is to blame.
Why it's a Bill Pullman movie worth checking out: Harry Dietzler, Bill Pullman's character in director Todd Haynes' fact-based legal drama Dark Waters, is, thankfully, on the right side of history by assisting Mark Ruffalo's Robert Billot in the fight to expose DuPont for its lengthy history of consciously polluting the drinking water in West Virginia.
Stream Dark Waters on Showtime.
The Sinner (2017-Present)
A seemingly meek housewife and mother who is unable to explain her motive for committing a horrifying murder (Jessica Biel) is only the first story involving unusual criminals in this intense, seasonal anthology original proposed as a limited series.
Why it's a Bill Pullman TV show worth checking out: Bill Pullman received a Screen Actors Guild Award nomination for his performance as Detective Harry Ambrose, who would become the main character of The Sinner, which will enter its fourth season on USA in 2021.
Whether or not you believe that Bill Pullman has ever or will ever top his rousing performance in 1996's Independence Day as President Thomas J. Whitmore, you cannot say that he has not done a great job trying. Enjoy a nice binge of the movies and TV shows above if you need more proof. If you already have been a close follower of the actor's career up to this point, is there a title from the list above which you believe should be considered as his strongest career highlight?
This poll is no longer available.
Your Daily Blend of Entertainment News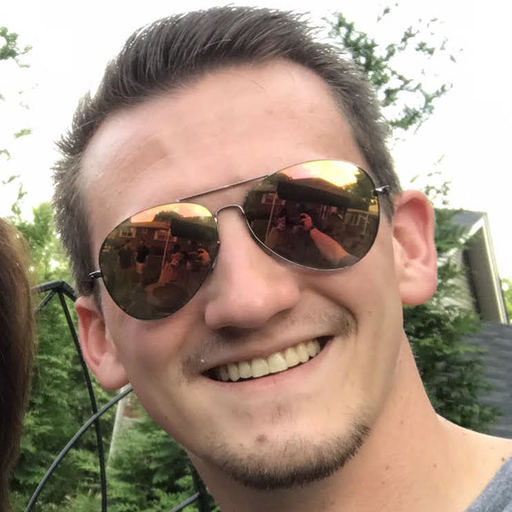 Jason has been writing since he was able to pick up a washable marker, with which he wrote his debut illustrated children's story, later transitioning to a short-lived comic book series and (very) amateur filmmaking before finally settling on pursuing a career in writing about movies in lieu of making them. Look for his name in almost any article about Batman.