Upcoming Brad Pitt Movies: What's Ahead, Including Lost City Of D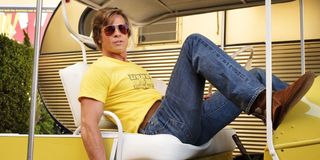 There are many famous names in Hollywood, and one I feel that nearly everyone knows is Brad Pitt. From some of his biggest hits, like the Quentin Tarantino film Once Upon a Time in Hollywood, to action thrillers such as Mr. and Mrs. Smith (now becoming a series), Pitt has done some amazing work and will only continue to do so in the future.
But, what exactly does this big-time Hollywood star have coming up? In terms of 2021 movies, it seems he'll be sitting this year out. However, for the upcoming 2022 movies, keep an eye out for this star. This is everything that Brad Pitt has coming up right now, from Babylon to The Lost City of D.
Bullet Train (2022) (Post-Production)
In our first stop on this list, we take a look at Bullet Train. In this film, based on the book Maria Beetle, which was released in 2010, we are going to be following the story of five assassins who are all going to find themselves on a Japanese bullet train, and realize that each of their assignments is actually connected somehow.
Brad Pitt will be starring in this film, alongside a star-studded cast. Deadline notes that The Kissing Booth star Joey King will be starring opposite him in Bullet Train, further expanding her resume of genres she can tackle.
Deadline also reported that Sandra Bullock has signed onto Bullet Train, marking the first time the two Academy-Award-winners would work together on a film. The outlet also said that Avengers: Age of Ultron star Aaron Taylor Johnson, Atlanta star Brian Tyree Henry, Shirley star Logan Lerman, and several others were also set to star in the film.
Another big-time star that is also set to join Bullet Train, according to Deadline, is actually recording artist Bad Bunny, in an unknown role.
With a cast like this, Bullet Train is already looking like it's going to be a big hit when it releases, with the film now currently in post-production. According to The Hollywood Reporter, Bullet Train will be releasing on April 8, 2022, so we'll be keeping an eye out for this big, star-studded movie when it hits theaters. If only a trailer could drop soon.
Babylon (Christmas 2022) (Filming)
Moving on, we take a look at the next film Brad Pitt has coming up, titled Babylon. This 1920's Hollywood drama starring Brad Pitt will be directed by Damien Chazelle, known for his work with the award-winning La La Land cast and on Whiplash. Babylon will be set during the transition in Hollywood from silent films to talkies, and explores the rise and fall of multiple characters, described as almost being "The Great Gatsby on steroids."
Alongside Brad Pitt will be Margot Robbie and several other major stars. According to The Hollywood Reporter, Jean Smart, currently Emmy-nominated for her role in the HBO Max comedy, Hacks, has joined the cast. Another THR story notes that Saturday Night Live star Chloe Fineman and The Goldbergs' Jeff Garlin have both signed on to take part in the big cast.
But, that's not all. Deadline says that Max Minghella, from The Handmaid's Tale, Samara Weaving from Guns Akimbo, and even Red Hot Chili Peppers' drummer, Flea, are going to have parts in the upcoming film from Damien Chazelle.
And yet, even with all that news, there are still other people who are joining Brad Pitt in this film, but one of the biggest names is Tobey Maguire. According to Movie Web, this will actually be Maguire's first on-screen role since 2014, so it will be exciting to see both him and Brad Pitt working in the same film together.
The film is going to be rated R, as well, so don't expect this to be some fairytale about this transitional time in Hollywood. The movie is planning to release on Christmas Day in 2022, with a wide release in theaters on Jan. 6, 2023.
The Lost City of D (April 15th, 2022) (Filming)
This is actually a fun one to talk about, because it shows the partnership between Brad Pitt and Sandra Bullock. In The Lost City of D, we follows the story of a reclusive romance novelist who is stuck on a tour with her cover model, but soon, a kidnapping attempt sweeps them into a crazy jungle adventure, and they must rely on each other to somehow survive.
As stated before, both Brad Pitt and Sandra Bullock are set to have parts in Bullet Train, so when Sandra Bullock had the chance to give a fun role to someone, she contacted Brad Pitt for The Lost City of D, according to The Hollywood Reporter. It's said that the role will be small, but it still continues their partnership, nonetheless.
The Lost City of D is also going to have a star-studded cast. Alongside Sandra Bullock will star America: The Motion Picture cast member Channing Tatum as her wonderful cover model – and I can't think of anyone better to play that part.
Deadline notes that Daniel Radcliffe (of Harry Potter fame) is set to play the villain in the upcoming film. Patti Harrison and Da'Vine Joy Randolph are also on board for the movie, as well as The Office cast member, Oscar Nunez.
The film will be releasing on April 15, 2022, so it won't be long before we see this epic romantic adventure come to theaters. I think we could all use few fun love stories now – and when Brad Pitt is involved, that usually means it's going to be good.
Films Brad Pitt Is Producing
While Brad Pitt paved his way in Hollywood as an actor, he's also known for producing some amazing films, as well. Some of the bigger movies that he has produced were the political biography, Vice, the Martin Scorsese film, The Departed, the historical film, 12 Years a Slave, and several others. So, it's not a surprise that Pitt has plenty of new projects coming up that he is producing.
Coming up first, we have Blonde, a Netflix film starring Ana de Armas, according to Deadline. After this, Brad Pitt is producing a movie titled She Said, which will cover the story of the two reporters who uncover the truth about Harvey Weinstein's sexual misconduct, according to Woman's Health. Pitt is also set to produce Wrong Answer, a film directed by Black Panther director Ryan Coogler about a standardized test cheating scandal.
Brad Pitt is also set to produce Americanah, an upcoming HBO Max limited series that will be an adaptation of Chimamanda Ngozi Adichie's novel, according to Indiewire.
With someone like Brad Pitt doing all these films, it's no surprise that he has kept himself busy. I, for one, can't wait until Babylon releases.
Big nerd and lover of Game of Thrones/A Song of Ice and Fire. Will forever hate season eight. Superhero and horror geek. And please don't debate me on The Last of Us 2, it was amazing!
Your Daily Blend of Entertainment News
Thank you for signing up to CinemaBlend. You will receive a verification email shortly.
There was a problem. Please refresh the page and try again.