What The La La Land Cast Is Doing Now, Including Emma Stone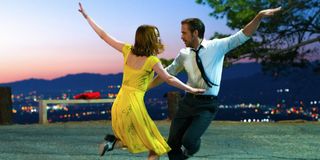 In a world that was once saturated with musicals, with big-time movies such as West Side Story, Newsies, Mary Poppins and so many more, it felt like we were in a severe lack of them on the big screen. That's why we loved it when, back in 2016, Damien Chazelle blessed our ears with the Academy Award-winning film La La Land, a welcomed musical about a struggling jazz musician and actress falling in love in Hollywood, and the struggles they face together.
The film was a hit, with critics praising the music, the acting, the scenery, and everything else combined. Many accolades were lead by mentions of the fantastic performances of Emma Stone and Ryan Gosling, along with the astounding cast beside them. Because it's been nearly five years since La La Land's release, here is what the La La Land cast has been up to since the film's debut.
Ryan Gosling (Sebastian Wilder)
I tend to call Ryan Gosling Hollywood's boyfriend due to how amazing he is in romantic comedies, but the man has been quite busy since his Academy Award-nominated performance in La La Land.
Since the debut of the film, Gosling has been starred in several films, most of which have been received well. Ryan Gosling was in the sequel to Blade Runner, Blade Runner 2049, as well as another Damien Chazelle film, First Man, about the moon landing. In upcoming years, he's going to be starring in a Russo Brothers film on Netflix, titled The Grey Man, with a cast of stars beside him such as Chris Evans, Ana de Armas, Jessica Henwick, and more.
Emma Stone (Mia Dolan)
The other star of this film was Emma Stone, and she actually won the Academy Award for Best Actress for her portrayal of Mia Dolan, a struggling actress in Hollywood. Since La La Land hit theaters, Emma Stone has been busy like crazy. For example, she had a starring role in the Netflix thriller, Maniac, along with roles in films such as The Favourite, the zombie sequel Zombieland: Double-Tap, the animated hit The Croods: A New Age, and more.
In 2021, you can expect to see Emma Stone as the magnificent Cruella DeVille in the upcoming live-action Disney film, Cruella, as well as another movie on the horizon, titled Poor Things, which is currently in pre-production, so the next couple of years are looking good for this famous actress.
John Legend (Keith)
Singer / musician John Legend proved he could act in La La Land. We all know John Legend for his fantastic music and being an awesome music producer in general, but he surprised fans of this movie with his skills. Since La La Land's debut, Legend has kept busy in music, even coaching on the hit NBC competition show, The Voice, and also took on an executive producer role for the Netflix Christmas musical, Jingle Jangle.
But, that doesn't mean that John Legend has stayed away from acting. He's had plenty of guest spots on TV shows like This Is Us and The Simpsons, and will also have an upcoming voice role in Mitchells vs. the Machines, an animated film expected to hit Netflix at the end of April. I'm sure you'll recognize his angelic voice from a mile away.
J.K. Simmons (Bill)
You know, when I think of J.K. Simmons, I always think of this serious actor who is one of the best out there. I also think of J. Jonah Jameson from Spider-Man, and of the scary jazz instructor from Whiplash. However, J.K. Simmons' role in here was limited, but extremely important for the plot, as he was the key to getting Seb to start to live his life as a true jazz musician.
J.K. Simmons has been plenty busy since La La Land's debut in theaters. To be honest, this man has been in more films than I could put down here. We could do a whole article squarely just on what he has done, but for some examples, J.K. Simmons has popped up in hit films such as the superhero film Justice League, as his classic character J. Jonah Jameson in a cameo in Spider-Man: Far From Home, in the 2020 comedy Palm Springs and so many more.
He's also made some guest and recurring appearances on shows like The Stand and several others.
For 2021, J.K. Simmons has a couple of films coming out, namely another sequel to Ghostbusters called Ghostbusters: Afterlife and the military sci-fi action film, The Tomorrow War, so this year is looking good for this Hollywood legend.
Rosemarie DeWitt (Laura Wilder)
In La La Land, there were plenty of side characters who really helped move the plot along with the great music, and one of them was Laura Wilder, played by the wonderful Rosemarie DeWitt. Since the film's release, DeWitt has had roles in several films such as Sweet Virginia, Arizona, Song of Back and Neck, and The Professor. She's also had a couple of guest star roles on TV, including an episode of Black Mirror, "Arkangel."
However, Rosemarie DeWitt's biggest role since La La Land is arguably her main spot in the Hulu drama series, Little Fires Everywhere, with the show being nominated for several awards. DeWitt is currently filming a new series called Pantheon, so be sure to keep an eye out for her to pop up again real soon.
Finn Wittrock (Greg)
Finn Wittrock had a small role here, but he's honestly a great addition to La La Land. After his part in the award-winning film, Wittrock has had plenty of work, namely in roles on the FX horror anthology series, American Horror Story, as well as a main part in the Netflix series Ratched. He has also had plenty of appearances in films, many of which have been praised by critics, such as If Beale Street Could Talk and Judy.
In the coming years, Wittrock has plenty of work ahead of him, including A Mouthful of Air, which he will be starring in alongside Amanda Seyfried, and the psychological thriller Deep Water. Wittrock will also have a role in the upcoming tenth season of American Horror Story, titled American Horror Story: Double Feature.
Callie Hernandez (Tracy)
As one of the three roommates whom Mia had prior to meeting Seb in La La Land, Callie Hernandez rocked it in the few scenes she was in. Since her appearance in the film, she has gone on to several roles in other films, such as Alien: Covenant, The Endless and Under the Silver Lake. She has also stepped into the television world and had a main role in the Netflix series, Soundtrack, as well as in the Epix comedy, Graves.
In terms of what she has upcoming, Callie Hernandez is going to be stepping back into the spotlight of film once more with the Jennifer Lopez movie Shotgun Wedding, which is currently being filmed, so there will be some new projects coming from her within the next couple of years.
Sonoya Mizuno (Caitlin)
After playing the second of Mia's three roommates, Sonoya Mizuno has been extremely busy since her role in La La Land. In terms of film, Mizuno has appeared in such movies as the thriller Annihilation, the uber successful rom-com Crazy Rich Asians, and had a part in the live-action remake of Beauty and the Beast.
Moving over to television, Sonoya Mizuno also had a part in Maniac, the same television series that Emma Stone starred in alongside Jonah Hill on Netflix. But, keep an eye out for this one, because Mizuno has landed a role on the Game of Thrones spinoff, House of the Dragon, a show that will tell the story of some of the history of the Targaryens. With how popular the main show became, I'm sure that this will be a big opportunity for the starlet to shine.
Jessica Rothe (Alexis)
As the last of her roommates, Jessica Rothe has also been very busy since La La Land's release, mainly in horror. Rothe has taken on the main role in Happy Death Day and its sequel Happy Death Day 2U, both of which were successful and well-received by critics. Jessica Rothe has also had appearances in films such as Please Stand By and All My Life.
Back in 2016, she also had a main role in the marijuana-themed comedy Mary + Jane and had a recurring role in the 2020 science-fiction drama Utopia, which was released on Amazon Prime back in September. This year, Rothe has a role in Body Brokers, a story where a junkie learns about the deeply hidden secrets behind a rehab center, so if you want to catch her in her latest project, check out the movie on some streaming platforms like Amazon Prime or YouTube.
Tom Everett Scott (David)
Okay, to me, I still think Mia should have ended up with Seb, but whatever, David was fine as well. This doesn't mean that Tom Everett Scott, the man who played Mia's husband in the epilogue at the end of the film, didn't do a fantastic job for the small amount of time he was there. Since La La Land, Tom Everett Scott has had a couple of roles in films such as The Last Word, and the Disney+ original, Clouds, in 2020.
Scott also had a recurring role in the Netflix series that took the world by storm, 13 Reasons Why from 2017-2019, as well as a main role in The Healing Powers of Dude and a guest role in Council of Dads. Along with plenty of guest roles that are far too long to include on this list, Tom Everett Scott has some upcoming films, like Finding You, and The Adventures of Buddy Thunder, which is currently in pre-production.
With so many films coming out with these actors and actresses in them, I'm going to have to check my 2021 movie releases to make sure I know when they're going to be on the big screen again.
Your Daily Blend of Entertainment News
Big nerd and lover of Game of Thrones/A Song of Ice and Fire. Will forever hate season eight. Superhero and horror geek. And please don't debate me on The Last of Us 2, it was amazing!
Your Daily Blend of Entertainment News
Thank you for signing up to CinemaBlend. You will receive a verification email shortly.
There was a problem. Please refresh the page and try again.