Chris Evans Had The Best Response To Lizzo's TikTok Claiming They're Having A Baby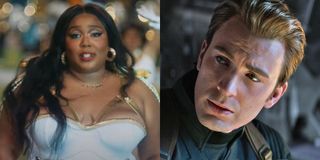 If you're anything like me, you can't get enough of the whole Lizzo/Chis Evans dream romance situation that is unfolding on the singer's TikTok. And there's more tea to spill! Apparently there's an imaginary little Avenger in Lizzo's womb and Chris Evans knows all about it. And he had the best response to learning about the "big news."
This chapter in the endearing tale that is Lizzo's and Chris Evans' social media love story all started when a fan told Lizzo that they knew she was pregnant with Evans' child, and the musician jumped into action to jokingly confirm the pregnancy claim. Apparently Evans heard all about his fake unborn child and responded in such a way we've come to know and love from the Captain America actor. Check out the TikTok below,
Lizzo revealed in a video on her TikTok that Chris Evans sent her a DM about the supposed pregnancy, where he is pretty much all joy. Evans, in typical mama's boy fashion, says his mom will be happy about the news and calls the fake baby their little "bundle of joy". Here it is in Evans' own words:
What's even better than his reaction to the news he and Lizzo were having a fake baby is that the DM from Evans came before 4AM. If he were a normal person, I would chalk that up to a drunk text, but since it's Evans, he's actually probably just up for an early morning workout or to take his dog for a stroll.
It's clear that he actively sought Lizzo out this time, reaching out over the pregnancy joke to start up a new conversation after a few months of not talking. In the TikTok, you can see in their chat history that the last time they spoke (at least in these DMs) was when he wished Lizzo a "Happy Birthday" back in April, and it looks like Chris Evans was the one who initiated that little chat as well.
In her post, Lizzo talks about how her fans now need to come up with a name for "little 'merica", which honestly is probably the best name already. The artist's imaginary relationship with Chris Evans started a few months ago when Lizzo contacted Evans, shooting her shot. The actor responded to her messages positively, and they seem to have a friendly and playful faux relationship going on.
The only thing left is for these two to meet in real life, really, and I'm dying for it to happen. Chris Evans has plenty of time now to finally start up something with a lucky lady, now that his time with Marvel is pretty much done and Gray Man has also finished filming. Sure, he's got plenty of other projects in the works, but it seems like he's carving out some time to throw Lizzo (and their fake baby) some love too.
Constantly thinking about books, coffee, and the existential dread I feel from Bo Burnham's Inside. While writing I'm also raising a chaotic toddler, who may or may not have picked up personality traits from watching one too many episodes of Trailer Park Boys.
Your Daily Blend of Entertainment News
Thank you for signing up to CinemaBlend. You will receive a verification email shortly.
There was a problem. Please refresh the page and try again.