5 Marvel Characters Brad Pitt Would Be Perfect To Play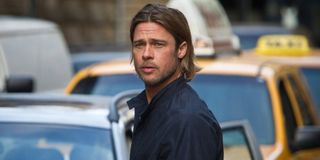 I actually think that it was a smart move for Brad Pitt to wait until much later in his career to appear in superhero movies after first building a career that is mostly rich in unique, boundary-pushing classics that go beyond the common constraints of genre films. As a result, it was pretty cool to hear him as the voice of Metro Man in Megamind, intriguing to learn he produced both Kick-Ass and Kick-Ass 2, and heart-stoppingly hilarious to see him pop up in Deadpool 2 so unexpectedly.
Seeing as there is no sign of anything stopping the 57-year-old Academy Award winner at this point, I think giving him a more prominent role in the Marvel movies would be a joy to see and we have a few characters in mind - starting with one Pitt has already been linked to recently by the rumor mill.
Hyperion
Metro Man - Brad Pitt's aforementioned character from the 2010 movie Megamind - was, essentially, an animated parody of the DC movies' Superman. By voicing this boisterous, virtually unstoppable superhero, the actor is already primed to bring the character often referred to as the Man of Steel of the Marvel Universe to the big screen for the first time.
There has been a lot of talk since mid-2020 that Marvel Studios was considering Brad Pitt for the role of Zhib-Ran, otherwise known as Hyperion - an extraterrestrial with flight, super strength, and almost every other superpower under the sun. There are many different versions of the character within the Marvel Multiverse, but the one most likely to be integrated into the MCU is a member of the Eternals, because the immortal heroes have their own upcoming movie. However, I would like to see Pitt play Hyperion's more villainous persona, as an opportunity to savagely poke fun at his similarities to Kal-El.
Green Goblin
All the proof that we need to know that Brad Pitt would be a kick-ass villain is his performance in the 1999 classic Fight Club as Tyler Durden. Now, at risk of breaking the first two rules and giving too much away, I think his role as the deceptively charismatic soap salesman in the Fight Club cast could be considered a perfect precursor for him to play one of Marvel's most iconic foes.
Norman Osborn was once a common, if not overly ambitious, wealthy industrialist until his darker half took over, turning him into a fearsome terrorist dressed as a gruesome fairy tale creature known as the Green Goblin. It has been a while since we have seen ol' Gobby on the big screen (previously portrayed by Willen Dafoe in Sam Raimi's Spider-Man movies) and I think many would love to see Tom Holland's Peter Parker take him on at some point. As someone who certainly knows how to get in touch with his dark side, Brad Pitt could be a great match for Holland to cross paths with.
Jean-Luc LeBeau
Another one of my favorite Brad Pitt performances (and in one of my favorite Brad Pitt movies, too) is in director Steven Soderbergh's stylish remake of Ocean's Eleven from 2001. While the movie may have been named after George Clooney's character, Daniel Ocean, the one really running the show in the Ocean's Eleven cast was Pitt as Rusty Ryan, who is a master of keeping his cool even when all hell seems to break loose (or so we think) while pulling an epic Las Vegas heist.
The Marvel Comics Universe is not without its master thieves, either. In fact, the leader of the Thieves Guild is Jean-Luc LeBeau - a last name that may sound familiar to X-Men movies fans because of Remy LeBeau (better known as the bio-kinetic, Cajun card shark Gambit), whom Jean-Luc took under his wing after he successfully picked his pocket as a kid. If there is still any hope of a Gambit solo movie, an introductory flashback with Brad Pitt as the popular mutant's mentor and father figure sounds like gold to me.
Magneto
How about we switch gears to a metallic substance of the magnetic variety? I only suddenly bring science into the conversation because I believe, if there is any chance of Brad Pitt actually joining the cast of an MCU X-Men movies reboot, I think he might actually deserve a bigger role than the otherwise perfect casting as Jean-Luc LeBeau might turn out to be.
Brad Pitt is getting closer to the age that would be required to play Magneto (closer than his Inglourious Basterds co-star and X-Men movies vet Michael Fassbender currently is, anyway). I also imagine Sir Ian McKellan may likely agree that it is time to pass the torch to a new actor once again, and Pitt certainly has the range that such a complex comic book villain requires. Plus, I once saw him depicted in some pretty cool Magneto fanart and that was good enough for me.
Vanisher
On the other hand, Brad Pitt has a bit of a reputation for making smaller, random turns that can be even more memorable than some of his starring roles. For instance, when he played Floyd in True Romance, his dazzling supporting role in Burn After Reading, his many appearances on The Jim Jefferies Show as a weatherman, and, of course, when he made one of the funniest superhero movie cameos ever as Vanisher in Deadpool 2.
Now, I know that we technically saw the mostly transparent X-Force member die during that relentlessly grim montage in the 2018 sequel to Deadpool, but it is not totally impossible to survive an electric shock (especially in a comic book movie). In fact, you could use the excuse that the shock only made his powers stronger and gave him more control when switching from visible to invisible. All I am saying is that another team-up between Brad Pitt's Vanisher and Ryan Reynolds' Merc with a Mouth for the currently in development Deadpool 3 is too fun an idea to pass up.
Actually, you could argue that it would be even funnier to see Brad Pitt play an entirely different role in the Marvel Cinematic Universe and have Deadpool mention how he feels like he has "seen" him before. What do you think?
This poll is no longer available.
Jason has been writing since he was able to pick up a washable marker, with which he wrote his debut illustrated children's story, later transitioning to a short-lived comic book series and (very) amateur filmmaking before finally settling on pursuing a career in writing about movies in lieu of making them. Look for his name in just about any article related to Batman.
Your Daily Blend of Entertainment News
Thank you for signing up to CinemaBlend. You will receive a verification email shortly.
There was a problem. Please refresh the page and try again.