Disney Channel Is Introducing Its First Indian American Lead In Original Movie Spin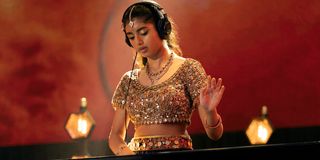 Disney Channel's Spin debuted on August 13th, starring Avantika as Rhea, an Indian American teen who learns she has a passion for creating DJ mixes that blend the textures of her Indian heritage and the world around her. Spin is Disney Channel's first original TV film featuring an Indian American lead and it taps into a new generation of immigrant experiences.
Between grieving the loss of her mother, helping run the family restaurant, enjoying STEM club with her best friends, and learning to DJ from a new love interest, high school teen Rhea (Avantika) has a lot to juggle. The story of Spin beautifully intertwines friends, family, and culture as Rhea leans to prioritize the different aspects of her life. The cast gives a deep dive on the themes of Spin in the behind-the-scenes clip below.
Spin is a truly compelling, creative, and relatable coming-of-age story. Rhea's instinct for seeing and feeling music everywhere awakens a passion within her, and while following that passion initially causes conflict in her relationships, it ultimately sets Rhea and those around her free. Seeing a young female character embrace what she loves and not hide behind what is familiar to her is empowering. Director Manjari Makijany shared the following with Disney Channel of crafting this film:
Manjari Makijany certainly achieved "contemporary and accessible." As a viewer, the cultural elements throughout Spin provided a window into something unfamiliar yet relatable. Regardless of the specific holiday, we all celebrate something. Every family has something unique to their family unit, like Rhea's family owning a restaurant. From the food and costuming to the celebration of Holi, Spin's celebration of Indian culture is absolutely stunning.
Avantika is the perfect choice as the star of Spin. Not only is her performance phenomenal, but she exudes confidence and grace that is really compelling to watch. She's also humble, as you can see in the clip below of her being offered the part of Rhea (try not to cry, I failed.)
Well, if that isn't the sweetest thing you'll see today, I don't know what is! Avantika leads an international ensemble of talented veteran and burgeoning young actors, including Bollywood renowned Abhay Deol ("Zindagi Na Milegi Dobara") as Arvind; UK comedienne/actress Meera Syal ("Yesterday") as Asha; Aryan Simhadri ("Adventures in Wonder Park") as Rohan; Michael Bishop ("Grace Beside Me") as DJ Max; Anna Cathcart ("Descendants" franchise) as Molly; Jahbril Cook ("A Week Away") as Watson; and Kerri Medders ("Alexa & Katie") as Ginger.
Here's what Avantika shared of her hopes for the film:
Spin is currently available on Disney Channel and on DisneyNow. For more family-friendly favorites, check out the best Disney Channel Original Movies on Disney+. To take a trip down memory lane, CinemaBlend has also curated some Disney Channel Originals to remind you of your childhood.
Obsessed with Hamilton and most things Disney. Gets too attached to TV show characters. Loves a good thriller, but will only tolerate so much blood.
Your Daily Blend of Entertainment News
Thank you for signing up to CinemaBlend. You will receive a verification email shortly.
There was a problem. Please refresh the page and try again.