8 DC Animated Movies That Deserve A Live Action Remake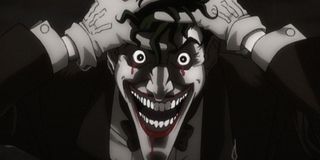 There are many fans of superhero movies who, as they grow older, tend to abandon most animated, straight-to-video features based on their favorite comic book characters. However, that has not been the case for the animated DC movies - many of which have proved to be as popular and acclaimed as the Marvel movies, but also more faithful to the source material and even more grown-up, such as Batman: The Killing Joke, for instance. That particularly dark story is just one of many DC animated movies we would like to see brought to life on the big screen as a live-action feature, though we'll start with an epic team-up between the Dark Knight and the Man of Steel.
Superman/Batman: Public Enemies (2009)
The DCEU did not really give Batman and Superman enough chances to fight alongside each other and, instead, devoted most of their shared screen time (predominantly in Batman v Superman: Dawn of Justice) to seeing them at each other's throats. A great way to see them brought together would be to pit the world against both of them, just like President Lex Luthor manages in Superman/Batman: Public Enemies, which is based on Jeph Loeb's 2005 graphic novel. I wish I could see both Henry Cavill and Ben Affleck reprise their roles in a live-action re-do of this, but would accept a recasting if it meant seeing the movie's giant Superman/Batman robot appear on the big screen.
Batman: Hush (2019)
Another celebrated Jeph Loeb title that was later made into an animated film is Batman: Hush, in which Bruce Wayne uncovers clues suggesting that a new criminal terrorizing Gotham City is somehow tied to his past. Unfortunately, most fans agree that the film does not quite match up to the original, thrilling detective story that was published in chapters from 2002-2003. A more faithful, live-action update might make for a great sequel to Matt Reeves upcoming The Batman, especially since the complexities of Bats' relationship with Catwoman becomes a major focal point.
Batman: The Killing Joke (2016)
On the other hand, there are some fans who believe that the R-rated, animated adaptation of Alan Moore's classic 1988 one-shot Batman: The Killing Joke suffered from being too faithful (minus the Batgirl-centered prologue, which was actually the bigger issue for most people). Since we have already gotten one good, extremely mature origin story for the Clown Prince of Crime with 2019's Joker, I would recommend doing away with the flashbacks, but using the main conflict between the Joker and the Dark Knight as a jumping off point for an epic showdown unlike anything we have seen on the big screen. It could even work as a follow-up to the upcoming Batgirl movie, considering Barbara Gordon is extremely important to the story.
Batman Vs. Robin (2015)
Another DC animated film that probably could have benefitted from staying truer to the source material is Batman vs. Robin, which attempts to make Scott Snyder's gripping The Court of Owls story arc into a direct sequel to 2014's Son of Batman, where a secret society of assassins come between Bruce Wayne and his son, Damian. Damian, however, is not a part of the original comic, which is a bare bones detective story like many of the best Batman comics (and very few live action Batman movies so far) tend to be. Apparently, Warner Bros. is working on a trilogy for Robert Pattinson's Batman and perhaps one of those installments could also be a Court of Owls-inspired noir.
Justice League Vs. Teen Titans (2016)
Damian Wayne also shows up in an animated film called Justice League vs. Teen Titans, which actually turns out to be a bit of a misnomer. The teens discover that Superman, Batman, and others are being controlled by Trigon (Raven's father), and, once that becomes resolved, it basically turns into a Justice League/Teen Titans team-up against the demon. However, I would really like to see the concept of the younger heroes at war with their adult peers explored in a more grounded way, almost like how Captain America: Civil War was handled, which sounds like a great set-up for a feature length spin-off of HBO Max's Titans, if you ask me.
Justice League Dark: Apokolips War (2020)
You might want to watch most of the previous animated DC movies in order before you see Justice League Dark: Apokolips War. To bring up another MCU example, this could be considered the Avengers: Endgame of the DC animated movies, while also bearing many similarities to Zack Snyder's Justice League, for its portrayal of heroes and enemies alike coming together in the wake of tragedy. However, the real reason I would choose to see this updated for live action is because the Justice League Dark members are already getting their own live action show and teaming them up with more traditional DC heroes would be quite an interesting follow-up to that.
Justice League: Gods And Monsters (2015)
I actually have enjoyed and am continuing to look forward to the ways that Warner Bros. has diverted from one overall story and is instead, choosing to explore different possibilities within the DC Multiverse with its movies. One time that the DCAU experimented with Elseworlds stories was with Justice League: Gods and Monsters, which takes place on an Earth in which Superman (Benjamin Bratt) is the Zod's son, Batman (Dexter's Michael C. Hall) is a vampire, and Wonder Woman (Tamara Taylor) rules the underworld. Something that against type deserves a big screen update.
Superman: Red Son (2020)
Another Elseworlds story that would be fun to explore in live action is Superman: Red Son, based on the three-part story that imagines if Kal-El, instead of crashing in Smallville, had landed in the Soviet Union. Mark Millar's exploration of that question leads to one of the darkest and most though-provoking stories in the Man of Steel's repertoire and would make for one intriguing and timely big screen epic. Not to mention, since it would not be a canon story, Warner Bros. could cast anyone they wanted to play this version of Superman.
I would have loved to add classics like Batman: The Dark Knight Returns or The Death of Superman to this list had both of those not been heavily borrowed from for Batman v Superman: Dawn of Justice already. Maybe all I need to do is wait a few more years for the next big reboot to happen.
Your Daily Blend of Entertainment News
Jason has been writing since he was able to pick up a washable marker, with which he wrote his debut illustrated children's story, later transitioning to a short-lived comic book series and (very) amateur filmmaking before finally settling on pursuing a career in writing about movies in lieu of making them. Look for his name in just about any article related to Batman.
Your Daily Blend of Entertainment News
Thank you for signing up to CinemaBlend. You will receive a verification email shortly.
There was a problem. Please refresh the page and try again.