Henry Golding: What To Watch If You Like The Snake Eyes Star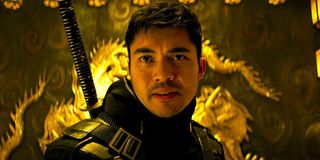 CinemaBlend participates in affiliate programs with various companies. We may earn a commission when you click on or make purchases via links.
Henry Golding's career has been on a major upward rise ever since his breakout role in Crazy Rich Asians. Since that film, Golding has been the leading man in other hits, such as A Simple Favor and Last Christmas. Much of Golding's work has been as the romantic lead in a comedy or drama, but he's been branching out to other genres. In 2021, he took on the action world as the lead in Snake Eyes.
With Snake Eyes now available to watch online, Henry Golding is bound to acquire many new admirers. They will want to see him and the rest of the Snake Eyes cast in other films and TV shows. Henry Golding fans, new or returning ones, have plenty of movies and TV shows to stream or rent starring or co-starring the Crazy Rich Asians actor. Here's what to watch and where you can watch it if you like Henry Golding.
Crazy Rich Asians (HBO Max)
In the romantic dramedy Crazy Rich Asians, Rachel Chu (Constance Wu) travels to Singapore and discovers her boyfriend, Nick Young (Henry Golding), comes from a very wealthy family. At first, Rachel is shunned by Nick's mother Eleanor (Michelle Yeoh), and Rachel herself fears that she won't be good enough for his upper-class life.
Crazy Rich Asians is the film that made Henry Golding the face of many young girls' and guys' dreams. It helped propel his career to leading man status. It was a huge box office hit, won lots of critical praise, and made its cast even more well-known. Fans of Crazy Rich Asians can't wait to see Rachel, Nick, and the rest of the Crazy Rich Asians cast return for their planned sequels, even if that means fans may have to wait a while to see it.
Stream Crazy Rich Asians on HBO Max. (opens in new tab)
Rent Crazy Rich Asians on Amazon. (opens in new tab)
A Simple Favor (Amazon)
A Simple Favor follows the unexpected friendship between Stephanie (Anna Kendrick) and Emily (Blake Lively). The two women seem like an odd combination, but they quickly become devoted friends. Then Emily disappears and Stephanie makes it her mission to discover what happened to her. Stephanie sort of starts to take her place, especially with Emily's husband, Sean (Henry Golding).
A Simple Favor is a fun murder mystery with a really entertaining final half, with plenty of twists. Golding is the male lead and holds his own next to the powerhouses that are Lively and Kendrick in this movie. Sean is sensitive and attractive enough to make you understand why Emily and Stephanie are drawn to him, but also dubious enough to make you wonder if he could have murdered his wife. A Simple Favor is one of the best Amazon Prime movies to rent if you want something that's both thrilling and really funny.
Rent A Simple Favor on Amazon. (opens in new tab)
Last Christmas (Cinemax Go)
Last Christmas is a Holiday romantic comedy about a woman whose life seems out of control. Kate (Emilia Clarke) has sort of given up on life after nearly dying from a heart condition. She was saved due to a heart transplant. One day Kate meets Tom (Henry Golding), who helps Kate start to regain control of her life and become more of a kind and loving person.
Many talk about Last Christmas because of the surprise twist ending. Last Christmas is a typical romantic movie, which means you want Tom and Kate to have their happy ending--mainly because of Clarke and Golding's great on-screen chemistry. Tom is good at helping support Kate, who gets to reveal her kind heart because of Tom, in more ways than one.
Stream Last Christmas on Cinemax Go.
Rent Last Christmas on Amazon. (opens in new tab)
The Gentlemen (Showtime)
The Gentlemen is the 2019 Guy Ritchie crime comedy that has an all-star cast that includes Matthew McConaughey, Charlie Hunnam, Hugh Grant, Michelle Dockery, and Colin Farrell. It follows Mickey Pearson (Matthew McConaughey) as he attempts to sell his very successful weed empire. He's trying to sell it to Matthew (Jeremy Strong), but the transaction isn't as smooth as expected.
Henry Golding plays Dry Eye, "the antagonist" of The Gentlemen. He wants Mickey's empire and will stop at nothing to get it. Golding is the right mixture of devious, scummy, and dangerous but - for the most part - still a comedic enough villain to not incite years of nightmares from its viewers.
Stream The Gentlemen on Showtime.
Rent The Gentlemen on Amazon. (opens in new tab)
Monsoon (Netflix)
Monsoon follows Kit (Henry Golding) as he returns to Saigon after leaving the country at six years old, after the Vietnam War. This was over thirty years ago. Kit is there to bury his parents in their home country. He reunites with a friend from his childhood, sees his old home, and finds love along the way.
Monsoon is all about a man's journey to connect with a country he long abandoned. It's also about discovering what his connection with this country means for his identity. Monsoon is a quiet movie that mainly relies on Henry Golding's acting skills to connect viewers to Kit and his journey. It's one of the best movies on Netflix to watch if you want a slow-burner film.
Stream Monsoon on Netflix. (opens in new tab)
Rent Monsoon on Amazon. (opens in new tab)
The Travel Show (Youtube)
The Travel Show is a BBC original program that began in 2013 and is still currently airing. The show follows several different presenters as they highlight different places, advancements, and customs of cities around the world. Some of the cities featured are London,Tokyo, and Kuala Lumpur. A few of the presenters include Ade Adepitan, Rajan Datar, Benjamin Zand, and Henry Golding.
Golding usually highlights different things to do, see, eat, and experience in Kuala Lumpur. He joined the series in 2014. The Travel Show is available to stream on its official Youtube page.
Stream The Travel Show on Youtube.
Star Wars: Visions (Disney+)
Star Wars: Visions is an upcoming animated anthology series for Disney+. It consists of nine short films produced by six Japanese animation studios. The stories in Star Wars: Visions will be set in the Star Wars Universe. The show is one of the most anticipated fall 2021 shows.
Star Wars: Visions has a very impressive voice cast that includes Henry Golding, Lucy Liu, and Joseph Gordon-Levitt. Golding will appear in the movie called Akakiri. Star Wars: Visions will begin to stream on Disney+ on September 22, 2021.
Stream Star Wars: Visions Soon on Disney+.
Henry Golding can next be seen as Mr. Elliot in the upcoming Netflix Persuasion adaptation. Snake Eyes is currently available to rent or purchase on your favorite video-on-demand service.
Rent Snake Eyes on Amazon. (opens in new tab)
Spent most of my life in various parts of Illinois, including attending college in Evanston. I have been a life long lover of pop culture, especially television, turned that passion into writing about all things entertainment related. When I'm not writing about pop culture, I can be found channeling Gordon Ramsay by kicking people out the kitchen.
Your Daily Blend of Entertainment News
Thank you for signing up to CinemaBlend. You will receive a verification email shortly.
There was a problem. Please refresh the page and try again.