Jim Carrey Vows To Fight Wrongful Death Lawsuit Over Ex-Girlfriend's Suicide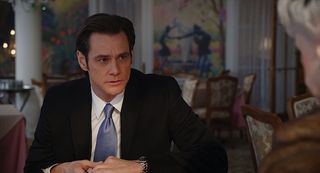 The latest news involving Jim Carrey is no laughing matter, and the comedian is getting very serious in his response to it. After the drug-induced suicide of Carrey's ex-girlfriend, the woman's widowed husband is now accusing Carrey of providing her with the lethal drugs, and has filed a wrongful death lawsuit against the actor.
After news of the lawsuit broke, Jim Carrey released a statement to PEOPLE saying that he will be publicly fighting this claim rather than keeping the legal proceedings behind closed doors.
The lawsuit is being filed nearly a year after the suicide of Cathriona White, who died of a drug overdose in September of 2015. At the time of her death, White was legally married to a man named Mark Burton, who is filing the complaint against Jim Carrey with claims that he provided White with illegal substances knowing that she would misuse them.
To win the legal proceedings, Mark Burton's team intends to prove that Jim Carrey both provided White with the drugs that killed her, and that he knew that she would do herself harm with them. For the latter part, the prosecution has already alleged that Carrey well knew of White's troubled history with addictive prescription drugs, and that she was prone to depression and had already attempted suicide before.
One of the biggest wrinkles in the case will likely be the text messages between Jim Carrey and Cathriona White around the time of her death. White's toxicology report states that her phone contained texts from Carrey asking her where his missing painkillers and anti-inflammatories were, which would seem to suggest that White took the drugs from Carrey without his knowledge. Burton's team claims that these text messages are bogus, and that Carrey only sent them to cover up his involvement in White's suicide.
Jim Carrey first met Cathriona White in 2012, and they began an on-off romantic relationship that continued until the time of her death. The news that White had been married to Mark Burton since 2013 came as a surprise to many, reportedly even some members of White's own family. It's unclear how much Carrey knew about Burton, but reportedly White was separated from her husband at the time of her death and about to begin the process of divorcing him.
Jim Carrey has been married twice before, first to actress Melissa Womer in 1987 and then to Dumb & Dumber costar Lauren Holly in 1996. Afterwards, Carrey had high profile relationships with actresses Renee Zellweger and Jenny McCarthy.
Your Daily Blend of Entertainment News