The Real Reason Corey Feldman Got Married Again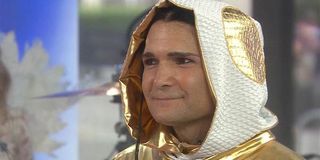 (Image credit: TODAY)
Corey Feldman is a married man... yet again! The '80s movie mainstay who has recently made waves for his musical endeavors tied the knot with his bandmate, model Courtney Anne, and the reason for the marriage was surprisingly just as political as it was romantic.
On Tuesday, Corey Feldman married his girlfriend Courtney Anne in Las Vegas after four years of dating, TooFab.com confirmed. Anne is also one of the angels in Feldman's band Corey's Angels. The marriage comes two weeks after Feldman proposed to Anne with a cutesy throwback to classroom notes that ask the receiver to check yes or no. After his new bride checked yes, Feldman shared the happy news with PEOPLE, and also told them that he actually had a bit of a political motive in proposing shortly after Donald Trump was named president-elect. Apparently, Feldman wanted to be sure that his Canadian-born lover would be safe if Trump carried out his campaign promise to massively increase efforts to deport illegal immigrants.
After the wedding news was announced on Tuesday, Corey Feldman tweeted about the special day and promised there'd be even more news to come.
Though Corey Feldman has reportedly been dating Courtney Anne for years, it was only in recent months that the two started making headlines due to a pair of bizarre performances by their band, Corey's Angels, on TODAY. Two months ago, Feldman and Anne, along with a couple of other women dressed in angel costumes, performed their new song "Go 4 It" on the morning talk show, and it was quickly met with critical derision online. After receiving some support from artists like Miley Cyrus and Pink, Feldman returned to TODAY yet again a month later to perform another original song called "Take A Stand" and tell detractors that he isn't fazed by them.
The marriage to 27-year-old Courtney Anne is the third time Corey Feldman, 45, has said "I do." The former child star married General Hospital actress Vanessa Marcil in 1989 and they stayed together for four years. He was then married to model Susie Sprague from 2002 until 2009, though their divorce was not finalized until 2014. Feldman also has one preteen son with Sprague, named Zen Feldman.
In the end, it looks like Corey Feldman turned out to be Courtney Anne's guardian angel after all, and she won't have to be flying north anytime soon.
Your Daily Blend of Entertainment News