Gwen Stefani Made A Surprise Appearance During Blake Shelton's Concert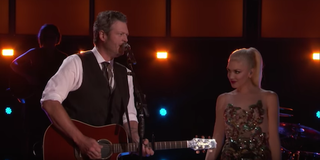 (Image credit: The Voice)
Country music fans just got a major surprise performance this weekend! Gwen Stefani shocked the crowd at a Blake Shelton concert this Saturday by crashing the stage and performing a hit of her own.
After Blake Shelton finished his set at Luke Bryan's Crash My Playa music festival in Riviera Maya, Mexico this weekend, he brought out his superstar girlfriend to pump up the crowd even more, E! News reported. Gwen Stefani joined in with Shelton for a cover of "Footloose," and then launched into her band No Doubt's 2001 hit "Hella Good."
Some concert-goers managed to capture the surprise throwback performance and post it to social media. Gwen Stefani was certainly going all-out to give the crowd a high-energy performance, as she jumped around the stage in an Army green romper. Check out the performance below.
The festival's organizer and headliner Luke Bryan also reportedly gave a nod to Gwen Stefani's surprise appearance a day earlier with a winking reference in his hit "Country Girl (Shake It For Me)." Bryan reportedly inserted some lyric's from Stefani's most recognizable hit "Hollaback Girl" into his performance while looking towards the side of the stage where she and Blake Shelton were watching on.
And although Gwen Stefani's surprise No Doubt performance came after Blake Shelton's set was over on Saturday, her beau kept things going by bringing out Little Big Town and performing come classic covers ranging from Billy Joel to "Escape (The Piña Colada Song)." That crowd most definitely got their money's worth that night!
According to PEOPLE, Blake Shelton and Gwen Stefani got to enjoy the exotic beaches together offstage as well over the weekend, as they hung out with friends in a luxury resort in the nearby town of Tulum.
Gwen Stefani and Blake Shelton began their relationship a little over a year ago. The two music superstars had just both been serving as judges on the reality singing competition series The Voice since 2014, and a year later they made they began dating. The new relationship caused a bit of the stir in the tabloids, as Stefani had just filed for divorce from her husband of 13 years Gavin Rossdale two months earlier, around the same time that Shelton and his ex-wife Miranda Lambert also announced their intention to divorce. But Shelton and Stefani look like they just might stand the test of time, always appearing to be head-over-heels for one another whenever they are spotted together.
Not to mention that they make some sweet music together! "Hella Good," indeed.
Your Daily Blend of Entertainment News