Watch A Cam Girl Get Bitten By A Shark While Filming Porn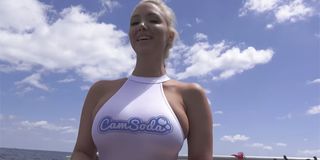 What started out as a porn shoot almost turned into torture porn recently, thanks to a shark attack. A cam girl filming for CamSoda during it's first live underwater broadcast attempt was attacked by a shark, despite filming the segment in a cage. You can watch the harrowing video filmed on the Florida coast, which starts out with cam girl Molly Cavalli wearing a thong bikini and then gets a whole lot darker when her leg begins spewing blood into the ocean water. If you haven't seen it yet, give it a watch.
At first this looks like a lot of other shark-oriented movies, as Molly Cavalli hops into the water with just a flimsy cage to surround her. She's not facing Great White Sharks or anything, so it seems fine, right? She begins filming the segment in her flimsy thong bikini and things seem to be going OK. There are sharks swimming around and the adult actress seems to be enjoying the view, but suddenly, the camera follows a shark who actually decides to attack the cage and gets to Cavalli's ankle in the process. Blood spews everywhere and the camera team is forced to pull her out of the water. You can hear one of the crew asking if she is alright before the camera pans to show the extremely bloody gash left by the shark.
Molly Cavalli is alright now, but it took 20 stitches to get her back into shape. This was the first live underwater broadcast attempt for the company, and clearly the whole plan wasn't plotted out as well as it could have been if the adult entertainer who was supposed to star was actually bitten by a shark. The shark in question was a lemon shark, according to the entertainment company, and Molly Cavalli has been in decent spirits since the event. I hope they paid her well for the work, because seriously, shark bite? At least she looked good while getting eaten...
CamSoda says the company has been working for a while on the new technology, which would allow the porn stars to broadcast live in 4K. Per the Daily Mail, when the lemon shark--which is usually not super into attacking--swam toward her she panicked. If you can see from the video, the cage had a protective net, and her foot rose up over the net, leaving it completely open to attack. The shark took the opportunity and the rest is history. Probably not what CamSoda was hoping to give fans in the video, but it's certainly a compelling, emotional, brutal watch and it's already been seen nearly 14 million times. Hopefully, if the company continues to pursue the new technology, they'll do so in less precarious settings, or at least have a good safety plan in effect.
Amazing Race & Top Chef superfan with a pinch of Disney fairy dust thrown in. Theme park junkie. If you've created a rom-com I've probably watched it.
Your Daily Blend of Entertainment News
Thank you for signing up to CinemaBlend. You will receive a verification email shortly.
There was a problem. Please refresh the page and try again.