Amber Heard Speaks Out After Breakup With Elon Musk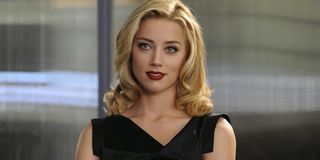 Amber Heard and Elon Musk made their relationship official on Instagram earlier this year with a picture of themselves dining out at a chic restaurant. The romance developed after both had divorced their former spouses. Unfortunately, Heard and Musk have gone their separate ways, but the split seems to be amicable. Heard explained on social media and wrote,
Amber Heard shared the words in a caption for a picture of a garden scene. The sentiment was lovelmy but received mixed reviews from Heard's Instagram followers. Some of the followers commented on the irony of writing about being "more quiet" on social media, where one is not obligated to explain anything. Still, many of Heard's followers expressed appreciation for the thoughtful words and sent well wishes to the Aquaman actress.
After all, Elon Musk also confirmed the break up in advance of the press leaking the information, so it makes sense that Amber Heard would want to follow up with a clarification. On one of Heard's Instagram photos, the billionaire inventor posted complimented her, writing "Cute," and then he followed up with,
It appears both Amber Heard and Elon Musk wanted to avoid the additional drama that could have come from not addressing the issue. They both have been through publicized breakups, so they know how it feels when the press looks for details in the aftermath. Besides, it might not be the end of the road. In the comment, Musk explained that breaking up with Heard had much to do with conflicting schedules and the complexity of long-distance relationships. He wrote,
Elon Musk has six children with his author ex-wife, Justine Musk. After divorcing Justine Musk, Elon Musk married, divorced, remarried, and again divorced English actress Talulah Riley. Then he and Amber Heard became an item for a while after her headline-making divorce from Johnny Depp.
Elon Musk is the brilliant mind behind SpaceX and Tesla among other enormous ventures, so his calendar is full each day. Meanwhile, Amber Heard has several movies in the works, so it is understandable to hear that their competing schedules contributed to the split. Perhaps one day they will reunite, as friends or more.