Angelina Jolie On Her Priority At The End Of A Rough Year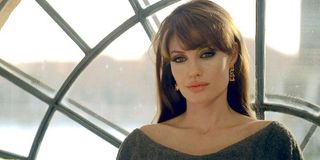 Angelina Jolie is getting her groove back now that Brangelina is a thing of the past. Recently, the 42-year-old movie star revealed her primary focus is the happiness and health of her kids. Jolie previously said she plans to continue working on films, especially as an actress in the coming months, but she believes the wellness of her family deserves priority right now. She opened up in an interview and said,
Of course, Angelina Jolie plans not to quit her illustrious career as a movie star. For example, she intends to reprise her role as the Mistress of All Evil in a sequel to Maleficent. Nevertheless, for the moment, Jolie is trying to sort out her life and keep her kids in a good place.
In the People interview, Angelina Jolie tossed out trivialities about how she has had "ups and downs" also noting that "we all have our difficult times." The crux of what Jolie said was that she knows her kids are the priority. She mentioned that her children are in their formative years and thereby indicated how much importance she places on being a good mom.
What Angelina Jolie shared struck a tone similar to that of other recent talks. For example, Jolie recently mentioned her six kids--16-year-old Maddox, 13-year-old Pax, 12-year-old Zahara, 11-year-old Shiloh, and nine-year-olds Vivienne and Knox,--helped her a lot during her split from Brad Pitt. At that time, Jolie intimated she was single but not yet ready to mingle (despite hating being single). Instead, she has been having fun being the mom of young kids and teenagers, who inspire her to try new activities, like cooking classes.
Furthermore, Angelina Jolie confessed she has tried to hide her emotions about the divorce. She said she sometimes cries in the shower to keep her sadness from the kids. (As honest, normal, and realistic as that sounded, it also came across as melodramatic because, like, couldn't the kids read the article and note, "Mom cries in the shower?")
Still, it is evident Angelina Jolie wants the best for her kids. And they are not just there for the sad times. Jolie also has included them in her happiest, proudest moments, as well. For example, she took all six kids to the premiere of her controversial documentary, First They Killed My Father. (Critics suggested Jolie brought the kids as a ploy to win public favor; however, the gesture received mostly praise.)
On the whole, it sounds like Angelina Jolie is still figuring out everything. But with six kids, who can blame her? It might take time, but hopefully, the tough times will make her stronger and better than ever.
Your Daily Blend of Entertainment News