How Angelina Jolie Feels About Being Single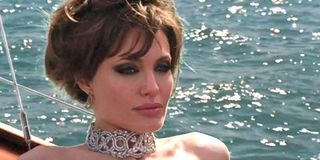 The fall of Brangelina was the end of an era. Now Angelina Jolie is navigating life as a single mom of six. The 42-year-old movie star has the world at her fingertips. Still, she finds it hard to get through the day without somebody special by her side. Jolie opened up about the single life in a recent interview and said,
Angelina Jolie's words might seem illogical when you think about what she has going for her. Jolie just bought a $25 million mansion. She receives awards for her skills, and honors for her philanthropic efforts, and she has made a career out of playing badasses like Lara Croft and Maleficent. Still, Jolie is a human being having an emotional moment after years being half of the most powerful couple in Tinseltown with former husband Brad Pitt. Jolie continued explaining,
Angelina Jolie told the Sunday Telegraph the pain is not all from her breakup. She mentioned deaths in the family and personal health struggles. Jolie recently revealed she has Bell's Palsy. She also had a double mastectomy in 2013 after her mother and aunt passed away of breast cancer. Jolie also removed her ovaries and fallopian tubes in 2015.
However, Angelina Jolie's outlook was not all bad. She said she wants "to rediscover" the old her and get her groove back. Jolie indicated she lost her sense of self over the years, but now that her kids are teens, she is relearning how to have fun. In fact, Jolie said her children stepped up to the plate to help her through the split. She said her kids bring out the best side of her, and she's now trying new activities, like cooking classes, to put a smile on her face.
Of course, the breakup in question happened last year when Angelina Jolie and Brad Pitt separated after a decade-long relationship. Allegedly, a situation between Pitt and Maddox Jolie-Pitt prompted the split. However, Angelina Jolie previously suggested a rift started growing while she was filming First They Killed My Father in Cambodia and Brad Pitt was filming War Machine in the Middle East.
Both Angelina Jolie and Brad Pitt have talked about life post-power-couple. For example, Pitt spoke about working out personal issues and seeking help for a possible alcohol addiction. Then Jolie opened up about crying in the shower and keeping her chin up around her kids. (She also indicated that she was not impressed by Pitt leaping at the opportunity to give an interview.) Of course, Jolie's sentiment was pretty dismal, so it is at least positive to hear she now is improving -- even though she hates being single.
Obviously, the single life is not something Angelina Jolie enjoys. She was married to Jonny Lee Miller from 1996 to 2000 and then Billy Bob Thornton from 2000 to 2003. She was rumored to have dated Timothy Hutton in 1997 and Colin Farrell in 2003. Jolie and Brad Pitt got together around 2005. (But maybe it was 2004. The hazy time frame still fuels media scrutiny, as Pitt and Jennifer Aniston did not divorce until 2005.) They officially married in 2014.
In other words, it has been a while since Angelina Jolie was not part of a twosome. Hopefully, Jolie will surprise herself and benefit from this moment even though it's not exactly what she envisioned.
Your Daily Blend of Entertainment News