The Huge Amount Of Money Britney Spears Spends A Year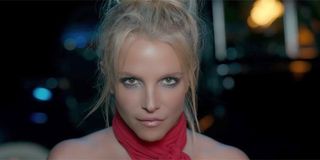 In "Piece of Me" Britney Spears reminded people she's "an exceptional earner," and apparently, the 35-year-old pop star is also an exceptional spender. Recently, her conservatorship's financial documents for 2016 surfaced, showing Brit Brit was saying "gimme more" all year long. Spears (and her shoppers) spent $10,956,873.91 of her hard-earned money. That figure is a drop in the bucket for Spears, who earned $16 million last year alone. (Not bad for a music vet coming up on twenty years in the industry.) But where did that money go?
The documents supposedly say Britney Spears whipped out $122,613 for personal grooming with massages and nails. Then, according to TMZ, Spears spent $69,668 on wardrobe and $24,392 on hair and makeup. Those figures by themselves seem pretty reasonable. Spears has been transforming her body and getting into tip-top shape, so it would make sense for her to put large sums toward appearance and wellness.
Surprisingly, much of Britney Spears' shopping happened at everyday retailers. She amassed a stockpile of receipts from stores like Pottery Barn, Target, and Bed Bath & Beyond. Spears (and her designated shoppers) got a lot of groceries from Vons and stopped in at Albertson's and Ralphs, too. (Yes, the stars are just like us.) Each purchase cost but a few hundred dollars, but there were so many that Spears paid a pretty penny in the thousands of dollars realm. (Okay, the stars are not like us.)
Oh, and Britney Spears spent $29,852 on her dogs. Just let that sink in for a minute.
Also, the documents allegedly show Britney Spears owned $55,745,288 in property assets, an increase of nearly $5 million from 2015. Mind you, that number is huge, but it does not reflect the sum of Spears' vast fortune, which she has stashed away in various accounts, trusts, and so on.
Speaking of Britney Spears' impressive long-term financial portfolio, recent reports said her conservators refiled documents this summer to change how the pop star's kids could one day inherit her estate. Apparently, the rules of the original will said 12-year-old Sean Preston and 11-year-old Jayden James would simply receive all of her money if she died.
Now additional clauses stipulate the boys will still receive all the money but not until they turn 35. They'll get some when they're 18, more when they're 25, and the rest ten years later. The move was wise. It protects the Federline boys from themselves, as inheriting hundreds of millions of dollars all at once at a young age can make life complicated. Plus, by putting money in the trust, the estate might save some dough on inheritance tax.
Technically, if Britney Spears' conservatorship is still in place, she is not in full control of her money. Spears entered the conservatorship after personal troubles in 2007 and 2008. Since then, the terms of the arrangement have changed, but it remains unclear what power Spears has over her finances. (Some say she has full control and the conservatorship is helpful for taxes, but others say there are still people managing everything behind the scenes.) Still, it seems she is fine when it comes to money, and with the tour of Asia she recently completed in addition to doing her lucrative Vegas show, she might be on track to make (and perhaps spend) even more money this year.
Your Daily Blend of Entertainment News