The Woman In The Kevin Hart Extortion Video Has Spoken Out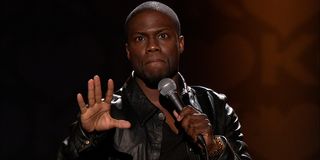 Recently, news broke about a scandal affecting Kevin Hart. The matter involved an alleged extortion plot over a videotape showing suggestive behavior between a man who looks very much like Hart and a woman who is not Hart's pregnant wife, Eniko Parrish. Now Montia Sabbag, the woman in the recording, has spoken out to explain her side of the story. According to Sabbag, the media got a lot wrong. At a press conference, Sabbag explained,
Previous reports called Sabbag "a stripper" and some of them even accused her of being the extortionist in the alleged shakedown of Kevin Hart, so Sabbag surely wanted to take back her narrative. Still, it is not clear how "involved" Montia Sabbag and Kevin Hart became last month, nor is it known what exactly occurred during the filming of the supposed recording. As mentioned, the alleged videotape in question is not a sex tape, but it does show a man and a woman engaged in various suggestive behaviors. But during the press conference via CNN, Lisa Bloom told reporters her client is the real victim in this entire ordeal. She said,
Lisa Bloom then dismissed the claim Montia Sabbag wants any money at all from Kevin Hart, though previous reports have said Sabbag promised to take a lie detector test if Hart paid her hundreds of thousands of dollars to do so. Furthermore, Bloom extended a hand to the 36-year-old comedian and said,
There is no word regarding whether Kevin Hart plans to link up with Lisa Bloom and Montia Sabbag to solve this mystery. And it is "a mystery." Apparently, the FBI would not confirm or deny whether it was investigating the matter. Then the Los Angeles County District Attorney's office refused to comment. Plus, the Los Angeles Police Department and the Las Vegas Metropolitan Police Department denied knowing anything about the scandal.
Still, previous reports said an anonymous extortionist had reached out to the media to accuse Kevin Hart of creating his crowdfunding campaign for Hurricane Harvey relief as a way to meet his blackmailer's multimillion-dollar demands for keeping the videotape a secret. But Hart's representative swiftly denied that allegation.
Furthermore, Kevin Hart jumped on social media this week to post a remorseful message to his family and fans. He explained that he had behaved poorly and made mistakes that people wanted to exploit. Without going into too much detail about the nature of his blunders, the Jumanji: Welcome to the Jungle actor vowed not to allow criminals to profit from his mistakes.
As a side note, attorney Lisa Bloom is living her best life right now. This is at least the third major press conference for her in a matter of months. In addition to representing Montia Sabbag, Bloom is the attorney who guided Blac Chyna through her custody battle with Rob Kardashian. Moreover, Bloom helped Kathy Griffin during her televised apology over her mask scandal this spring. (Somebody ought to give Lisa Bloom a reality show.)
Anyway, tons of questions remain in this story. Why didn't the police know about the extortion plot before the media? Who is the person playing the blackmailer? Where did the alleged recording originate? This case is far from finished, so we will keep our eyes peeled for updates.
Your Daily Blend of Entertainment News