Why Fergie And Josh Duhamel Decided To Announce Their Split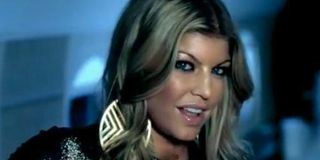 Last week, Fergie and Josh Duhamel announced in a joint statement they had decided to divorce after eight years of marriage. Now Fergie has shared additional insight into the reason for the split. Apparently, she and the Transformers actor moved on, at least emotionally, long before they made the announcement. In recent times, the pair were only playing house as friends. Fergie explained,
The information Fergie gave People seemed to match what previous reports said about the Black Eyed Peas vocalist and Josh Duhamel having grown apart despite trying to make the marriage work. Fergie's statement came across as if she and Duhamel had thought about splitting up for a long time. From the sounds of it, the breakup is far enough along that Fergie has had a chance to process the painful feelings, at least enough that she felt comfortable opening up about the pending divorce a week after letting the press know about the separation.
In fact, Fergie indicated to reporters that she and Josh Duhamel took time to adjust to the parting in private. Plus, she noted they both remain focused on co-parenting their four-year-old son, Axl, who is in school now.
As of yet, Josh Duhamel has not spoken out about the matter with reporters. But if Fergie's statement is any indication, there are no hard feelings. It would make a lot of sense for the two of them to have an amicable separation. After all, they both are busy bees.
Josh Duhamel has several acting projects in the works as well as other gigs like voicing parts in the Call of Duty video game franchise. Similarly, Fergie is promoting her upcoming album, Double Dutchess. It is her second solo outing and her first in eleven years. These days, she is concentrating on plugging her new music and traveling the world to do shows like last week's Rock in Rio in Rio de Janeiro, Brazil, where she arrived without her wedding ring.
The release date for Fergie's new album is just around the corner, so it might seem like she and Josh Duhamel timed the announcement of the split to coincide with the release of her new album. However, she promised it was just a coincidence. Fergie said Duhamel would back her up and vouch for the fact it was becoming weird to pretend to be together.
Fergie and Josh Duhamel's separation does arrive at a strange time when we are seeing more and more celebrity couples splitting up even after lengthy relationships. Of course, Anna Faris and Chris Pratt shocked many fans with the news they decided to divorce after a decade together. Similarly, Rachel Bilson and Hayden Christensen announced they called it quits after ten years.
While Fergie's perspective on everything sounds pretty friendly, it would be interesting to see what Josh Duhamel has to say about the split. Hopefully, the breakup is as amicable as Fergie says.
Your Daily Blend of Entertainment News