Celebs Are Posting Awkward Childhood Photos For Puerto Rico Relief, And They're Awesome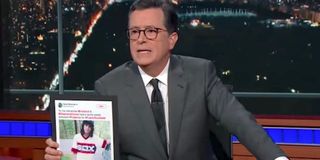 Late-night talk show host Stephen Colbert and comedic actor Nick Kroll felt crushed by the news coming in from Puerto Rico after Hurricane Maria. In response, Colbert and Kroll promised to donate funds to relief efforts for Puerto Rico whenever a famous person shared an embarrassing throwback photo on social media and added #PuberMe in the caption. The fun challenge had a great response with many stars uploading hilarious pictures that gave people a laugh and kept everyone talking about the need for aid and funds for Puerto Rico. Here are some of the best pictures, starting with Colbert's:
After Stephen Colbert kicked things off on Twitter, Nick Kroll shared his awkward throwback photo with the challenge's hashtag. The Big Mouth actor tweeted:
Stephen Colbert's late-night talk show competitor, Jimmy Kimmel, got in on the challenge by posting a picture of himself with his little brother. Kimmel tweeted:
Then stand-up comedienne Sarah Silverman, who dated Jimmy Kimmel years ago before they both married other people, tweeted a picture of herself to help out the challenge. Take a look:
The devastation in Puerto Rico literally hit home for Jane the Virgin actress Gina Rodriguez, who is of Puerto Rican descent. Rodriguez made sure to join the challenge, and she impressed Nick Kroll with her braces and velvet style when she tweeted:
Then stand-up comedienne Margaret Cho jumped on board because she loves mentioning her awkward adolescence:
Saturday Night Live alum and comedic actor John Mulaney showed off his classic high school dance picture with his eyes shut:
Girls actress and creator Lena Dunham posed with a hairless kitten:
America Ferrera of Ugly Betty and Superstore fame showed off her awkwardness in a picture from when she was 17 years old:
Late-night talk show host Conan O'Brien, who still follows only one person on Twitter, tweeted:
You might know the voice of Patton Oswalt on BoJack Horseman and The Goldbergs, but you might not recognize the comedic actor as a kid in this awkward picture taken sometime before or after band practice:
Star of 2 Broke Girls, Kat Dennings, showed off her '90s style with overalls and patent leather pants:
We're having a great time watching the list of celebrities grow as more people jump to try the challenge. But of course, the focus of the entire campaign is the need for aid in Puerto Rico. Hopefully, Stephen Colbert and Nick Kroll can send a lot of money where it is needed most.
Your Daily Blend of Entertainment News