Patton Oswalt Is Getting Married Again Following Wife's Tragic Passing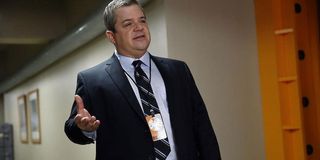 Patton Oswalt has announced his engagement to his actress girlfriend, Meredith Salenger, on social media. It has been 15 months since Oswalt's first wife passed away in a tragic accident at home. Representatives for Oswalt and Salenger confirmed the news about the pair's engagement, and the actors themselves hopped online to share the news with their fans and followers on social media.
Patton Oswalt took to Twitter to share the news of the engagement with his 4.11 million followers. The 48-year-old comedic actor joked about how he proposed and tossed in some Star Wars humor, as Meredith Salenger has voiced characters for the animated programs Star Wars: The Clone Wars and Star Wars: Rebels. Oswalt tweeted,
Meredith Salenger also posted a couple of engagement announcements on social media. On Instagram, she posted a lighthearted picture of herself and Patton Oswalt with a cameo by Dwayne "The Rock" Johnson, whom she embedded on her hand for the witty image. She posted,
In fact, Dwayne Johnson responded on Twitter. He tweeted,
The actress also took to Twitter to post a group of pictures of herself with both Patton Oswalt and his eight-year-old daughter, Alice Oswalt. It looks like she is going to make a great stepmom. Salenger tweeted,
The past couple of years saw a mix of highs and lows for Patton Oswalt. The engagement announcement comes fifteen months after the death of his wife, Michelle McNamara, who passed away from heart failure during her sleep. A combination of prescription drugs and an undiagnosed heart condition led to the tragedy.
Apparently, Michelle McNamara was working on a new crime novel. She had taken some medicine at Patton Oswalt's suggestion as a way to help her sleep. She was 46.
In April, Patton Oswalt wrote a beautiful tribute to his late wife and posted it to Facebook. In the tribute, the King of Queens and Agents of S.H.I.E.L.D. actor explained how different his life looks without Michelle McNamara. He wrote about moving forward for the sake of his daughter and finding the strength to remove his wedding ring after a full year of grieving.
Along with the lows of grief, Patton Oswalt has also experienced some high moments in addition to getting engaged to Meredith Salenger. Back in February, for example, Oswalt won a Grammy Award for his comedy album.
It is heartening to know Patton Oswalt has again found love after the devastation of losing his first wife. We wish them all the best in their life together. Congratulations, Patton and Meredith!
Your Daily Blend of Entertainment News
Thank you for signing up to CinemaBlend. You will receive a verification email shortly.
There was a problem. Please refresh the page and try again.