Kevin Hart And Eniko Parrish's Lavish Lion King Baby Shower Looked Incredible, Check It Out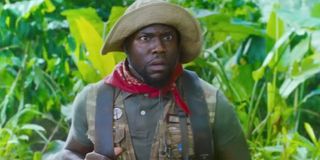 Kevin Hart and Eniko Parrish are getting set to welcome their new baby boy, Kenzo, so they threw a lavish baby shower over the weekend. The event had a Lion King theme, and the images were stunning. Reportedly, Hart dropped nearly $120,000 on the event, and the result was as remarkable as you might imagine a party to be when it costs six figures. The Jumanji: Welcome to the Jungle actor and Parrish gave their followers on social media glimpses behind the scenes. For example, Parrish showed off the delicious food and luxurious decorations, and from the looks of it, they received a bounty of beautiful baby shower gifts. Take a look:
In a series of photos Kevin Hart and Eniko Parrish posted to Snapchat, we saw the couple and their event planners had furnished the room with stuffed toy safari animals. For example, they had stuffed toy elephants, tigers, and of course, lions. For example, here is one of the big lions:
See the dog dressed up in the background? It looks like the pup needed to sniff out the scene before getting too close to the toys. Speaking of the dog, Kevin Hart joked,
But the pup dressed as Simba was an excellent touch. What better way to welcome little Kenzo to the world than with a Lion King party? Maybe when the baby arrives, Kevin Hart will hold him up for the camera with "The Circle of Life" playing in the background.
Eniko Parrish looked radiant during the event. She wore a gorgeous African print dress to go along with the party theme. If Kevin Hart wanted to make her the queen for a day, then mission accomplished. Check her out:
According to E!, Kevin Hart's famous pal, Ludacris, stopped by the baby shower for a while, and at one point, Hart had everybody play a game he dubbed "The Pride Is Right." Then the party also had a baby food taste-testing competition--gluten-free and vegan, per Hart and his wife's request. You can see Parrish's mom enjoying the contest here:
Last month was tough for Kevin Hart. The 36-year-old comedian, who has been dodging infidelity rumors, came clean in a social media announcement to say he had acted out of line in a negative situation. He did not clarify, but he most likely was referring to an alleged extortion plot by an alleged blackmailer who had a video of him and another woman in a suggestive situation.
The plot thickened by the end of September when the woman in the video linked up with celebrity attorney Lisa Bloom. The woman asserted her bewilderment and innocence, and afterward, Bloom extended a hand to Hart and invited him to help them find and prosecute the alleged extortionist.
So, Kevin Hart probably has his work cut out for him for a while because of the whole alleged extortion situation. But with a baby shower as beautiful as this one, it looks like he is working hard for Eniko Parrish's forgiveness.
Your Daily Blend of Entertainment News
Your Daily Blend of Entertainment News
Thank you for signing up to CinemaBlend. You will receive a verification email shortly.
There was a problem. Please refresh the page and try again.