Kim And Kourtney Kardashian Look Wild In Madonna And Michael Jackson Costumes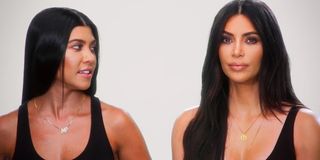 Kim Kardashian and Kourtney Kardashian nailed Halloween with "iconic" costumes this year. The reality television personalities joined forces and transformed into living replicas of Madonna and Michael Jackson from their appearances at the 1991 Academy Awards. Kourtney Kardashian made the perfect MJ, while Mrs. Kanye West went all out with her tribute to Madge's classic Hollywood reinvention from the early '90s. You have to see it:
Wow, these costumes are excellent! In the Twitter video, you can tell Kim Kardashian was feeling the glam, and Kourtney Kardashian's cute smile said it all about how much fun she was having. If you stop to think about it, Kim Kardashian's costume has multiple layers of meta. It's iconic Kim Kardashian as iconic Madonna as iconic Marilyn Monroe. (Woah!)
In fact, the Madonna costume was not the only iconic Halloween transformation for Kim Kardashian this year. She also dressed up as Aaliyah and Cher for different events. To do Aaliyah, Kardashian opted for the outfit from the "Try Again" music video. Then she wore a 1970s-era Cher outfit to the Casamigos Halloween party George Clooney threw.
But the Kardashians and Jenners always go all out for Halloween. Over the years, Kim Kardashian has been just about every Batman villain, Disney princess, X-Men mutant, and powerful superhero you can imagine. Plus, her younger half-sister, Kylie Jenner, won Halloween last year by getting rowdy/unruly/naughty as Christina Aguilera from the "Dirrty" music video.
Most people loved Kim Kardashian and Kourtney Kardashian's looks this year. However, some wondered if it was a questionable choice for them to dress up as black stars (i.e., Michael Jackson and Aaliyah), especially after Kim Kardashian recently faced negative feedback for a supposed blackface problem. Still, many fans came to the Keeping Up with the Kardashian celebrities' defense to say the looks did not cross the line, and instead were thoughtful, well-crafted expressions of admiration.
As mentioned, Kim Kardashian and Kourtney Kardashian's costume paid tribute to the time Madge and MJ attended the Academy Awards together and "dated." Here is some backstory. In 1991, the Queen of Pop went to to the Oscars to perform "Sooner or Later" from Dick Tracy, in which she played Breathless Mahoney. She amplified the excitement by bringing Michael Jackson, the King of Pop and the only person on the planet who matched (or even outshined) her star power at the time. It was a moment made in Hollywood heaven, and the stunt dominated headlines (almost overshadowing Madonna's campy, Marilyn Monroe-style performance and the fact her song won an Oscar).
A week later, Madonna and Michael Jackson went on a "date" at The Ivy Restaurant in Beverly Hills. But that was the end. Some tabloid said the meetups were publicity stunts. (Um, you think?) Madonna had Truth or Dare on the way, and Michael Jackson was about to drop his Dangerous album. MJ never talked about the "dates" again, but Madonna brought it up many times. In recent years, MJ's brother Jermaine Jackson wrote in his book that Madonna might have "adored" Michael Jackson, but the feeling wasn't mutual because she supposedly tried too hard to loosen him up and then criticized Janet Jackson during dinner.
Who knew so many things could happen with two "dates"? Still, the odd moment garnered tons of attention and became so iconic that Kim Kardashian and Kourtney Kardashian paid tribute to it with spot-on Halloween costumes in 2017. It is tons of fun seeing the celebs post updates on social media to show off their incredible costumes. Keep the Halloween coming!
Your Daily Blend of Entertainment News
Your Daily Blend of Entertainment News
Thank you for signing up to CinemaBlend. You will receive a verification email shortly.
There was a problem. Please refresh the page and try again.