Royals Training Will Apparently Include Self Defense For Meghan Markle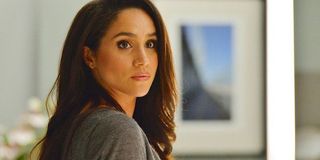 Most news concerning the May 2018 wedding of Prince Harry and Meghan Markle has covered fun matters like the wedding dress the 36-year-old Suits actress might choose. Still, there are pressing questions about the significant changes Markle's life will undergo once she and Prince Harry say "I do" and move into their expected home, Nottingham Cottage at Kensington Palace. One concern is protection. Markle's star is burning brighter than ever, so people wonder what precautions the royal family might take to keep her safe. It turns out they have her covered, and self-defense lessons will factor into the training Markle receives in her transition from civilian to royalty.
Not only will Meghan Markle have her own bodyguard (or bodyguards), she could receive martial arts training and defensive driving training. ET says Markle could learn about places to avoid and how to defend herself if someone ever attacks her in public. Moreover, experts say the royal family probably will have panic buttons in place in every room she will ever be in alone, so she will be in good hands at her new home in the United Kingdom. Perhaps the physical training she reportedly is doing to get in tip-top shape before the wedding could come in handy in some of her self-defense classes.
While the marriage of Prince William and Kate Middleton attracted millions of viewers worldwide, there already are people placing bets on whether the wedding of Prince Harry and Meghan Markle might outshine the former event when it comes to television viewership, especially in the United States. In fact, many entertainment commentators have hailed Markle the second coming of Princess Diana and "the new people's princess." People seem excited about the fact a British royal is marrying a bold, stylish American divorcee. Although this is actually not a unique occasion, as King Edward VIII abdicated the throne in 1936 to marry American divorcee and socialite Wallis Simpson. Regardless, much has changed between then and now, and the news is not scandalous but extremely exciting.
All of that is to say it is evident there is going to be extra attention on this particular wedding, and going forward, we can expect Meghan Markle will have to contend with the paparazzi on the world stage. These are photographers whom The Mirror points out are not bound by the gentleman's agreement of the British press, which promises not to pursue the royal family members in private moments. And Markle will not only have to think about the paparazzi. Unfortunately, the attention could make her a prime target for stalkers and even terrorists. Thus, it makes sense for Meghan Markle to take self-defense seriously. If God forbid Markle ever did fall prey to a terrifying hostage situation, it would mean all of the royal family's safety measures had failed.
Still, it sounds like extra pressure to add to what Prince Harry and Meghan Markle have had to consider. They had to find ways to take their romance public without causing too much of a stir. Then they had to make the rounds, introducing Markle to the royal family members, who apparently love her. They wrapped up the introductions before the engagement when Markle met with Queen Elizabeth II over tea. Prince Harry and Meghan Markle might have had to think about details regarding like whether or not they could marry in the Church of England. Then they had to decide on a venue, which will be St. George's Chapel at Windsor Castle. The list goes on and on.
But now with the news about these self-defense classes, it becomes clear how not everything in the world of the royals is glamorous. Some of it is scary and stressful. No wonder Prince Harry previously said he once thought about quitting royal life. Here's hoping Meghan Markle never finds herself in a situation that calls for the self-defense techniques they teach her.
Your Daily Blend of Entertainment News