The Top 10 Porn Search Terms Of 2017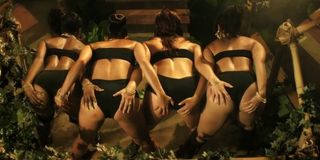 There's nothing like a new year to clear out the cobwebs and make sure you can get a fresh start, is there? Well, before you go and get to all the new and exciting things that are sure to come your way in 2018, let's take a look back at a subject that's near and dear to everyone's hearts...Porn. That's right, friends. It is, once again, time to see what the top porn search terms were for 2017, according to the greats at Pornhub. Let's get started with what will, no doubt, be the most enlightening list you'll read all year.
10. Anal
It's quite fitting that, in doing this count down, I get to truly start at the bottom. HA! I'm talking about anal! These are jokes, people! Enjoy yourselves!
9. Massage
Really, now, who doesn't like a good rubdown. No one, that's who. There's a reason this term finds itself on the Pornhub list repeatedly.
8. Japanese
Well, the Japanese have done it again by landing in the top 10. I'm sure all Japanese people around the world are so, very super proud of this accomplishment. How could they not be?
7. Teen
Sounds like someone likes to spend a lot of time thinking about the good ol' days, when times were simpler and they had fewer responsibilities. That's what I'm telling myself this category's popularity is about, anyway. There's nothing wrong with a little willful naiveté, I say.
6. Mom
Everyone needs a little unconditional love now and then. Who better to give it than a mom who's, hopefully, not your own? I mean, it might be your mom, and that's totally OK if it is, just don't tell me about it.
5. Step Sister
What's a little love among family members, right? Don't worry, no one's technically related here, so all the sexy times are 100% above board...Except for when they're not. And, sometimes, they just can't be.
4. Step Mom
I'm not suggesting that people are searching for the strict creature pictured above, but, you know someone somewhere is way too happy I used that picture, right?
3. MILF
If there's one theme that keeps repeating on this list it would certainly be mothers of one sort or another. The MILF search is a classic; don't knock it until you try it.
2. Hentai
Trust me when I say that this is as close as we can get to showing you some hentai as we dare, and it's not even hentai at all. Feel free to Google it, but be prepared set your computer on fire afterwards.
1. Lesbian
Oh my goodness, would you look at that? Lesbian tops the charts for the third year in a row. Who's surprised? No one? Well, that makes total sense from a bunch of folks who've been typing the word "lesbian" into Pornhub searches every day for the last year.
Yennefer's apprentice, Gilmore Girl; will Vulcan nerve pinch pretty much anyone if prompted with cheese...Yes, even Jamie Fraser.
Your Daily Blend of Entertainment News
Thank you for signing up to CinemaBlend. You will receive a verification email shortly.
There was a problem. Please refresh the page and try again.