Ryan Reynolds Knows The Ghost Sex Lady Looks Like Wife Blake Lively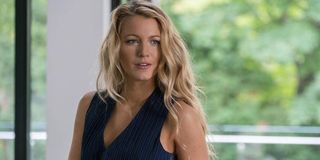 Amethyst Realm, lovingly known simply as Ghost Sex Lady around the CinemaBlend offices, has gone viral. The British spiritual guidance counselor is now so well known after Stephen Colbert talked about her story on his late night show last week, that she's on a lot of people's radar. One of those people is actor Ryan Reynolds; he and many other people seem to think that she looks quite a bit like his movie star wife, Blake Lively. So much so, in fact, that Reynolds took to Twitter after hearing about Realm's many spectral lovers to let everyone know just how betrayed he felt...
As you can see, Ryan Reynolds would like to be told, face to face, that his wife is planning to leave him for a ghost, so the real Blake Lively should stand warned. No going on talk shows or giving in-depth newspaper interviews to discuss how amazing ghost sex is, or how you're going to abandon Ryan Reynolds, marry your favorite boogeyman boyfriend and give your kids some phantom baby siblings. At least tell the guy in person first. Doesn't he deserve that much?
If you read the comments (and there are lots of them), Reynolds' followers are having quite a lot of fun with pretty much every aspect of this story. From Amethyst Realm's claims of sexing up dozens of spirits, to dating in the real world, to Realm's resemblance to Blake Lively, the thread that follows Reynolds' tweet is filled with a lot of pure, ridiculous joy (minus, of course, that one mean-spirited person who called Realm a "Walmart Blake).
For those of you who haven't been following along with our Ghost Sex Lady stories since last December, here's what's been going on. Amethyst Realm has been making semi-regular appearances on the British morning show, This Morning, since last year, when she went public with her over decade long series of affairs with amorous apparitions.
Realm, you see, was only 18 and living with her then fiancé when she took her first ethereal admirer to bed after noticing a "comforting presence" in her new home, and deciding to just go ahead, put on some lingerie and see where the night would take them. Well, it took them to sexy town, apparently, and it wasn't long before word got around in spook city, and Realm was knocking boots with every incorporeal being who came a calling.
After playing the phantom field for many years, Realm has now settled on one ghost, whom she happened upon while on vacation in the Australian bush, to be her long-time lover. And, as of just a few days ago, she's now engaged to be married to this shadow sweetheart (known to her as Ray) with plans to have some sort of ghost baby with him in the future.
Amethyst Realm's resemblance to Blake Lively notwithstanding, I don't think anyone needs to worry that Ryan Reynolds will be left in the dust by his real Mrs. anytime soon, especially for a ghost, even with rumors of trouble in their marriage surfacing several months ago. Reynolds and Lively met while making the 2011 superhero flick Green Lantern, and got themselves hitched in 2012.
Their relationship seems to be built on a lot of teasing, with everyone's favorite Deadpool frequently making his lovely wife the butt of jokes on social media, and her responding in kind only occasionally. While it might seem weird to a lot of people, these humor-filled public displays of affection appear to be working well enough; Lively and Reynolds have two children under the age of five, daughter Ines and son James.
Luckily, though, for fans who are rooting for the couple to spend the rest of their gorgeous lives together, they do also share genuine feelings for one another that go beyond making us, and each other, laugh. And, you know, it's good for them, too, assuming they really want to stay together for a blissfully long time.
Blake Lively revealed that she and Ryan Reynolds actually switch between working actor-mode and full-on parental duties to make their busy career schedules work with their two small children. So, when he's off making movies for a few months, Lively and the kids are with him so that they're never apart for long periods of time. And, when she goes on location to work, Reynolds takes over the main parenting job there so that Lively can be fully present on set.
The couple is also very supportive of each others professional efforts and accomplishments. When Lively was nervous about taking on her role as a woman stranded in the ocean who's fighting not to get eaten by a shark in The Shallows, Reynolds gave her solid advice on how to approach the demanding role. And, when Reynolds got his star on The Hollywood Walk of Fame, she stepped up by supporting him in person, along with posting an awww-worthy note on Instagram regarding the moment and how proud she is of him.
Of course, for all his well-known (and loved) jokes on social media about his marriage, kids and Lively herself, Reynolds is actually no stranger to putting his heart on his sleeve for the whole world to see when talking about his adorable wife online. In 2017, during one of the fanciest celebrity events ever, the Met Gala, Reynolds spoke candidly with the photoblog Humans of New York and told the creator how Lively actually helped him deal with the "fractured relationship" he had with his own father before the elder Reynolds died.
He noted that she "always responds with empathy" and has made him more empathetic since knowing her. She also helped him remember the good times he did have with his dad, which led to him being able to somewhat repair that broken father-son dynamic before his father passed away.
Call me crazy, but I don't think any ghost-based relationship, filled with hot sex or not, would match up to what Blake Lively and Ryan Reynolds seem to have. So, she (and he, for that matter) should probably stay put.
Bachelor Nation, Gilmore Girl; will Vulcan nerve pinch pretty much anyone if prompted with cheese...Yes, even Jamie Fraser.
Your Daily Blend of Entertainment News
Thank you for signing up to CinemaBlend. You will receive a verification email shortly.
There was a problem. Please refresh the page and try again.