Chinese Man Falls Off Scooter While Watching Porn, Breaks Penis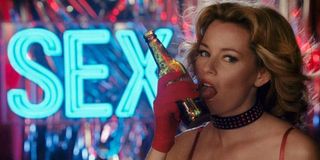 In one of the most ironic injuries to ever occur, earlier this week a Chinese man actually broke his penis because he was too distracted watching porn. If the universe ever wanted to tell us something, here it is. Don't watch porn in public, you'll fall, and break your penis.
In Guangdong (is there such thing as more irony?), China, a man named Mr. Yu hopped on the back of a taxi scooter, and decided that he was in the mood for a little bit of pornographic entertainment. According to the Shanghaiist, Yu was seated behind the driver and one other passenger when the driver of the scooter hit a bump in the road. Well apparently both of Yu's hands were occupied (one holding the phone and the other…) so he lost his balance and fell off the scooter. Upon falling, Yu crushed some erectile tissues (basically he broke his penis), and hopefully was taught a lesson to save the porn viewing when not in a moving vehicle. Though, it turns out Yu saw no fault in this accident, and is now suing the driver of the taxi $65,000 for breaking his manhood.
In light of the ridiculous accident, news organization Tomo News decided to use the story for an animated "You Idiot!" segment, which you can now watch for your own entertainment below:
As Tomo News notes, you can't actually break your penis, there's no bone in there, so instead, erectile tissues are crushed causing severe bruising. This happens while it is erect and the trauma actually crushies the spongy tissue, ultimately causing intense pain and deformation that can take many years to heal. But really, Yu should have know better (pun intended).
I'm curious how the jury will react when Yu takes the driver of the taxi to court for $65,000. I certainly couldn't keep a straight face while writing this...
Your Daily Blend of Entertainment News