Amazon's On A Renewal Spree, And One Show Just Got Good And Bad News
Overall it's good news, however, for one show it's not the best news.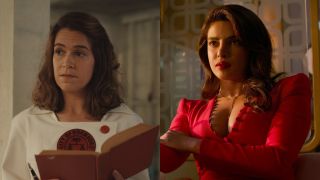 (Image credit: Prime Video)
In a world where shows get canceled left and right, taken off streaming services altogether and jump from one platform to another, now we've added some unlikely renewal news into the mix. Amazon Prime announced that it would be renewing two of its originals, A League of Their Own and Citadel. However, for the remake of the Penny Marshall classic, this renewal news is bad because its second season will be shortened, and for Citadel it's grand news because Season 1 hasn't even premiered yet. Overall, both renewals are unique, and a little confusing, so let's break it down.
A League Of Their Own Will End With A Shortened Second Season
A League of Their Own series got surprising and disappointing news about its second season. THR reported that the remake series will come to a close with Season 2, and it will only be four episodes.
The queer take on Penny Marshall's classic film has been in negotiations for months, and according to the article the showrunners, Will Graham and Abbi Jacobson, who is also a lead on the series, ended with a deal that A League of Their Own will conclude with Season 2 and it will be half the length of its first installment. According to the article, the A League of Their Own cast had to sign new deals too since Season 2 will only be four episodes, and it's been reported that Amazon and Sony are still closing on the deals.
Amazon and Sony Pictures Television have reportedly gone back and forth to lower the show's licensing fee from Sony. Sources said that Graham and Jacobson were working really hard to get a Season 2 renewal for their beloved series, and Sony ended up giving Amazon a reduced licensing fee. However, the streamer wanted to cut costs on the show, which may be why Season 2 will only be four episodes.
Citadel Quickly Got Renewed For Season 2
Citadel hasn't even premiered on Amazon Prime yet, and the streamer has already renewed it for a second season, THR reported. The series led by Bodyguard's Richard Madden and Quantico's Priyanka Chopra Jonas and created by The Russo Brothers is on the 2023 TV schedule for an April 28 debut, and we already know that another season is on the way.
This series has been in development since 2018, with the goal of becoming a massive, global "event series," as Amazon Studios boss Jennifer Salke said. Citadel already has an Indian adaptation in the works at Amazon, and it's possible that this show will become a very important franchise for the streamer.
The report also mentioned that this series is on track to be the second-most-expensive series at Amazon, only behind Rings of Power, as they've reportedly spent $200 million on the show.
While we still haven't seen Season 1, the second season will see David Weil return as the showrunner, and Joe and Anthony Russo are expected to direct a few episodes. Based on how swiftly the show got renewed, it seems like it might have the potential to become one of Priyanka Chopra Jonas', Stanley Tucci's and Richard Madden's best projects. However, we won't know that for sure until we see the first season, and either way, we know we'll get Season 2.
Overall, it's exciting that we'll get to see these two shows again, but I'm a bit shocked about how things shook out. A League of Their Own came out last summer and this news comes seven months later, meanwhile, Citadel got renewed before we've even seen a single episode. Although the world of streaming has been mixing things up with how they release and renew shows, so I guess this news about these Amazon Prime shows fits the precedent that's been set by companies like Netflix and HBO Max.
It's unclear when the second seasons for both these series will come out, however, you can watch A League of Their Own's first season right now and Citadel starting April 28 on Prime Video.
Your Daily Blend of Entertainment News
Riley Utley is a Weekend Editor at CinemaBlend. She spent many years working in local journalism across the country writing about art, news and sports. One of her favorite films is When Harry Met Sally and she walks around constantly quoting Ted Lasso.