Outer Banks' Chase Stokes And Madelyn Cline Get Real About Working Together After Breaking Up
The actors open up about working together post-breakup.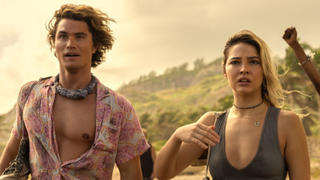 (Image credit: Jackson Lee Davis/Netflix)
Dating a co-star, especially while making a TV show, can either end in matrimony or make things really awkward, and for Chase Stokes and Madelyn Cline, their relationship sadly didn't stand the test of time, and then they had to go back to work together on Season 3 of Outer Banks. However, it turns out things weren't all that awkward in paradise as the two actors opened up about working together post-breakup, and how they still have a lot of love and respect for each other.
For some context, after the first season of OBX the two actors started dating in real life. They were together from June 2020 to November 2021, and now seem to both be in other relationships. However, in the time since their break up, they've been seen together with the rest of the cast, as friends. Stokes talked about working with Cline this season, and how their relationship has evolved since their breakup, explaining to EW:
From the first trailer of Outer Banks, it looks like a quest is afoot, and when it comes to Sarah and John B.'s relationship they are still together. And while things might get complex for some characters in a love triangle, when it comes to Stokes and Clines' characters they still seem to be head over heels for each other.
Cline noted that she's proud of how the two worked together on Season 3, saying they've "always shown up for each other." The actress behind Sarah continued to talk about her relationship with Stokes, saying:
To prove further that the two are on good terms following their break-up, Stokes had some great things to say about Cline's recent roles, including her part as Whiskey in the Glass Onion cast. The actor said:
Jonas Pate, the co-creator of Outer Banks, explained that the actors' relationship ending has not impacted the show at all. John B. and Sarah's romance was not altered because of Stokes and Clines' status as a couple, and fans can expect surprises in the show, but not because of the two breaking up in real life.
It's nice to know that even though Cline and Stokes are no longer romantically involved off-screen, they still get along and are ready and willing to support each other. On top of knowing they have an amicable relationship in real life, it's also reassuring to know their breakup hasn't impacted the plot of the show. We're still gonna get lots of John B. and Sarah content in the same way we have in Seasons 1 and 2.
We'll get to see what happens with Sarah, John B. and co. when the third season of Outer Banks drops on February 23, according to the 2023 TV schedule. In the meantime be sure to go back and check out Seasons 1 and 2 of OBX with a Netflix subscription to prepare for the adventure ahead.
Your Daily Blend of Entertainment News
Riley Utley is a Weekend Editor at CinemaBlend. She spent many years working in local journalism across the country writing about art, news and sports. One of her favorite films is When Harry Met Sally and she walks around constantly quoting Ted Lasso.