Shadow And Bone: 5 Things To Remember Before Season 2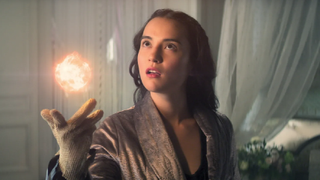 (Image credit: Netflix)
I don't know if you remember this, but Shadow and Bone released in 2021 – and we're finally getting a new season as part of the 2023 TV release schedule.
The popular fantasy show was a big hit when it first debuted back nearly two full years ago, but now it might be hard for you to remember everything that happened. With Shadow and Bone Season 2 right around the corner, these are five things that you should remember before the show comes back.
Both The Shadow And Bone And Six Of Crows Stories Are Combined
This was probably something that I needed to remember, but upon re-watching the show, I finally realized that these stories were actually combined. It had been so long I'd forgotten, but here we are.
For those who don't know, the Shadow and Bone series is a trilogy of books written by Leigh Bardugo, and after the success of the series, she wrote a spinoff duology called the Six of Crows. Both were quite popular, so it wasn't that surprising for fans to ask when they were getting an adaptation of Six of Crows, too.
However, in the first season of the show, it was revealed that both stories were actually combined into one, overarching story that featured both the characters from the original novels as well as the characters from the Six of Crows books. I mean, everyone ended up falling in love with them regardless – especially my love Jesper – so it ended up being a good decision in the long run.
The Crows Are Keeping Alina's Secret – And Heading Back To Ketterdam
So, because Season 1 came out so long ago, one might be wondering what on earth is going on. They've slowly turned into my favorite group of scoundrels and I will support any crime they commit, thank you very much.
If you're just as confused as I was when seeing the Season 2 trailer and wondering how the heck they got into certain situations, let's get into the Shadow and Bone Season 1 ending so we can refresh our minds a bit.
Through the first season, we saw the Crows in their attempts to steal Alina – which, honestly, was a welcome change to the storyline, because the original Six of Crows novel didn't even take place during the same timeline of the Shadow and Bone books. After the intense attack that they all went through within the Fold, they somehow made it out alive.
Upon realizing what stealing Alina isn't going to be what gives Kaz and the Crows their big break, seeing how truly powerful she is and how dastardly the other people were, he decides to keep her secret – with a price, obviously. But, near the end, we see the Crows, and Alina and Mal, go their separate ways.
What does that mean for the Crows exactly? At the very end of the season, we see that they are heading to Ketterdam, which is the capitol of Kerch. There, Kaz intends to take on the crime lord – as well as many of their enemies, which we've met throughout the first season, as crime is pretty rampant in the capitol.
We're not entirely sure what Kaz's plan is just yet, but we know that he needs a Heartrender – which is where Nina comes into play.
Nina And Matthias Are On The Rocks
For those who can't recall, Nina and Matthias were the enemies to lovers story that we were given in Season 1, and honestly, I was here for it. It was intense and then there was an air of betrayal between the two of them. Keeps things spicy.
During the last episode of the first season, it seemed that they were alright. The ship they had been on crashed during a storm, and needing to survive, they ended up bonding during their travels. Towards the end, though, when they finally made it to somewhere safe, Nina ends up declaring Mathias a slave trader so he can be taken to prison.
The reason she did this was actually to save his life, so he'd be in a cell rather than caught by Fedyor, another Heartrender who could potentially kill him. Matthias doesn't know that, however, so he thinks Nina is a traitor and wants nothing to do with her. Nina, at this point, is out on her own, but at the very end, we see her overhear Kaz's plans with the other Crows – and she looks quite interested.
Alina Has Left With Mal To Learn More About Her Powers
Alina and Mal sort of remind me of Katniss and Gale from The Hunger Games franchise, except they have so much more chemistry than those two ever did, and I can't wait to see them again in a big role in Shadow and Bone. After surviving the Darkling and his crew and the creatures in the Fold, Mal and Alina are basically on their own.
She's an enemy to the ones who support the Darkling, but thankfully, not many in this country know her face, so she doesn't need to hide herself for long. Now, it's just her and Mal, her childhood best friend – and they are on a quest to explore her powers more.
All we really know is that Alina is going to be looking to understand her powers more. She already has one amplifier from the Stag that chose her, but something that they needed to do is to find the others that are out there before Kirigan (the Darkling) can get to them. Both of these amplifiers are well-known: the Sea Serpent and the Fire Bird.
Whatever this means, I know that Season 2 is certainly going to bring the drama – and probably the heat between these two childhood buddies (who'll probably lovers quite soon).
General Kirigan/The Darkling Is Still Alive – And Bringing Beasts Along With Him
Arguably, one of the best parts of Shadow and Bone Season 1 was Ben Barnes' portrayal of General Kirigan, otherwise known as the Darkling. I've always liked Barnes in other roles (he was even in Guillermo del Toro's Cabinet of Curiosities cast in 2022), but he just rocked his portrayal here. And I can't wait to see him in Season 2.
You might remember him supposedly being devoured by a beast in the Fold, but at the end of the episode, we see him emerge, still alive. Not unharmed, because he does have scars on his face, but still very much alive. And, he has some beasts with him.
Remember that Kirigan is the one who created the Fold in the first place, and he's keen on expanding it so the Grishas will always have a place within their world. Alina is trying to tear it down. Those creatures that he brings out with him from the Fold are called Nichevo'ya's, and they are going to bring the pain. Surely, he is also on the hunt for Alina after she betrayed him.
Truly, I can't wait to see what Shadow and Bone Season 2 brings, but hopefully now, you might be a little bit more prepared for the ultimate battle of the Grisha's – as well as the heists that are surely going to come with the Crows as well.
Your Daily Blend of Entertainment News
Big nerd and lover of Game of Thrones/A Song of Ice and Fire. Will forever hate season eight. Superhero and horror geek. And please don't debate me on The Last of Us 2, it was amazing!