Ted Lasso: 5 Reasons He's The Most Relatable Character On Television Right Now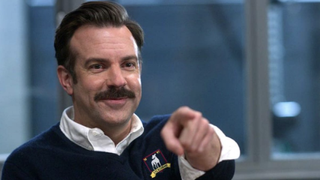 (Image credit: Apple TV+)
I'm sure at this point, many people know I'm a fan of Ted Lasso. I've watched the show from the beginning, have loved every moment I could get of Roy and Keeley, adored the amazing Christmas special, have curated a gift list for Ted Lasso fans – I'm quite literally a Richmond fan for life, and I will always love this amazing Apple TV+ show.
With a comedy like this, the characters can sometimes fall into certain categories that might make them cliche, but I've never felt that with its lead character, Ted, the man that we have followed throughout the last two seasons. With the chance to watch Ted Lasso Season 3 around the corner, I'm going to get into why I believe that Ted is quite literally the most relatable character on television right now.
He Tries To Look On The Bright Side Of Things
I think this was one of the main draws I had with the character – the fact that no matter what, he always, always has a smile on his face and tries to look on the bright side of things. When he first arrived in England, he saw this huge career change as a good thing and a great opportunity for him to learn more rather than looking at the burden he had been given once he saw the team.
When he was faced with a persistently negative attitude from the media, he took it in stride and made it his mission to prove them wrong. When his team didn't believe he could take them to somewhere great, he pushed past those boundaries and showed them they could not only believe in him, but believe in themselves – it's literally on the sign above the coach's office in the locker room.
I don't know, man. For someone like me, that is so relatable. I know that not everyone likes to look on the bright side and that sometimes they can be a glass-half-empty sort of person, but I always intend to be a glass-half-full, and in a world that is full of so much negativity, we need more people like Ted. He's so optimistic and it makes me smile whenever he is on screen.
He Also Struggles With His Own Mental Health
You know, I need to give props to Jason Sudeikis because man, can he act. He acts his ass off in this show.
It's funny – at first I didn't think it would be incredibly difficult to portray someone who's overly happy, which was my first thought before I truly watched the series. As Ted Lasso goes on, though, you really start to see the layers behind that optimistic attitude, and we see that he is struggling with his own mental health.
He struggles with panic attacks and sees a therapist to speak about his feelings. He's dealing with his own depressive episodes and it's something that is rarely talked about in mainstream TV shows. As someone who has struggled with her own mental health for years on end, I feel seen by this show, because it details the fact that literally anyone can be going through something similar, but there's a chance you would never know.
Ted was so good at hiding his feelings that the idea that he had panic attacks ended up becoming news at the end of the second season (thanks to Nate). It's so relatable to see someone so openly struggling with their mental health and trying their hardest to get better.
Again, major praise to Sudeikis. He deserves every award that he wins for this role.
He Even Deals With Culture Shock In His Own Way
I think some of my favorite moments of comedy from the series involve watching how Ted reacts to something we have all gone through when traveling to a new country – culture shock. The entire first season is all about him learning to adjust to life in England, learning how to live there, drink their tea, eat their food, and everything else.
It's not just that, either – he's going from American NCAA Division 3 (the lowest tier of NCAA sports) football fans to major fans in major stadiums across England, and it's a whole new community of cultures, curses, and salutes all thrown at him. That's a lot for someone to handle.
But, Ted takes it in stride in his own way – and sometimes in hilarious fashion, like when he spits out a drink because he didn't realize it would be sparkling. Or, watching him in that darts scene and absolutely crush it – my man knows how to capture the attention of a room.
He's Dealing With A Stressful Job
I mean, I think all of us can relate to working at a stressful job. While Ted is known to take his struggles in stride and tries his hardest to work things out at his job, there's no denying that being the Richmond coach is not an easy thing to do.
Obviously, he had to deal with people such as Roy Kent (played by Brett Goldstein) on his team in the first season (as much as we do love him, he was a bit of a twat in Season 1), and the insane media storm that people like Jaime Tart would bring. He had to prove to Rebecca as well as the whole entire town that he was worthy of this role. And that was just Season 1.
Truly, Ted really gives a masterclass on the word "patience." He's so patient with literally everyone he comes across and always gives them the benefit of the doubt, but at the same time, he knows when to turn that part of him off and work towards a particular goal at his job. I wish I had his kind of patience.
He's Struggling With His Own Relationship Problems
Last but not least, we'll talk a little bit about his relationship problems, which I'm sure everyone can relate to. While Ted's life is a little bit messy since he is getting a divorce from his wife in Season 1, he tries to deal with it the best he can and pour himself into his work.
Is Ted Lasso Actually Ending With Season 3? Star Brett Goldstein Shares Update On Apple TV+ Hit
Not even just that, but he has problems with platonic relationships, as well. We could talk about the timeline of his and Rebecca's friendship and how it was most certainly not a friendship at first, but through sheer kindness they ended up becoming close. Or we could talk about how near the end of Season 2, he fell out with Nate, who is now working with a different team as a coach and is set to cause a pretty big conflict for Season 3.
All I'm saying is that Ted is seriously the first character in a long time on television I could see myself being friends with. He's so chill, kind, and works his butt off to achieve his goals alongside the help of others, and that's something that you just have to love. No matter what, he's truly one of the most relatable characters on television right now.
Stream Ted Lasso on Apple TV+. (opens in new tab)
Your Daily Blend of Entertainment News
Big nerd and lover of Game of Thrones/A Song of Ice and Fire. Will forever hate season eight. Superhero and horror geek. And please don't debate me on The Last of Us 2, it was amazing!