The Best Gift Ideas For Ted Lasso Fans
Turn yourself into an A.F.C. Richmond player with these gifts.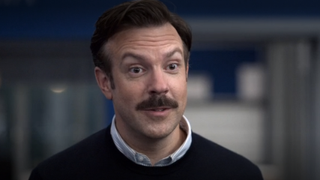 (Image credit: Apple TV+)
If you have an Apple TV+ subscription, you surely know how awesome Ted Lasso is. Apple TV+ landed on a hit when it released the Jason Sudeikis-led comedy, Ted Lasso. One of the best Apple TV+ shows ended up not only becoming one of the most popular series on the streaming platform, but winning several awards, including Primetime Emmys, for its heartfelt story, wonderful characters, and all-around entertaining quality of the talented Ted Lasso cast.
Since its release, more and more fans have hopped on the Ted Lasso train, and with the holidays here, it's that time to find the perfect gift for that special someone in your life who also happens to be a fan of the heartwarming series. Here are some of the best Ted Lasso gifts.
This Amazing Ted Lasso Holiday Sweater
The holidays are here, and what better way to celebrate them than with your favorite coach in holiday sweater form? This Ted Lasso-inspired holiday sweater features the famous man's facial features - including the iconic mustache, with a Santa hat to top it off, alongside some cool snowflakes, soccer balls, and greyhounds – the team's mascot. Truly a great buy if you're going to a holiday party.
Buy the Ted Lasso Holiday Sweater at the Warner Bros. shop.
This AFC Richmond Puffer Jacket
You know, where I'm from, it gets pretty freaking cold in the winter, and this cold sometimes comes out of nowhere – what better way to keep yourself warm in the winter than using this AFC official Richmond puffer jacket? You'll not only be showing your love for your favorite team, but keeping warm at the same time.
Buy the AFC Richmond Puffer Jacket at the Warner Bros. Shop.
One Hilarious Dish Towel
An Etsy find that I discovered was this dishtowel, for the Ted Lasso fan that often uses their kitchen. This dish towel, featuring Lasso's classic phrase, "Biscuits with the Boss," actually features a recipe on how to make those famous biscuits that you've been craving since that second episode. Hannah Waddingham, who plays Rebecca, is lucky to get those every season of Ted Lasso - and now I might be able to eat them, too.
Buy this Ted Lasso Dish Towel on Etsy.
A Spirit Flag To Show Your AFC Richmond Spirit
Who said that having a puffer jacket was enough? It's time to show off even more of your spirit and buy this spirit flag featuring the logo of everyone's favorite Richmond-based team. And yes, I will be wearing it with pride when Season 3 of Ted Lasso inevitably comes out – whenever that is.
Buy the AFC Richmond spirit flag on the Warner Bros. shop.
This Ted Lasso Custom Jersey
Who doesn't want to be an unofficial member of the Richmond A.F.C. team? I know I do. As someone who actually received a custom jersey for her birthday featuring this team, I can confirm that these are of amazing quality and will fit you perfectly, so you can support your team with style. You can even add your own name on the back. How cool is that?
Buy this Ted Lasso Custom Jersey on Warner Bros. Shop.
This Ted Lasso Sherpa Blanket For Those Cold Nights
When I say I want to be cozy and cuddly while drinking my garbage water, I am going to do it right, and that means getting a comfortable sherpa blanket. Sometimes, all I need is a blanket to cuddle into on those snowy nights and yes, I will use this logo blanket of the famous greyhound from AFC Richmond. You just have to love it.
Buy this AFC Richmond Ted Lasso sherpa blanket on the Warner Bros. shop.
A 'Believe' Ted Lasso T-Shirt
Hot Topic always seems to have a great variety of shirts for TV and movie fans, and Ted Lasso only adds to that. This simple t-shirt features that signature "Believe" poster one more time, a simple message to non-fans, but something that means so much more to those who have watched. If you want to see what else Hot Topic has, be sure to check out their wide selection of t-shirts.
Buy this "Believe" T-Shirt at Hot Topic.
A 'Believe' Wall Sign We All Need
Because I think we all need this every once and a while. One of the reasons I love Ted Lasso as a character is that he's so dang optimistic and even puts up this 'Believe' sign in his players' locker room when they clearly did not believe, and that scene just sort of stuck with me. So now, I am recommending that everyone and their mother get a 'Believe' sign so you can truly believe too. Trust me, I'm using mine to pray for Season 3 to get here already.
Buy the 'Believe' Ted Lasso sign on Etsy.
The Best Roy Kent Shirt Around
It's everyone's favorite cursing ex-football player-turned-coach, Roy Kent. And now, you can feature his face in your wardrobe with his signature phrase, "Fack." Try and improve that accent a bit and I'm sure you'll start cursing just as well as he does, but this shirt is the right step in that direction.
Buy the Roy Kent shirt on Amazon.
Another Great Lasso-Themed T-Shirt
Sometimes you don't want to have a replica of the team or a character shirt – sometimes you just need something to show you're here for whatever Ted Lasso has to offer. And, that's the beauty of this Target find, featuring the phrase, "Team Lasso," featuring that same face that we all know and love. I'll always be Team Lasso and I hope you will as well – come be a goldfish with me.
Buy this Team Lasso T-Shirt at Target.
A Ted Lasso Sticker For Our Laptops
As someone who graduated college in 2020, something I noticed that everyone had were those stickers that we would always put on our laptops – and yes, I still do that now even as an adult. But what better way to show your love for Ted Lasso than buying a sticker and sharing it proudly on your laptop? This sticker features the famous coach with one of his signature phrases – "Be curious, not judgemental." Agreed!
Buy this Ted Lasso sticker on Amazon.
This A.F.C. Richmond Scarf
You got your sweater, you got your jacket, now all you need is your scarf. Honestly, this one reminds me almost of the replicas the Harry Potter series would make of their House scarves, because it looks so comfy and soft and fluffy that it'll be the perfect winter accessory for anyone to enjoy.
Buy this A.F.C. Richmond Scarf on Warner Bros. Shop.
A Hilarious Mug To Remind You Roy Kent Is Everywhere
Because the first thing you think of when you think of Roy Kent is a Venn Diagram, but out of every mug I have seen for this unclassy ex-football player (played by the wonderful Brett Goldstein), this is by far one of the best ones I have seen and I want every Roy Kent fan to have it. He's here, he's there, he's every-f***ing-where.
Buy this Roy Kent mug on Etsy.
A Classy A.F.C. Richmond Mug
While I do like the mug from before because I love Roy Kent, sometimes we don't need our drinkware to be quirky or have a quote. Sometimes we just want something that represents our team, and that's what this A.F.C. mug is for. Enjoy your day drinking coffee while rooting on Ted Lasso, and hope that Season 3 will feature an even winning-er team than the last.
Buy this A.F.C. Richmond Mug on Warner Bros. Shop.
Some Ted Lasso Pajama Pants
I said I want comfy, I am getting comfy, and these Ted Lasso themed pajama pants are what will be the goal to ultimate cozyness. These pajama pants from Amazon feature several iconic graphics from Ted Lasso, from the logo of the team to Lasso's outline to the 'Believe' sign, it's the perfect gift for someone who works from home – hint, hint, mom.
Buy these Ted Lasso pajama pants on Amazon.
Ted Lasso-Style Shortbread Biscuits
Lastly, we have the ultimate Ted Lasso gift - actual real-life biscuits in packaging inspired by the show. Baked by ScottishFix on Etsy, this order comes with nine Scottish Shortbread fingers packed elegantly in a pink box, much like the one Coach Lasso always gives to Rebecca each morning. And, from the reviews, it seems these biscuits are divine. I'm getting hungry just looking at them.
Buy these 'Biscuits with the Boss' on Etsy.
More Ted Lasso is still decently far away, but hopefully we'll get some updates soon on when it might be released, after that crazy Season 2 ending that left us with some Ted Lasso questions going into Season 3. For now, we can fill the void with some awesome presents, and have ourselves a very happy holiday - maybe even re-watch that Ted Lasso Christmas episode.
Your Daily Blend of Entertainment News
Big nerd and lover of Game of Thrones/A Song of Ice and Fire. Will forever hate season eight. Superhero and horror geek. And please don't debate me on The Last of Us 2, it was amazing!