The Last Thing He Told Me TV Adaptation: Premiere Date, Trailer And Other Things We Know About The Series
Coming soon to Apple TV+!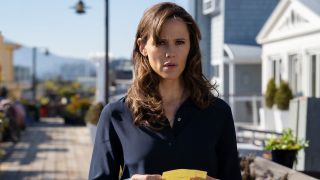 (Image credit: Apple TV+ )
Among the numerous book-to-screen adaptations lined up for those with an Apple TV+ subscription in the not-so-distant future is The Last Thing He Told Me. With the premiere of this promising series on the horizon, we have some key details to share about it, including the cast, which includes Jennifer Garner.
So, let's get into what we know about the show, including when it'll be streaming on Apple TV+, who's starring in it and what to know about the story and the book on which it's based.
What Is The Last Thing He Told Me Premiere Date?
The Last Thing He Told Me is set to premiere on Apple TV+ on Friday, April 14th. As mentioned, this is just one of numerous book-to-screen adaptations coming to Apple TV+.
We also have Lessons in Chemistry (the adaptation of Bonnie Garmus' book) to look forward to, as well as the adaptation for Dark Matter, which is in the works. Meanwhile, the adaptation of the Ann Napolitano's very emotional novel Dear Edward is already streaming on Apple TV+.
About The Book And The Story
The Last Thing He Told Me is a 2021 novel written by Laura Dave. The book, which won 2021 GoodReads award for the Mystery & Thriller category, centers on Hannah, a woman whose husband, Owen, mysteriously disappears, but not before leaving her a note to "Protect her." The "her" is referencing Owen's daughter — Hannah's teenaged stepdaughter — Bailey. The story follows Hannah as she attempts to unravel the truth behind her husband's sudden departure.
Before we get into the adaptation, if you haven't read the book and you're a fan of mysteries, this one may be your cup of tea. I found it to be a real page-turner. No spoilers ahead — I'll admit, I'm still not sure how I feel about the ending, though I really enjoyed reading this one and can't wait to see the adaptation. So, let's get into the those details in a bit. You can pick up a copy of The Last Thing He Told Me on Amazon (opens in new tab). The paperback is due to hit shelves (opens in new tab) soon.
The Last Thing He Told Me Trailer
The trailer for The Last Thing He Told Me does a great job of teasing the plot of the series, while also showing us scenes that'll look very familiar to those who've read the book. That includes Hannah receiving and reading the note her husband left her, and Bailey showing her stepmother the bag full of cash.
A little bonus in the trailer, among the snippets of footage toward the end of the video… is that Victor Garber?! Beyond appreciating his involvement in this already excellent ensemble (more on that in a bit), his appearance in this series is a great little reunion for fans of Alias who loved the father/daughter dynamic of Jennifer Garner's Sydney and Victor Garber's Jack Bristow in the thrilling 2001 spy series. I'm assuming Garber's appearance is in a supporting role in The Last Thing He Told Me, considering he wasn't listed among the stars. Still, it's exciting to see his face in the trailer.
The Episodes And How They'll Be Released
When Apple TV+ announced the April 14th premiere date, they also noted that The Last Thing He Told Me was a seven-part series, which will see the first two episodes arrive on that first Friday, after which new episodes will stream every Friday through May 19th.
The streamer describes the show as a limited series, so unless we hear otherwise, it seems unlikely that the story is intended to go beyond the seven episodes initially planned.
The Last Thing He Told Me Cast
Jennifer Garner stars in the role of Hannah in The Last Thing He Told Me, with Nikolaj Coster-Waldau set to play her missing husband, Owen. Meanwhile Angourie Rice is playing the part of Hannah's stepdaughter, Bailey, while Aisha Tyler is on board to play Jules. Going by the character in the book, Jules is a close friend of Hannah's and one of the people she trusts. The cast also includes Augusto Aguilera (playing Grady — in the book, he's a U.S. Marshal involved in the case), Geoff Stults (playing Jake — in the book, he's Hannah's ex-fiance), and John Harlan Kim plays Bobby.
Jennifer Garner seems like great casting for the role of Hannah. Based on Apple TV+'s description, not to mention what we know about the character from the book, Hannah has no shortage of challenges to face, and she quickly proves her resourcefulness. Not only has her husband gone missing, but she's left to try to figure out what happened to him while also looking after her stepdaughter, with whom she isn't on the best terms. It'll be great to see how Garner and Rice take on their respective roles.
While Garner is known for plenty of great performances in movie and TV over the years (Alias, 13 Going on Thirty, Yes Day), Angourie Rice — who plays her daughter in this new limited series — has been making a name for herself over the years as well. The up-and-coming actor played the role of Betty in the three released MCU Spider-Man movies. Her credits also include The Nice Guys, Mare of Easttown, and an episode of Black Mirror.
Aisha Tyler has no shortage of memorable credits to her name. In addition to years co-hosting The Talk, Tyler's small screen credits include her voice role on Archer, as well as appearances on Friends, Ghost Whisperer, Criminal Minds, and CSI. It's exciting to know she'll be playing Jules in this limited series, and I'm hopeful her presence in the role is an indication that we'll get to see a bit more of Jules than we do in the book.
And then there's Nikolaj Coster-Waldau, whose credits include Gods of Egypt, Oblivion, and Black Hawk Down, though it seems most likely that many will remember him for his role as Jaime Lannister in HBO's Game of Thrones. Coster-Waldau will play Hannah's husband Owen. I don't think it's much of a spoiler to point out that Owen is missing throughout much of the book, though we get to know him pretty well throughout the story as we're treated to flashbacks of his and Hannah's relationship.
The Series Is Co-Created By Laura Dave And Josh Singer
Author Laura Dave co-created the adaptation along with Josh Singer. Jennifer Garner is credited as an executive producer, as is Reese Witherspoon through her Hello Sunshine production company. Meanwhile, Olivia Newman directed the first episode of The Last Thing He Told Me. While Newman has other TV directorial credits to her name, her most recent project prior to this new adaptation had her at the helm of the adaptation of another popular novel, Where the Crawdads Sing, which came out in 2022.
With the arrival of this new limited series right around the corner, we'll hopefully get to learn a few more details between now and then. In the meantime, if you're a fan of mysteries, there's still time to read the book while we wait for this one to start streaming.
Keep an eye on our 2023 TV schedule for the list of new and returning TV shows and when they're set to arrive.
Your Daily Blend of Entertainment News
Assistant Managing Editor
Kelly joined CinemaBlend as a freelance TV news writer in 2006 and went on to serve as the site's TV Editor before moving over to other roles on the site. At present, she's an Assistant Managing Editor who spends much of her time brainstorming and editing feature content on the site.