Why You Need To Watch Darby And The Dead Before It Leaves Hulu
Watch this one before it's too late.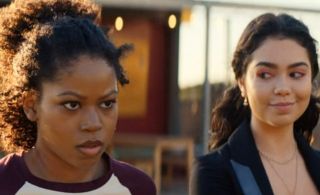 (Image credit: Hulu)
Hulu may not have as many original movies as Netflix, but it's a quality-over-quantity situation for the Disney-owned streaming service. There are many great movies on Hulu and the best ones tend to be its original films. The service has a full catalog of everything from comedies to dramas, thrillers to romances and much more. Darby and the Dead is one of those great originals that falls into the horror comedy category.
The film premiered in December 2022, and because it debuted during a busy time for many, you may have missed this amusing comedy. Unfortunately, this is one of the many movies and television shows that Disney+ is removing in a few days. So, if you want to see this film, and others on the soon-to-be removed list, now is a perfect time to watch. It's also an unfortunate situation because it's currently not available anywhere else, so we don't know if it will be available to watch once it's no longer streaming there.
Here is why Darby and the Dead is worth watching on Hulu before it disappears.
Darby And The Dead Follows A Teen Who Talks To Ghosts
Ghosts are really having a resurgence in the television and film world. With the popularity of CBS's Ghosts and the charming Paramount+ series, School Spirits, now is a good time to be a show or movie about ghosts. Darby and the Dead rode that wave. In the movie, Darby (Riele Downs) is a teen girl who speaks to ghosts after she acquires this power through an incident as a child.
Because she can speak to spirits, she no longer focuses on the human world and instead dedicates her time to helping these otherworldly creatures complete their unfinished business and crossover to their next destination. She's comfortable with this life and arrangement until the most popular girl in school, and her former friend, Capri (Auli'i Cravalho), dies.
Now Capri haunts Darby to force her to help with her one last wish: a massive, memorable final birthday celebration.
It Stars Riele Downs And Auli'i Cravalho
The film fills its cast with many rising young stars, including its leads, Riele Downs and Auli'i Cravalho. Downs' screen credits include Henry Danger, The Gabby Douglas Story, The Best Man Holiday, All That, and Bel-Air.
Cravalho may best be known for voicing Moana in famed Disney movie, and also playing Ariel in The Little Mermaid Live! However, she has appeared in many movies and TV shows since her voice debut as Moana. Her television and film roles include All Together Now, Crush, and The Power. She will also be part of the Mean Girls Musical cast as Janis Ian.
The Darby and the Dead cast also includes Asher Angel, Chosen Jacobs, Wayne Knight, Derek Luke, and Tony Danza.
It Doesn't Reinvent The World Of Teen Comedies, But It's Still A Fun Addition To The Genre
This is a teen comedy, and as such, it tends to follow many of the those themes and patterns. In the movie, we see things like a makeover montage, the high school status quo hierarchy, the geek becoming cool, and the mean girl showing that she has a heart. We've seen it all before, but that doesn't detract from it being another fun version of this type of movie. It follows the rules of the genre but doesn't feel boring, stale, or cheesy. Darby and the Dead is a teen comedy that does the style really well. It also clearly takes inspiration from some of the best teen comedies of all time.
For example, Darby breaks the fourth wall like in Ferris Buller's Day Off. The film also follows the tradition of epic teen movies with everything leading up to a major party that will be full of shenanigans. I love when movies take a genre and shatter all expectations with their plot choices, but sometimes it's just as great to honor a beloved genre by incorporating the elements that make it special.
You May Like This Movie If Paranormal Comedies Are Your Thing
The thing that makes Darby and the Dead stand out from typical teen movies is the incorporation of supernatural elements. It blends paranormal aspects and comedy to create a semi-family-friendly ghost film. This makes it a good movie for people who like supernatural or paranormal stories, but don't really want the horror elements that sometimes come with them.
Ghostbusters, Casper, Frighteners, and other fun paranormal comedies work because they have charismatic main characters and intriguing ghost lore. They're also very funny and charming, and this movie is definitely a charming paranormal comedy, and the ghosts, at least the main ones, are intriguing and also enjoyable to watch. It doesn't go as bold with comedy as Ghostbusters or as dark as Frighteners, but it definitely has some of the same allure as Casper.
It's As Much A Romantic Comedy As It Is A Regular Comedy
Darby and the Dead has a very cute romantic element involving Darby and another outcast. The self-proclaimed "lone wolf" finds herself immediately flustered when she meets someone who understands and embraces her weirdness. It's a very cute romance that's definitely an entertaining and sweet entry into teen romance movies.
You end the movie wanting to know more about their romance and what's next for them. When you want to spend more time with the characters and know more about them or their world, that's always a good sign for a film.
Darby And The Dead Is Lighthearted Fun
Darby and the Dead isn't really a movie where you're going to spend hours thinking about the meaning of every color used in it, ponder what the characters' proximity to one another has to say about society, or overanalyze all the movie's symbolism. And that's a good thing. Sometimes you want deep, complex movies about life and sometimes you just want lighthearted films that involve The Voice jokes and social media references.
Thought-provoking films and lighthearted films can be equally enjoyable. It just comes down to preferences and mood, so this is great to watch when you want something a little different from the norm in its genre and non-anxiety-inducing movies. A simple, fun movie can be the perfect way to end a long hard day.
Darby and the Dead is a fun movie with a great cast. It's charming and stress-free. Therefore, you should definitely try to watch it before it leaves Hulu on May 26. You never know if you'll get a chance to see it again anytime soon.
Your Daily Blend of Entertainment News
Spent most of my life in various parts of Illinois, including attending college in Evanston. I have been a life long lover of pop culture, especially television, turned that passion into writing about all things entertainment related. When I'm not writing about pop culture, I can be found channeling Gordon Ramsay by kicking people out the kitchen.