Twin Peaks Revival: What We Know So Far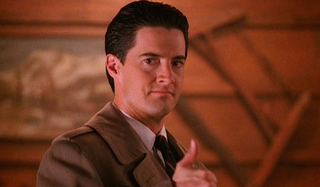 One of the most beloved and influential TV series of the past 30 years, Twin Peaks was both a ratings hit and a future cult classic all at the same time, and co-creator David Lynch has rarely been more on point than he was during the show's run. (Well, "Half of the show's run," is what a lot of people say, but I'm a shameless apologist for the second half of Season 2.) In one of the wildest decisions ever made, Showtime got behind a limited revival of the surreal murder mystery, and what follows is everything we know about it. Put on a big pot of coffee or two and read on.
When Will The Twin Peaks Revival Air?
Currently, neither showtime nor David Lynch (nor any other mysterious entities) have revealed just when Twin Peaks will make its official return to our televisions, but it's coming in 2017. It should surprise no one that the very first answer on this feature is a mystery; It's been two years since the revival was first teased to be heading to Showtime, though the rumors go back further in the past. 2016 was the original release window for the limited-run series, but it took a little longer than expected for everything to start coming together. It began filming in September of 2015, which seems like enough time to having something ready to go in 2016, but it was announced at the beginning of the year that viewers would have to wait until "sometime in 2017" to see what people are up to in the quirky northwestern town.
What Have We Seen From The Twin Peaks Revival?
Considering production for the next season of Twin Peaks is currently in progress - at least, that's what I have to assume, since we haven't heard 400 back-and-forth stories about filming being interrupted and continuously delayed - there's no telling when audiences will get to experience a full-length trailer chock full of unsettling images and gloomy music. But even though it wasn't anything extensive, the show did put out a teaser when production started, and you can watch that below.
Not much to it, but it really doesn't take much when Angelo Badalamenti's theme is playing in the background. It's powerful enough to lull one into slumber, only to suddenly then fill the dreamscape with abstractions and absurdities. Will Twin Peaks still have the same population all this time later? We can't wait to find out.
What Will The Twin Peaks Revival Be About?
Only nine episodes were originally planned for the return of Twin Peaks, but after the dust from the budgetary problems had settled and agreements were made, it was announced that audiences will get a full 18 episodes from the upcoming season/iteration. Does that mean we won't get more later? Not at all, but let's not count our cherries before they're pied.
Even in this era of spoilers and leaks, David Lynch's cloak of mystery is as strong as ever, and nobody really knows what to expect from Twin Peaks as far as significant details are concerned. It was previously announced that the new season will be a full-on continuation of the original series, and will pick up 25 years after Season 2 came to a cliffhanger close with Agent Dale Cooper exiting the Black Lodge as his evil shadow self. The long-awaited book by co-creator and producer Mark Frost will finally come out this year, so perhaps that will clue fans in on what's been up with our favorite characters. Both the ones who speak normally and the ones who have it all backwards.
What Actors/Characters Will Return For The Twin Peaks Revival?
After 25 years, it wouldn't have been unexpected had David Lynch and Mark Foster been forced to desert the majority of the original series' characters, but this show and the follow-up film Twin Peaks: Fire Walk with Me have remained a big part of the cast and crew's hearts, and many have talked about returning to this universe for years. In fact, far more actors are returning than you might imagine, and they're topped off by that most damn fine Kyle MacLachlan, who will reprise the iconic role of FBI Agent Dale Cooper, whose mind, body and soul are no doubt still intertwined with the town of Twin Peaks.
So who else can we expect to find? Well, first we'll start with Cooper's partners in crimesolving.
Everything should be pretty stocked up on the federal law enforcement side of things, assuming everyone is still tethered to their former occupations, which I realize isn't a rational assumption. David Duchovny's transgender FBI agent Denise Bryson will be back, as will the excellent Miguel Ferrer's rough around all the edges forensics expert Albert Rosenfield. And David Lynch's half-deaf Gordon Cole will also get involved. I SAID GORDON COLE WILL BE BACK!
As far as the local PD goes, a few familiar faces and pairs of handcuffs will be on hand to figure out whatever the hell is going wrong this time around. (I don't know that anyone ever really figured out BOB, but you know what I mean.) The courageous and genuine Andy Brennan will bring the "aw shucks" to Twin Peaks again, and he'll be joined in some capacity by his former-and-maybe-present lover Lucy Moran, played by Kimmy Robertson, and Michael Horse's Native American Deputy Tommy "Hawk" Hill (who probably isn't a deputy anymore).
Yes, the always fantastic Ray Wise will once again play Leland Palmer, the son of a bitch murderer that kept everyone guessing for so long. When we last saw him alive, he was being guided by the evil entity BOB and smashed his head into the door of his interrogation room, later dying after remembering his heinous sins. As well, we can expect to see Sheryl Lee reprising the role of Laura Palmer, and Grace Zabriskie as matriarch Sarah Palmer. How Leland and Laura will get used even though their characters have been dead for over two decades, I have no idea. But in David Lynch we trust...that there will be dream sequences. And Maddy Fergusons.
The Hayward family, meanwhile, will be represented by Warren Frost's Doctor William and Alicia Witt's youngest sister Gersten. Two of the three Briggs will be there in the form of Dana Ashbrook's rebellion-embracing Bobby and his mother Betty, played by Charlotte Stewart. Bobby's one-time lover Shelly Johnson, played by Mädchen Amick, will also be there, but her husband Leo (who banged Laura Palmer) won't. Cue whatever kind of music that inspires something more sexual than the theme.
Obviously there will be more Twin Peaks locals appearing beyond just those families. Sherilyn Fenn will return to the role of problem-causer Audrey Horne, and she'll be joined by her temper-torn mom Sylvia (Jan D'Arcy), her business-and-more-minded father Ben (Richard Beymer) and her uncle Jerry (David Patrick Kelly). Lots of Jennings and Hurleys will be around, including Double-R Diner owner Norma (Peggy Lipton), Big Ed's Gas Farm owner Big Ed (Everett McGill), the curtain-loving Nadine (Wendy Robie) and everyone's lover James (James Marshall). Other standouts to look out for are Harry Dean Stanton's trailer park owner Carl Rodd, Julee Cruise's Roadhouse Singer, Carel Struycken as The Giant, Walter Olkewicz's Canadian drug-runner Jacques Renault, Al Strobel's One-Armed Man Mike (formerly Phillip Gerard maybe), and Gary Hershberger's champion wrestler Mike Nelson.
Catherine E. Coulson, better known as the Log Lady, died in 2015, but it was later confirmed that she filmed scenes for the revival prior to her death; it's only assumed and deeply hoped for that they will make the final cut. Below you'll find a list of the rest of cast and characters from the Twin Peaks universe that will return.
Will others sign up in the future? We can only Hawk. Er, hope.
What Actors/Characters Won't Return For The Twin Peaks Revival?
Not all great things are perfect from end to end, and there are some big absences that will definitely hit hard when Twin Peaks returns. 25 years is a long time, and a lot of things can and did change in that span. Hopefully David Lynch and Mark Frost will find ways to reference the characters even if they're not around in live-action.
First, let's start with the saddest group, the actors who have passed away. As seen in picture above (and countless nightmares), BOB made a big impact on Twin Peaks, in large part thanks to actor Frank Silva's manic expressions, but someone else will have to put forth the evil, as Silva died in 1995. Other passings include Jane Greer (Vivian Smythe Niles), Tony Jay (Dougie Milford), John Boylan (Mayor Dwayne Milford), Frances Bay (Mrs. Tremond/Chalfont), Don S. Davis (Major Garland Briggs), Dan O'Herlihy (Andrew Packard) and the great Jack Nance as Pete Martell. David Bowie was set to reprise his role as Phillip Jeffries before his death ruined that beautiful possibility.
Second, let's go with the biggest and most frustrating omissions. There will apparently be no Donna Hayward at all, as Lara Flynn Boyle has remained steadfast in her decision not to return to this world, and Fire Walk with Me's Moira Kelly isn't a part of it at this point. The other mill folks are also pretty much out of the picture, too, with Joan Chen's Josie Packard noticeably absent (and possibly still trapped inside a drawer handle), along with Piper Laurie's Catherine Martell. Michael J. Anderson's Man from Another Place won't be messing with anyone's minds, Eric Da Re's Leo Johnson won't be being a dickhead with tarantula fears, Heather Graham's Annie Blackburn won't be winning Cooper's heart and Chris Mulkey's Hank Jennings won't be stinking up the place. Argh!
Unfortunately, Michael Ontkean retired from acting some years back, so he won't be reprising the role of Sheriff Harry S. Truman. However, esteemed actor Robert Forster signed on to take over the role. Not only is this a solid substitution, but it makes a certain amount of karmic sense, as Forster was originally picked by Lynch and Frost to take the role, though he had to turn it down due to other priorities.
What New Actors Are Joining The Twin Peaks Revival?
When a show comes back after years of being off the air, it's completely expected for new characters to be a part of the line-up. But usually it's no more than a half-dozen or so. Twin Peaks, on the other hand, has roughly the same number of additional cast members as there are leather jackets in James' closet. Okay, so there aren't THAT many, but there are well over 150, and they cover all manner of entertainment ground. Sadly, though, none of their roles have been disclosed at this point.
As seen above, Michael Cera will be part of the ensemble, forever showing his interest in picking diverse projects that usually involve weird comedy. And just as Cera used to be known for TV, there are other TV vets on the list, including Jim Belushi, Charlene Yi, Ethan Suplee, Jeremy Davies, Love Boat's Lauren Tewes and more.
Then we have a handful of actors that are familiar with being involved with David Lynch's magical productions. Laura Dern, who should have been a major part of Twin Peaks from the beginning, thankfully made the trip this time. Producer and co-creator Mark Frost will make an appearance, as will Naomi Watts and Scott Coffey, among others.
And then there are just the other random names that are on this cast list. Other funny people like David Koechner and Brett Gelman are there. Musicians like Trent Reznor and Eddie Vedder are involved. Plus MMA fighter Michael Bisping. And there are still a bazillion big names to go, like Amanda Seyfried, Jennifer Jason Leigh, Ernie Hudson, Ashley Judd, Balthazar Getty, Tim Roth, Robert Knepper and more. Below you'll find a full list of Twin Peaks' new arrivals.
That's one hell of a lot of people, and I bet all of them will be worth at least one big head-scratch when they're introduced. Such is the Twin Peaks way.
Where Can I Watch The First Two Seasons Of Twin Peaks?
There are thankfully lots of ways to watch everything that currently exists of Twin Peaks. Both seasons are currently available to stream on Netflix (opens in new tab), on Hulu (opens in new tab), on Amazon Prime (opens in new tab), on CBS All Access (opens in new tab) and possibly others. As well, fans who haven't done so already would be wise to pick up the stocked Blu-ray set that came out a couple of years ago, as it has all kinds of supplemental material that streaming services can't gift us with. Take that, digital media! If you dare, you can try and borrow the DVDs or Blu-rays from the Black Lodge's library, but I wouldn't recommend it.
Keep checking back for more updates and stay connected to CinemaBlend through our Facebook and Twitter pages to stay up to date with not only Twin Peaks news, but all the latest that the entertainment world has to offer. For all the shows that you'll be able to watch while you wait for Twin Peaks to get here, check out our fall premiere schedule.
Your Daily Blend of Entertainment News
Assistant Managing Editor
Nick is a Cajun Country native, and is often asked why he doesn't sound like that's the case. His love for his wife and daughters is almost equaled by his love of gasp-for-breath laughter and gasp-for-breath horror. A lifetime spent in the vicinity of a television screen led to his current dream job, as well as his knowledge of too many TV themes and ad jingles.
Your Daily Blend of Entertainment News
Thank you for signing up to CinemaBlend. You will receive a verification email shortly.
There was a problem. Please refresh the page and try again.