How To Watch Outlander Season 1 And Season 2 Without A Starz Subscription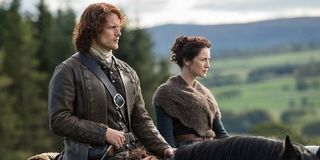 When Outlander premiered on Starz back in 2014, viewers were introduced to a narrative all about history, time travel, and true love, all against a gorgeous backdrop of Scottish scenery. Series leads Caitriona Balfe and Sam Heughan clicked right off the bat, and Tobias Menzies alternately engrossed and horrified in dual roles. Basically, the first two seasons were a wild ride from start to finish. Now, for folks who didn't get to see the first two seasons on Starz as they aired (or for folks looking to re-watch), there's a handy way to catch all the way up on Outlander without a Starz subscription.
Here's what's happening. Xfinity has partnered with Starz in a way that will enable all Xfinity TV subcribers to get their fix of Scottish time travel action without a separate Starz subscription. All users have to do is use their Xfinity On Demand access to check out Outlander Season 1 and Season 2 before Season 3 kicks off on Starz on September 10. There's no limit on how many times users can watch the episodes in the special window in which the seasons are available. Any with access to a TV subscription with Xfinity can watch all the Outlander their hearts desire from Monday, September 4 to Saturday, September 10. That's plenty of time to squeeze in the 29 episodes of the first two seasons.
The deal gets even better. On top of the 29 episodes of Seasons 1 and 2, more than 90 bits of bonus content all about Outlander will be available as well. The content includes behind-the-scenes looks at all the episodes that have aired so far, as well as set tours and interviews with the cast. With Xfinity X1, the Stream portal, and the Stream app (which is available on smartphones, laptops, and televisions), users can catch up on absolutely everything before the new season starts. For fans who have already watched the first two seasons... well, what better time for a re-watch than right before Season 3 kicks off on September 10?
Warning: spoilers ahead for Season 1 and Season 2 of Outlander. If you still need to tune in, feel free to check out some of our spoiler-free articles.
Season 2 of Outlander left off on a killer cliffhanger, with a pregnant Claire returning to the 20th century and Jamie heading off to likely die in the Scots' last stand against the English at the Battle of Culloden. Of course, it's not a huge leap to assume that Jamie will survive Culloden and Claire will return to the 18th century to be with her long-lost love. While the photos we've seen of the Battle of Culloden are pretty shocking, the trailer confirms that we don't have to worry about Jamie biting the dust.
Check out our breakdown of the trailer in gif form for a closer look at some of the biggest moments. We can only cross our fingers that some of the other Scots we've come to know and love somehow survive Culloden as well. You can catch the Season 3 premiere on Sunday, September 10 at 8 p.m. ET on Starz, and our rundown of what we know so far about the new batch of episodes can help you prepare. For your other fall TV options, take a peek at our upcoming premiere guide.
Resident of One Chicago, Bachelor Nation, and Cleveland. Has opinions about crossovers, Star Wars, and superheroes. Will not time travel.
Your Daily Blend of Entertainment News
Thank you for signing up to CinemaBlend. You will receive a verification email shortly.
There was a problem. Please refresh the page and try again.